Having a baby bottle sterilizer at home can be a valuable addition to your parenting toolkit, making your life easier and more convenient. With a good bottle sterilizer, you can save valuable time and energy by quickly cleaning and steaming your baby bottles in just a few minutes, without the need to wait for them to cool down.
Most bottle sterilizers are designed to fit in all microwaves, making them an essential item for busy parents on the go. They are lightweight and portable, making them easy to bring along for trips or outings. Additionally, they are great for sterilizing pacifiers, teethers, and other small baby items.
One of the best things about using a bottle sterilizer is the peace of mind it brings. You can rest assured that your baby's bottles are free from harmful germs and bacteria, making them safe to use. This is particularly important for newborns and infants, who have weaker immune systems and are more vulnerable to infections.
In summary, investing in a quality baby bottle sterilizer is a smart choice for busy parents who want to save time and ensure the safety of their baby's feeding equipment. With a sterilizer, you can enjoy a more convenient and stress-free parenting experience.
[ The Best Air Purifiers for Pets and Molds ]
[ Best Diaper Bags for Dads ]
A List of the Best Baby Bottle Sterilizers
Philips AVENT Microwave Steam Sterilizer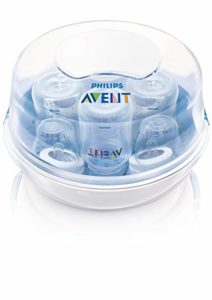 Proven to kill 99.9% of germs and bacteria, this Phillips sterilizer is our top recommendation. It's compatible with most bottles. We would say that it's a must have for pumping moms.
Easy to use with most microwave ovens
Holds a variety of bottles, breast pump parts, and accessories
Contends stay sterile for up to 24 hours if the lid stays closed
Philips AVENT 3-in-1 Electric Steam Sterilizer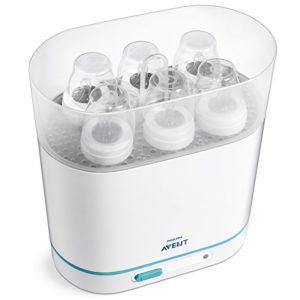 This electric steam sterilizer has been designed to make sterilizing as simple as possible.
Kills 99.9% of harmful germs and bacteria without using chemicals Sterilizes in just 6 minutes with automatic shut off for speed and safety
3-in-1 adjustable modular design allows you to fit a variety of bottles, pumps and accessories
Philips AVENT 4-in-1 Electric Steam Sterilizer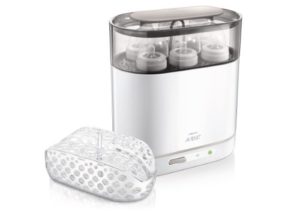 The 4-in-1 sterilizer has the same benefits as the 3-in-1 with great extras.
Kills 99.9% of harmful germs and bacteria without using chemicals
Sterilizes in just 6 minutes with automatic shut off for speed and safety
Keeps contents sterile for up to 24 hours if the lid is unopened
4-in-1 adjustable modular design, with an integrated dishwasher basket
Dr. Brown's Microwave Steam Sterilizer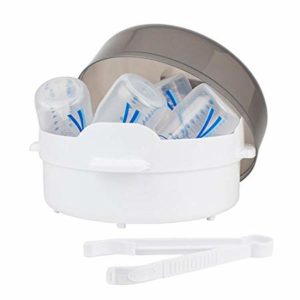 Easy to clean by dishwasher, you'll find it a useful tool everyday.
Sanitize and disinfect your baby's feeding bottles with this microwave steam sterilizer
It effectively kills all harmful household bacteria and germs
Sterilizes up to 4 bottles, Holds standard or wide neck bottles
Dishwasher safe, Uses tap water, Includes plastic tongs
Munchkin Steam Guard Microwave Sterilizer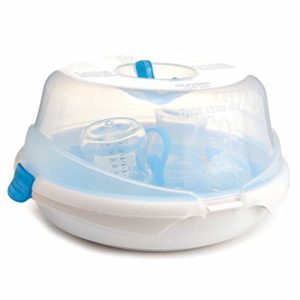 Kills up to 99.9% of common bacteria in as little as 2 minutes
Lightweight, compact bottle sterilizer with heat-resistant handles
Open-away latch prevents steam burns
Holds up to 4 bottles and 2 breast pump shields at once
Tommee Tippee Closer to Nature Electric Steam Sterilizer
Delivers 5 sterile bottles in 5 minutes
Chemical-free sterilizing kills 99.9% of household bacteria
Compact and easy to use sterilizer-just push one button
Sleek, space-saving design perfect in every kitchen
Dr. Brown's Deluxe Bottle Sterilizer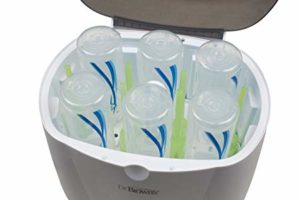 Easy-to-use operation
Electronic controls with cycle indicators plus an auto shut-off when cycle is complete
Removable tray is designed to position bottles so steam is directed in each bottle
Built-in accessory tray holds bottle parts, nipples, and even pacifiers.
Munchkin Steam Guard Electric Sterilizer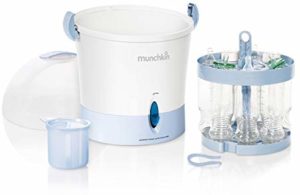 Large capacity, sterilizes up to 9 bottles and accessories at a time
Easy to use, start cleaning cycle with one button
Sterilizes in only 6 minutes, The Steam Guard™ Electric Sterilizer by Munchkin is a safe, natural and efficient way to kill up 99.9% of bacteria on bottles, nipples, pacifiers, teethers, small toys and breast pump accessories.
Automatic shut-off when sterilization is complete
Papablic Baby Bottle Electric Steam Sterilizer and Dryer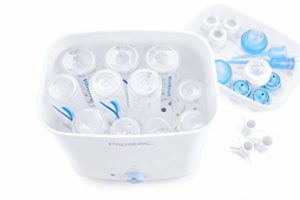 Penetrating steam disinfects at a higher temperature than your dishwasher to kill 99.9% of germs, microbes, and bacteria for reliable sanitization.
With one twist of a dial, you can sterilize with steam, dry completely with hot air, and deodorize to clean from start to finish.
Keep sanitized bottles and accessories safe in a sterilized environment for over 12 hours to avoid the dangerous spread of bacteria from towel or air drying.
Baby Brezza Baby Bottle Sterilizer and Dryer Machine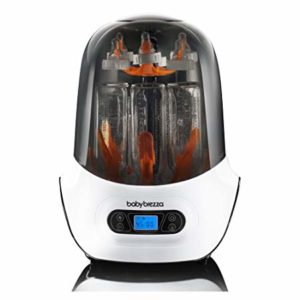 Use as Sterilizer Only, Sterilizer and Dryer, Dryer Only, or Storage System
Our Sterilizer removes 99.9% of germs and bottles stay sterile for up to 24 hours when left in the unopened sterilizer.
with only 8 minutes and is controllable via our easy to use control panel
Our Sterilizer not only automatically switches to drying mode, but automatically switches off.