Are you interested in exploring the world of beekeeping? If so, now is a fantastic time to start. To help you get started, we've compiled a list of the best beehive kits available. Whether you're looking to boost pollination in your garden or produce your own honey, we're confident that you'll find a kit that fits your needs. The key to choosing the right kit depends on various factors such as your location, climate, and level of experience. In this article, we've researched and selected the top 5 beehive kits, suitable for every scenario. So let's dive in and explore these amazing kits!
A List of Top 5 Best Bee Hive Kits
5. REGIVA Beekeeping Starter Kit Supplies with Veil Hat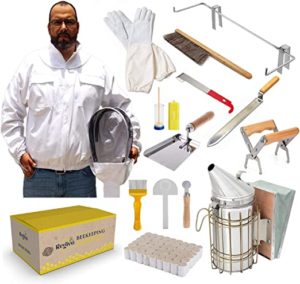 If you are looking for a complete Beekeeping kit that comes with everything required for beginners, the REGIVA Beekeeping Starter Kit is your ideal choice. It has 16 pieces that have been carefully selected to cover your bee-keeping needs. It is included with premium goatskin gloves that are constructed of Goatskin and durable cotton sleeves for comfort, flawless protection, and resilience. Other than that, the jacket is extremely lightweight to prevent any discomfort and excessive sweating.
The included beehive smoker is constructed from a stainless steel material that are easy to clean and rust-resistant. These smokers have a heat shield that usually protects the user from burning.
The supplies included in the kit are uncapping knife, j hook, beehive brush, smoker pellets, bee smoker, bee control gloves, cleaning shovel, bee feeder, beehive frame grip, bee transport cage, queen marking cage, and more.
Key features
• The kit contains 16 pieces
• The jacket is made of cotton and polyester
• Comes with Bee Hive Smoker with Shield
• Comes at an affordable price
4. Scnvo Beekeeping Supplies 10 Pcs Tool Kit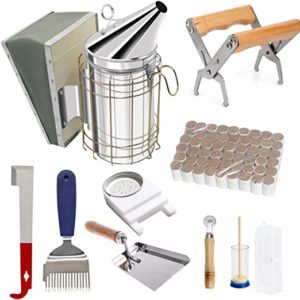 The Scnvo Beekeeping Supplies kit is a great starter as it is included with everything you require to build a beehive. The package includes a beekeeping entrance feeder, queen marking cage, j hook tool, beehive cleaning shovel, beehive smoker, spur wheel wire embedder, beehive frame grip, queen cage, beehive smoker pellet, and uncapping honey fork knife.
Ideally, the Bee smoker is made from stainless steel materials, a wire grid shield, and suede leather bellows protect you from the heat. The included hook enables you to hang the hive and therefore, you always be there whenever you require it.
The included Bee Hive Smoker Pellet has 54 pcs per bag and is made of Chinese herbals that do not harm the bees. Moreover, the bee drinking nest allows you to easily observe the amount of water remaining while allowing you to plan accordingly without disturbing bees.
Features
• 10-piece set design
• All products are sturdy and not easy to damage
• Comes with beehive smoker pellet
• Included with beehive cleaning shovel
3. IPHUNGO 14PCS Beekeeping Starter Supplies with Beekeeping Gloves and Beehive Smoker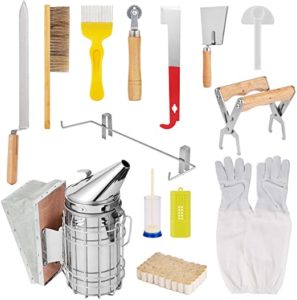 Here is another great Beekeeping Starter Supplies ideal for both more experienced beekeepers and beginners alike. The package has 14 pieces that include Bee Hive Frame Holder, Wire Embedder, 54 x Smoker Pellets, Uncapping Knife, Queen Bee Cage, and more. It is also included with premium goatskin gloves that provide flexibility, comfort, and protection.
The Beehive frame holder is constructed from stainless steel materials which provide a temporary transfer place for the frame. Another thing, the J hook comes in handy for lifting the beehive. The frames use a wooden handle to minimize hands pressure. A brush with soft bristles is included to gently sweeping bees off.
The queen bee cage can be utilized to temporarily store and transport the queen bee. Finally, the groves have elastic closure making them suitable for beekeepers.
Key features
• Easy to Use
• All tools are washable
• Multifunction and made using quality materials
• Make your beekeeping more relaxed and happy
• Included with a Pair of Goatskin Gloves
2. POLLIBEE 22 Pcs Beekeeping Supplies Tools Kit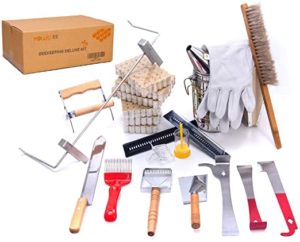 The POLLIBEE Beekeeping Tools Kit is a great all-around choice for expert and hobbyists beekeepers because of its no-fuss construction and comes with all required accessories. The set has 22 Pieces that have been carefully selected to make beekeeping work more enjoyable and easier. These necessary tools include 6 Packs of Bee Smoker Pellets, 3 Type Hive Tools, and a Pair of Goatskin Gloves.
This fully assembled kit is made of high-quality materials making it durable and will serve you for a long time. It has an improved version of a transparent queen bee cage and queen bee marking tube. The designed uncapping scraper is perfect for the corners of the frames and sunken areas.
The Beetle Collecting Tool comes in 2 packs and is both easy and safe to use. Above all, all the exterior and inner components of this beehive kit are impressive.
Features
• Comes with everything you need
• The tools are Safe and Easy to Use
• The kit has 22 Pieces of tools
• Long-lasting accessories
1. Time wave 19 Pcs Professional Starter Beekeeping Supplies Tools Kit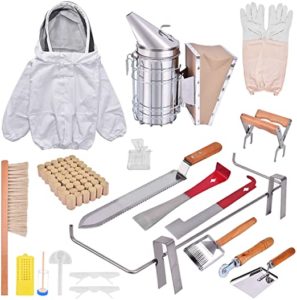 The time-wave Beekeeping Supplies Tools Kit comes at a reasonable price and is included with everything that you require to keep your bees buzzing happily. Typically, this set includes bee smoker, bee control gloves, beekeeper's jacket, uncapping knife, l hook, j hook, mini beekeeping entrance feeder, beehive frame grip, stainless steel uncapping z tool, queen marking tube, and more. It has a total of 19 pieces.
The included deluxe beekeeper's jacket is constructed from polyester and cotton materials for durability. It also has a lightweight design and enables the skin to breathe while offering you full protection. The jacket hood has a sturdy mesh that enables you to see clearly while ensuring safety.
Since bees are a little defensive when the hive is expanding, this Beekeeping Supplies Tools Kit got you covered as it is included with a smoker that assists you in calm bees when managing or inspecting your hive.
Features
• Great value for the price
• Suited for hobbyists and experienced beekeepers
• The jacket is made of cotton and polyester
• Suitable for splitting hives