The Best Betta Fish Tanks
Betta fish are a popular choice for home aquariums due to their beauty and ease of care. However, finding the best tank for betta fishes can be challenging. In this article, we have compiled a list of the top ten best betta fish tanks with a range of sizes to suit your needs.
When looking for a top-rated aquarium tank for betta fishes, an important feature is a built-in filter to keep the water clean and clear. Additionally, it's helpful to find a tank that includes a heater and plant to create an optimal environment for your fish. Look for a kit that includes all the necessary accessories to make setup easy.
Aquaponics betta fish tanks have grown in popularity recently, as they create a symbiotic environment where plants and fish can thrive together. While these systems require a bit more maintenance, they offer a unique and visually stunning addition to your home.
To keep your betta fish healthy, it's important to regularly clean the tank or use a proper filter to maintain water quality. With the right tank, you can create an environment in which your betta can flourish, living a happy and healthy life. So, have fun raising your beautiful betta and choose the perfect tank to fit your needs!
A List of The Best Betta Fish Tanks with Filters in 2021
Tetra LED Betta Aquarium Tank Kit 1 Gallon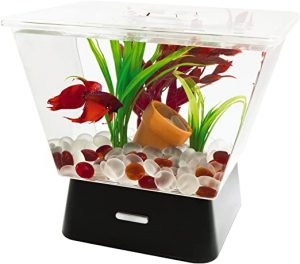 This tank can be used as a temporary place for your Betta to live. It doesn't have filter and a pump. It is a clear plastic half-moon shaped aquarium which has LED light that can be used from above or below.
Its shape allows it to slip into corner recesses or to give a 360-viewing platform. Measuring a water of 1.1 gallons, a beta will experience plenty of movement with room to spare.
The lighting of this Tetra tank is easy to arrange. The illumination is tranquil for the beta.
Advantages:
Easy cleaning maintenance
Easy feed port on the lid
Wide size gives attention to appeal for the space
Disadvantages:
May need a screen over feed port
Aqueon LED MiniBow Aquarium Starter Kits with LED Lighting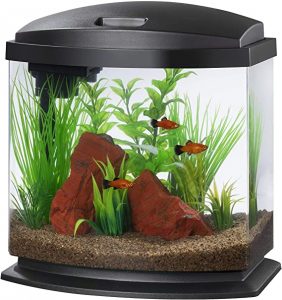 Best for a tropical fish such as betta, it has 3 choices for you, there are 1 gallon, 2.5 gallons and 5 gallons. It comes with Aqueon QuietFlow filtration as well as food and water care samples. The lid has a handy feeding hole.
This aquaponic top seller is attractive in many ways. It's cube design creates an esthetic appeal to work in most living spaces.
Maintenance for the Aqueon Cube is convenient at any time. The filter arrangement may limit how often cleaning needs to happen.
Advantages:
Low profile LED energy efficient light hood with feeding hole
Clear plastic cover
Simple to setup and maintain, looks great in any room.
GloFish Aquarium Kit Fish Tank with LED Lighting and Filtration Included edit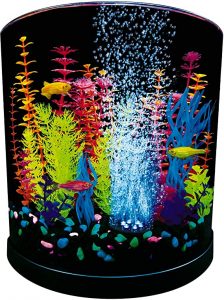 This is one of the best-looking tanks on the market. It features Mechanical filter that catches the debris and waste in a cartridge. The best thing is that this tank uses Activated carbon which removes odor and discoloration. The dimensions are 6.88 x 12.5 x 4.7 inches.
The GloFish comes in 5 different options. It offers you more choices for your fish. It has a simple and modern design. The GloFish is a very good looking fish tank. It comes with a lid, the tank, the LED lights and the pump with the filter.
The filter pulls the water from the tank and pushes it to the filter which catches the wastes.
Pros
Modern and neat design
Comes in 5 different sizes
Tetra 20 Gallon Complete Aquarium Kit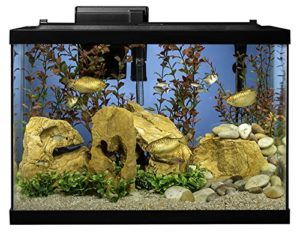 The best aquarium in our list features UL heater. Tetra Whisper 20 Filter is a perfect place for your Betta fishes to live. It is big enough and has scratch-resistant glass.
The dimensions are 24.2″ L x 12.4″ W x 16.7″ H
Penn Plax Betta Fish Tank Aquarium Kit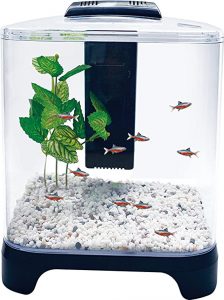 Small and convenient, this tank is perfect for small offices and rooms. It can handle 1.5 gallons. Also, it comes with LED light, and internal filter. Especially, it is easy to set up, you will be ready to add your fish in minutes.
Fluval View Aquarium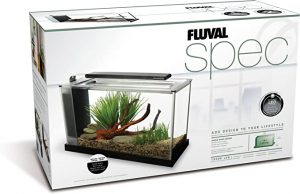 It features a light, plastic body with removable cover. That's a low budget tank which suits your Betta's needs. It has integrated pump, filter and lightning. The aquarium is equipped with low voltage power supply. Powerful 37 LED lighting system, 7000 K color temperature, 821 lumens. This tank is convenient and cheap.Also, it has a powerful 3-stage oversized mechanical, chemical and biological filtration. Last but not least, it has 2 types of gallons which is 2.6 gallons and 5 gallons.
Fluval 10531A1 SEA EVO XII Aquarium Kit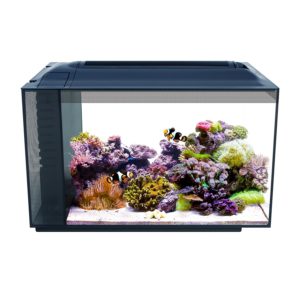 Buy it on Amazon.com
This is a stylish and modern place for your fish to live. It features powerful 3-stage filtration system that ensures that the water remains as clean as it can be.
The tank has multi-functional canopy with easy-feed door. So you wont waste time trying to adjust the door to replace the feed. The casing is sleek aluminum which ensures maximum durability and features touch lights for day and night environment.
It has a 13.5 gallon tank with dimensions: 22 x 11.5 x 15 inches.
Also, it has 5 gallons with dimensions: 24.5 x 11.8 x 16.3 inches.
Hygger Horizon 8 Gallon LED Glass Aquarium Kit for Starters with 7W Power Filter Pump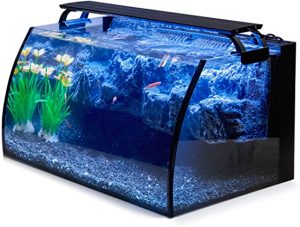 Buy it on Amazon.com
Hygger is a very good looking, comfortable fish tank. Importantly, it is unique and widen your view on the aquarium.
The Hygger is durable and ultra-transparent, the thickness is 5mm. Also, it has a capacity of 8 gallons.
On the inside, you can find filter bags, the tube, the outlet nozzle, the lid and the LED lights. There are 5 levels of brightness in total, to shift the light modes: White LEDS, Blue+white+red LEDS, Red+ blue LEDS. You can use them to make your fish tank even more beautiful.
Pros
Has a lot of space for your betta fish
Big number of LED lights
Nice design
Cons
Many customers reported malfunctions of the light system
GloFish Betta Aquarium Kit Includes LED Lighting and Filter, AQ-78336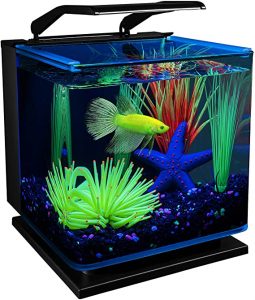 This beautiful tank features rail light, 3-step filtration system and holds up to 3 gallons of water. It is stylish and convenient. The price is also great.
The dimensions are 11.31 x 11.31 x 11.13 inches.
KollerCraft 6.5 Gallon Aquarium Kit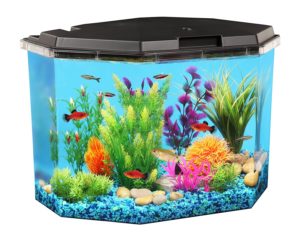 This is one of the best tanks for its price. It has important features so your Betta can live there comfortably. It's a 6.5 gallon semi-hex kit.
The tank features A.P.I SUPERCLEAN 10 Power Filter which makes the water crystal clean. The filter also removes any odors and discolorations of the water. It has LED lighting with 7 colors and makes your room an interesting place.
The dimensions are 11 x 18 x 12.5 inches
Tetra Bubbling LED aquarium Kit 1 Gallon, Hexagon Shape, With Color-Changing Light Disc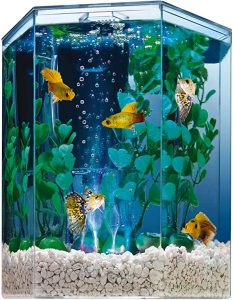 This tank features self-cleaning system which allows for low maintenance. It also has lighting effects, powerful filter and natural plants.
Dimensions: 7.5 x 7.5 x 9 in
Tetra Crescent Acrylic Aquarium Kit, Energy Efficient LEDs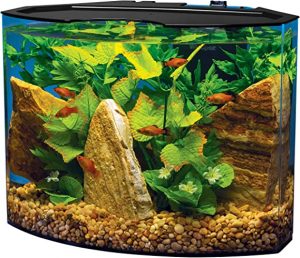 Buy it on Amazon.com
The Tetra Aquarium has a capacity of 5 gallons. This makes it very convenient in size. Also, it looks clean and provide a healthy environment for pet fish.
The Tetra focuses on super low maintenance, therefore its designers have already included an aquaponic filter which will make you to not have to change the water so often.
This fish tank comes with a full kit which includes the aquaponic filter, the glass cover, the sand decoration, the wireless remote for the LED lights and the basil seeds. The Tetra is perfect for you if you don't want to buy additional stuff in order to give your betta fish a new comfortable house.
Pro
It is very convenient in terms of size
Low maintenance
Complete aquarium starter kit
Aquaponic filter
Cons
Quite high price
LED light might present malfunctions
Marineland ML90609 Portrait Aquarium Kit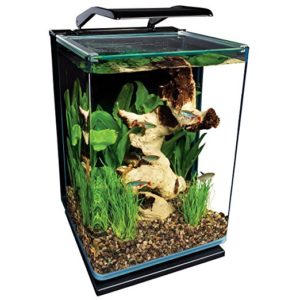 Buy it on Amazon.com
The Marineland ML90609 has a unique, great and smart design which makes it beautiful from any edge you look at it. It is small and compact and this makes it suitable for any table from your office or home. However, the tank has a 5 gallon capacity which makes it a quite big living environment for your betta fishes.
This aquarium comes incorporated with a LED light system which provides two light settings: bright blue and white. It has a cover who can slide backwards over the filtration system.
The filtration framework is perfectly camouflaged behind the tank and it works gorgeously in order to keep the water constantly circumnavigated.
PROS
Robust glass
Beautiful design
Very good quality
LED lights system that can limit the refraction of the sunlight
CONS
Strong water current
Trouble with maintenance
API Aquaview 360 Aquarium Kit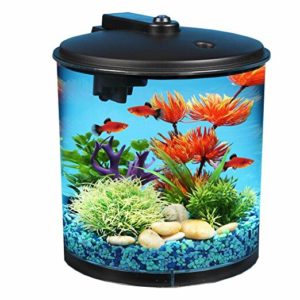 Buy it on Amazon.com
The Api Aquaview 360 Aquarium Kit focuses on the large viewing angle. It is a cylindrical shaped tank offering a large 360 view. It is available in 3 different sizes: 6 gallons, 3 gallons and 2 gallons. Once again, there's a wide variety of choice for your betta fish.
In the kit are included the LED lighting solution, the pump and the filter. The LED lightings can change between 7 different colors: white, red, blue, purple, green, aqua and amber.
The filtration system is quite powerful: it can purify at a speed of 45 gallons/ hour. The resin carbon filter cartridge prevents odors, organic pollutants and discolorations to occur.
PROS
Effective filtration system
Multiple sizes
Various LED lights
Cons
The durability of the LED lights is scarce
It is built with cheap materials
Back to the Roots Water Garden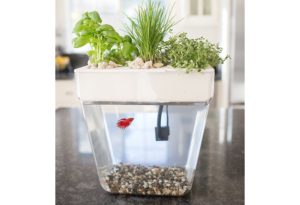 One of the great aspects of the Back to the Roots tank is it is self-cleaning. The filtration arrangement makes it so easy to keep this elegant-looking tank.
Offering grow-pods for plant location, this aquaponics solution is a favorite for its sheer beauty. The simplicity in design, yet room enough for a couple of fish makes this a quality solution.
Advantages:
Optimal space for a couple of fish.
Great tank for family viewing of underwater life.
Disadvantages:
Filter operation may be rough.
Elive Betta LED Light Timer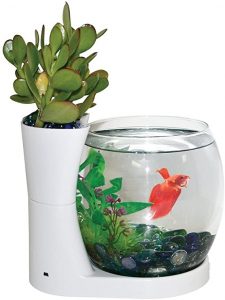 Elive makes a quality product with this aquaponics beta tank. The small size allows it to fit nicely in any room space.
The underwater life for the fish offers a unique viewing experience for anyone captivated.
Advantages:
Relaxing sound
Quality filtration
Disadvantages:
Filter may be slightly loud
Penn Plax Aquaponic Betta Fish Tank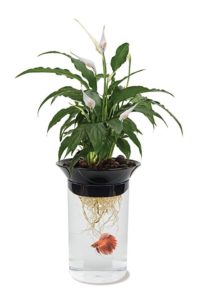 For quality aquaponics tanks, Penn-Plax offers a beautiful tank. Circular in design, eliminating corner distractions and creating a refreshing perspective for beta tanks.
Plant life in this tank is easy to adapt. Bamboo and other aquatic plants work well. This means the beta will have plenty of area to settle around.
Advantages:
Circular design creates a desirable view from all directions.
Maintenance issues are kept to a minimum.
Disadvantages:
Joyfay Aquaponic Fish Tank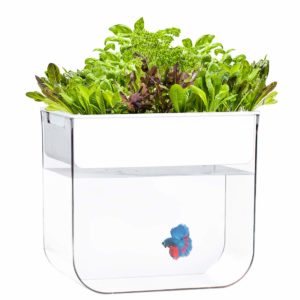 You'll love how this smart design works for both your fishes and plants.
Easy to setup
Natural oxygen supply