When looking for an iPad Bluetooth keyboard, there are several important factors to consider. Firstly, you need to determine the type of connection your iPad has, whether it's through the charging port, Bluetooth, or a smart connector for iPad Pro devices. Additionally, you should consider whether you want a keyboard that is a case or a standalone unit. A keyboard case offers mobility and protection for your iPad, while a standalone keyboard is typically more affordable and works well for a desktop workstation.
While there are many options available on the market, it can be challenging to find a high-quality, authentic product due to the prevalence of counterfeit items. That's why we've compiled a list of the top 5 Bluetooth iPad keyboards to help you make an informed decision. These keyboards have been selected based on their features, design, and user reviews to ensure that they meet your needs and exceed your expectations.
[ The Ergonomic Mechanic Keyboards ]
A List of Top 5 Best Bluetooth iPad Keyboards
ARTEK universal Bluetooth keyboard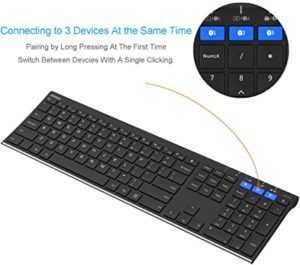 This keyboard is the best to use for people who like to have fun while working because it has a pop of color that adds a posh look to your keyboard. It has an Led backlight that can be adjusted into different colors as per your desire. Moreover, it comes with varying backlight colors that help you when you're working in a dark environment.
It has the following backlight colors you can choose from: cyan, bright green, deep blue, red, and purple. Perhaps you're working in a remote area with an inadequate supply of power, worry not because its Li-polymer rechargeable battery can last up to 6 months after a single full charge.
Pros
It is thin in size and has a lightweight.
Has a spacing of buttons that make you feel like you are using a standard –size keyboard.
It has a durable battery.
It has a variety of colors you can choose from.
Cons
OMOTON Ultra-slim keyboard for pad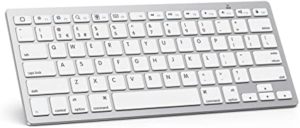 If you're looking to spend less on a good quality apple keyboard, then the OMOTON keyboard is the perfect keyboard for you. With an affordable price of $16, you can be able to acquire it. Perhaps you love to work while enjoying some background music; with this keyboard, you can do that since it has some customized key that can control music playback, volume, and adjust brightness. Since it has a reliable high range of connection that reaches 10 meters, you won't have to remain all along to your workstation because you can move a further distance and still type.
Pros
Long battery life: You can use the keyboard for six months continuously without recharging.
It is cheap
It's compatible with most iPad models.
It has good appearance-its customized with a QWERTY layout that can control features such as music, brightness, and volume.
The keyboard layout has sizeable fingers for your fingers that will help you have a good time typing the keys.
Cons
It does not have a backlight on it.
ALPATRONIX BLUETOOTH IPAD KEYBOARD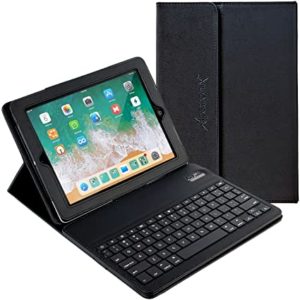 The wireless keyboard is equipped with extra sleep and on mode for the power consumption approach. It also has a leather casing that helps to prevent scratches, dust, and droplets that may fall on it in the future. With high Bluetooth signal connectivity ranging up-to 30 Ft, you can detach the keyboard from the I-pad and type from a distant part to your iPad. Click the link for more details.
Pros
Keyboard has shortcut features such as playback, brightness, and volume control.
It can be detached, thus enabling you to be mobile while typing.
It has a protective casing.
The keyboard keys are highly receptive.
The cover is durable because of its leather cover.
Cons
Since it comes made with a leather cover, some people may have a dislike for leather material.
NULAXY KM12 Bluetooth keyboard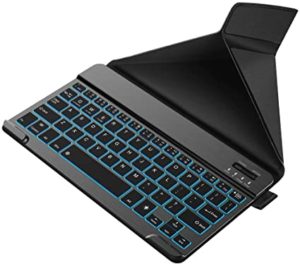 The Nulaxy KM12 Bluetooth keyboard features a 9.5 by 0.2 by 5.3 inches case. If you desire to have a lighter keyboard, this is the one for you because it weighs 3.2 ounces. Furthermore, the keyboard is equipped with a wide range of wireless connections. It also allows you to connect with other operating systems such as Microsoft devices.
Pros
It is light-weighted.
It has a customized folder with spaces to keep your smartcards and ID cards.
It has a magnet feature on the case to help close it, keeping the contents inside safe.
Able to pair with other Android devices.
Cons
No additional charger in the box
BRYDE 10.2 KEYBOARD IPAD BLUETOOTH KEYBOARD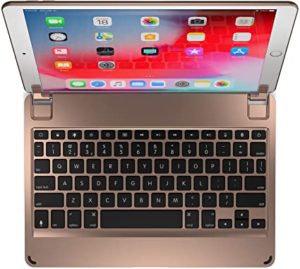 BRYDE keyboard is the one to use if you have a 7th generation iPad device because its operating system is equipped with all 7th generation devices. An exciting feature of this keyboard is that it looks like a MacBook Pro when attached to your iPad. Unlike other keyboards, the Bryde 10.2 comes in various colors to choose from. And if you are a color person, chances are you are likely to get one that matches your taste.
Pros
It has an adjustable hinge
Accuracy: The material is made out of good quality aluminum that enables it to be stable when you're using it.
It has a fast and reliable Bluetooth connection.
Cons
Limited to a single device
No Bluetooth keyboards