If you're an avid fisherman or someone who enjoys camping and sailing, a high-quality boating cooler is an essential piece of equipment. A good boating cooler will keep your bait and catch fresh, as well as store your food, drinks, and ice for an extended period of time.
However, not all boating coolers are created equal, so it's important to do your research to ensure that you purchase a reliable and effective marine cooler. With so many options on the market, it can be overwhelming to choose the right one for your needs.
To help you make an informed decision, we've compiled a review of the five best boating coolers. By investing in one of these top-rated coolers, you can enjoy your fishing trips and outdoor adventures with peace of mind, knowing that your food, drinks, bait, and catch will remain fresh for as long as you need.
Don't let a subpar cooler ruin your trip – choose one of the best boating coolers on the market and make lasting memories on the water.
A List of the Best Boating Coolers
Arctic Zone Titan Deep Freeze Zipperless Hardbody Cooler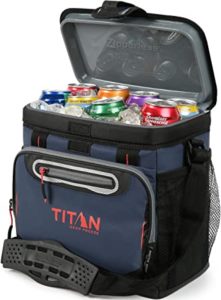 Starting our review is the Arctic Zone Titan Deep Freezer Cooler. It features high-performance insulation with a radiant heat barrier. Because of this, it can reflect the heat rather than absorb it. What's more, is an insulated front pocket. This means that besides organizing your drinks in the main compartment, you can store them in the front pocket and expect them to stay cool.
A flip-open zipper-less lid is another plus. It allows for easy access to the drinks and food. Still, there is a hard-body liner coupled with a SmartShelf. This design allows you to keep drinks and snacks separated to protect the drinks from crushing the soft snacks. When you do not need to organize snacks with the drinks, you can remove the SmartShelf for a large compartment suitable for the drinks.
Pros
The exterior is water-proof and stain-resistance for easy maintenance.
Leak-proof interior for a mess-free transportation
An adjustable shoulder strap features a shoulder pad for comfort during transportation.
Cons
The space is quite limited which makes it challenging to organize bottles vertically.
VAKKER 24/30 Can Insulated Cooler Bag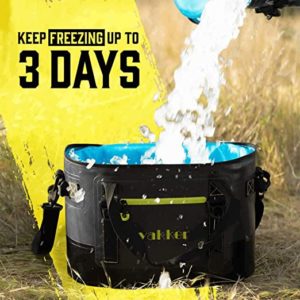 Whether you need a boating cooler for sporting events, hiking, tailgates, barbeque, traveling, or fishing, the Vakker Cooling Bag is an excellent option. This bag features a high-quality construction comprising durable and rugged materials for long-lasting reliability. Additionally, it integrates zippers that can withstand the harshest conditions, making it suitable for all-season use.
The cooler has a large capacity that accommodates 30 cans. Also, it features closed-cell foam insulation on all sides. The foam can provide three days of ice life to help you maintain fresh and cool drinks. Featuring a lightweight design, this is one of the best options for a portable boating cooler. Still, the cooler features a high-quality RF-welded construction for superior resistance from water and UV rays.
Pros
Premium-grade materials withstand the harshest conditions.
Waterproof zippers prevent water from spilling into the car.
Adjustable shoulder straps for ergonomic portability.
The handles are double stitched for strength and durability.
Cons
The zippers are quite stiff.
DYSHAYEN Portable Cooler Bag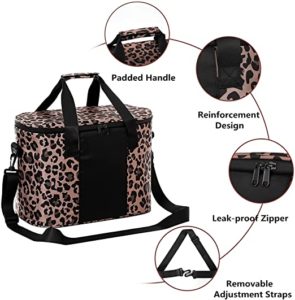 The Dyshayen is a high-performance cooler, suitable for preserving food and drinks. It has a large capacity that holds a volume of up to 20liters. In particular, you can store up to 30, 330ml cans into it, which makes it suitable for packing a large amount of lunch. The cooler bag is portable, thanks to the detachable and adjustable shoulder straps. Besides, it features a waterproof and leak-proof design because of the tough outer shell.
Pros
Padded handles ensure comfort during transport.
Leak-proof zippers prevent water from leaking from the bag into the car.
Removable and adjustable straps enhance portability.
The cooler bag is foldable for compact storage.
Cons
AKASO Cooler Bag for 24 Cans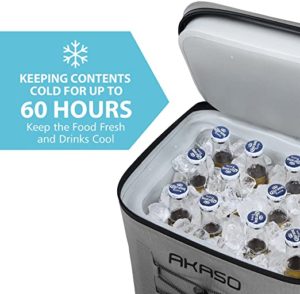 Chill your drinks for up to 60 hours using the Akaso Cooler Bag. The bag features a 5-layer insulation system with NBR foam for superior temperature maintenance. Adding to that, the cooler bag features heavy-duty construction that resists hot and cold weather. The bag is made of 840D nylon Oxford fabric and TPU film for durable and waterproof performance. It integrates IPX7 waterproof and leak-proof zippers to prevent water leakage.
The boating cooler has a high capacity that holds up to twenty-four 330ml cans. It features a portable design, thanks to the adjustable and padded shoulder strap. Featuring a top mesh pocket with a zipper, you can use the cooler to store wallets, mobile phones, and keys. Besides, there is an elastic cord that secures attachments while making it easy to dry laundry while on the go.
Pros
The bag comes with an easy-to-use bottle opener and two pieces of zipper lubricant.
It is waterproof and leak-proof.
Removable and padded shoulder strap for portability.
High-quality insulation helps to maintain cool drinks.
Cons
The cooler doesn't collapse for a compact storage.
ROCKBROS Soft Cooler Bag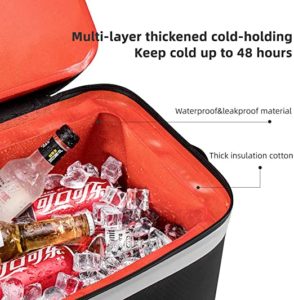 A perfect cooler, whether you need one for boating, hiking, fishing, camping, or a trip is the Rockbros Soft Cooler Bag. The bag is made of 840D nylon material. This material is not only waterproof but also, sturdy and wear-resistant. What's more, the bag integrates a high-quality zipper. The zipper features a leak-proof design to prevent water or liquids from spilling into the car.
The Rockbros Soft Cooler Bag can offer up to 48hours of cooling insulation under a 107-degree indoor environment. The reason is the multi-layer and thickened material that isolates the heat. Also, it features a 20liter large storage capacity. As a result, you can expect to receive enough room for up to 30 cans or 15, 550ml drinks. Designed for easy portability, the cooler bag highlights three ways of carrying it. These include a shoulder strap, two handles on the side, and a top carry handle.
Pros
The shoulder strap features a soft pad for guaranteed carrying comfort.
An anchor-shaped handle facilitates the easy opening and closing of the zipper.
The bag includes a built-in bottle opener.
An external webbing is suitable for hanging keys.
Cons