Best Bread Machines for Beginners
Making homemade bread can be a satisfying hobby that will save you money and time at the store. But if you are a novice, bread-making machines can seem intimidating with their long instruction manuals. You will need a bread machine that will do most of the work to make different bread varieties. This article highlights five of the best bread machines for beginners.
A List of Top 5 Best Bread Machines for Beginners
#1. Hamilton Beach Digital Bread Maker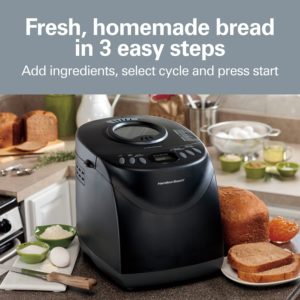 Any beginner looking for a bread maker machine to start their new venture should consider the Hamilton Beach Digital bread maker. It is ideal for novices not only because of its numerous features, but it also goes for an affordable price. The machine allows you to bake two different loaf sizes and three different crusts- dark, medium, and light crusts. Moreover, there are 12 different programs to choose from for different bread varieties.
On top of that, this impressive unit features an alarm that alerts you when to add nuts or fruits during the baking process. You can also use it as a dough starter for rolls and pizza. The delayed start function allows preparation in advance. The included kneading paddles and non-stick pan are dishwasher-safe to save you any cleaning hassle.
Features:
12 bread maker settings
Non-stick, dishwasher-safe pan
Two kneading paddles
Large digital display
Recipes included
Pros:
12 settings to choose from
Solid starter for beginners
Easy to clean
Easy to use
Cons:
It lacks a 'keep warm' setting
#2. Zojirushi BB-HAC10 Mini Bread Maker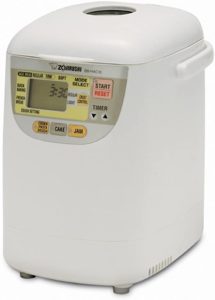 If you intend to take on bread making with minimal kitchen space, the Zojirushi BB-HAC10 Mini is the bread maker for you. It has a compact design with a minimal footprint. You can count on it to make the best 1-pound loaves ideal for small households. Convenience features of this machine include the 13-hour delay timer for advanced preparation and the Quick Bake feature if you need your bread ready in no more than 2 hours.
Another thing is, it comes with a handle and cord to enhance tidier storage. It has a quiet operation, and the lid easily removes it for cleaning. Moreover, the machine features an LCD control panel that is easy to operate and a viewing window so you can monitor the progress of your bread. The package is inclusive of a non-stick baking pan and kneading blade. However, this machine has limited settings.
Features:
LCD control panel
13-hour delay timer
Non-stick kneading blade
Baking pan included
Carrying handle
Pros:
Instructions and recipes included
Quick bake and delay features
Compact and slim design
Quiet to operate
Easy to clean
Cons:
Limited use for one or two people only
#3. Oster Expressbake Bread Maker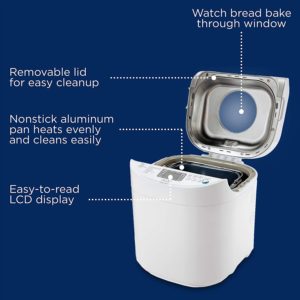 Oster Expressbake bread maker delivers to expectations. Many positive reviews by customers back this. If you want to bake a 2-pound bread in less than an hour, this is the bread maker to go for with its Express setting. It is, therefore, well suited for last-minute loaves and busy households. Moreover, this bread maker comes with 12 different settings, including the bagel dough. The 13-hour advance timer is convenient.
What's more is, for those with haphazard outlets, the extra-long 40-inch cord got you covered. Furthermore, it comes with a measuring spoon, cup, and kneading paddle to get you started. These parts are, however, not dishwasher safe. Unique to this bread machine is the Keep warm setting that ensures you always get a fresh, hot slice. This machine is easy to operate with a large LCD and intuitive button controls.
Features:
Large LCD
Intuitive button controls
13-hour delay setting
Expressbake setting
12 bread settings
Pros:
Can bake bread in under an hour
Ideal for large busy households
Keep warm setting
Easy to operate
Cons:
There is no option for Gluten-free bread
#4. Cuisinart Bread Maker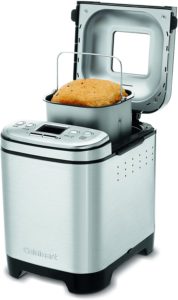 Cuisinart bread maker is reviewed to meet any beginner's needs. The machine employs a Cuisinart-quality technology that guarantees you superior crust, texture, and color. Moreover, this fully automatic bread maker machine comes with 12 preprogrammed menu options. It is easy to use, baking a 2-pound loaf with three crust shades. The 13-hour delay setting ensures that you get fresh bread all the time.
Additionally, this impressive machine features a vertical backing pan that gives it a counter-friendly compact design. The bread pan and kneading paddle are easily removable, and cleaning them is a breeze. Furthermore, the lid features a viewing window that allows you to monitor the baking process, complete with interior lights for easy viewing.
Features:
12 preprogrammed menu options
Lid with viewing window
13-hour delay start
Vertical baking pan
Pros:
Interior lights to monitor bread
Wide viewing window
13-hour delay start
Compact design
Easy to use
Cons:
Parts are not dishwasher safe
#5. Curtis Stone 2-pound Bread Maker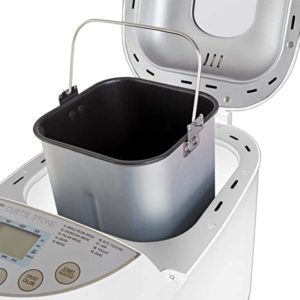 The Curtis Stone bread maker is an excellent choice for beginners. It has a baking capacity of 2 pounds, ideal for most families. This machine features a large LCD that is easy to view with intuitive button controls for easy operation. Moreover, the lid is fitted with a viewing window to monitor your bread's baking process.
Furthermore, this machine comes with 19 preset programs as well as recipes to get you started. You can adjust the settings depending on the bread variety you are making. The removable non-stick baking pan is easy to clean. Furthermore, there are nut and fruit LCD and audible indicators.
Features:
2-pound bread capacity
Adjustable settings
Viewing window
Wide LCD
Pros:
It comes with 19 preset programs
Easy to clean
Easy to use
Cons:
It lacks a keep warm feature
What Makes a Good Bread Machine for Beginners?
Here are some of the factors to consider when looking for an ideal bread machine for beginners.
Speed
Bread baking can be time-consuming. However, with bread machines, you can get one that takes several hours to complete the process, while others under an hour. Depending on your daily schedule, you can go for the ones with a faster speed option.
Variety of bread
The number of settings in a bread machine attracts many people. Some machines can make up to 20 bread varieties, with the common ones being sweet bread, fast bread, and French bread. Some are more versatile enough to make jam, yogurt, and cakes. Moreover, you get one that can handle the ingredients you will often use, such as nuts and fruits.
Size
You need to consider the space available for the machine in your kitchen, especially if you bake bread several times a week; it will be a permanent fixture on the countertop. Therefore, go for one that will not take up much space but is still functional enough for your needs. Also, it should not be too bulky and difficult to maneuver.
Capacity
The bread machine you get should be able to bake enough bread for you and your family. Some machines have several size options, while others are limited. Most of them can bake up to 2 pounds. You can choose an ideal one depending on your needs.
Conclusion
Baking bread is overwhelming to most beginners. Just because you can cook a delicious meal does not mean you can bake great pastries and bread. But the bread machines listed above demystify this process and make it easy to bake different loaves in the comfort of your home.