Top 10 Best Camping Coffee Makers (2022)
If you love coffee, you need it every day. However, When you are out camping, getting a hot coffee can be difficult. After you have finished hiking or sitting around a campfire with your friends, all you need is a cup of hot coffee in your hands. Drinking instant coffee is just not the same. Many hikers have now started buying the best camping coffee makers to get that good brew.
You will be overwhelmed by the choices you will find while buying the best camping coffee maker. To help you out, we have brought for you the list of best-camping coffee makers available. Here are the top 10 best camping coffee makers reviews.
A List of Top 10 Best Camping Coffee Makers
10. KONA French Press Coffee Tea Espresso Maker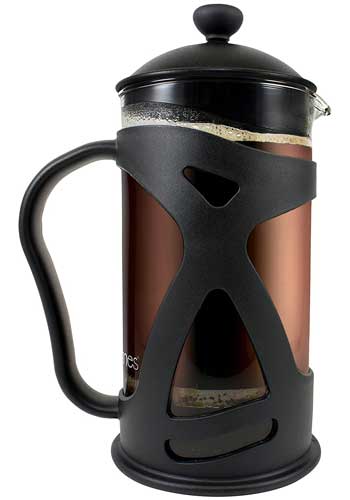 This tea, coffee, and espresso maker have an attractive design and an outer shell that is insulated. The internal parts of KONA are made of stainless steel. It's also simple to use even if you are a novice in this area. It's easy to clean and maintain as well. The outer plastic case is not only very elegant and stylish, but it also protects the glass from getting chipped. It comes with a strong handle which is easy to hold. The serving size capacity OS 34 Oz, however, a smaller serving size of 12 Oz is also available.
9. Primula Single Serve Coffee Brew Buddy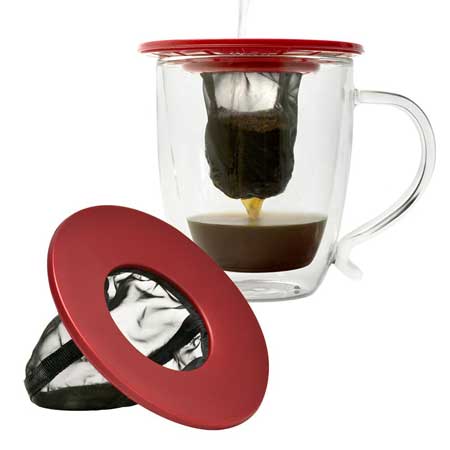 This coffee maker from Primula is easy to use and provides you with great tasting coffee. It fits on the majority of the cups and can be used to brew one cup coffee at a time. It takes just 4 minutes to brew the coffee and you can easily clean the coffee maker as it's dishwasher safe as well. This Primula coffee maker is very lightweight and portable and you can carry it anywhere in your purse or bag easily.
8. Primula 6-Cup Tempo Coffee Press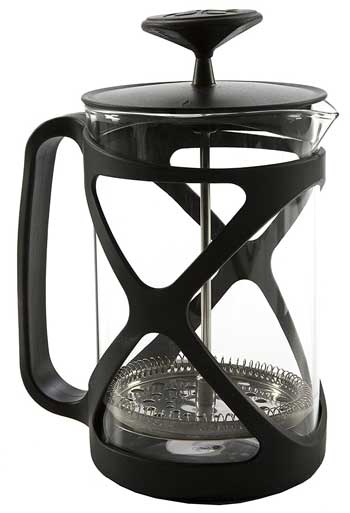 This stylish and elegant coffee maker from Primula is available in two colors- red and black. It Comes with a cylindrical glass jug with a lid and meshes which work as a filter. It's very affordable and serves up to six people. Hence, the best coffee maker for you if you going on camping with your friend's group.
7. Stansport Camper's Cook Ware 277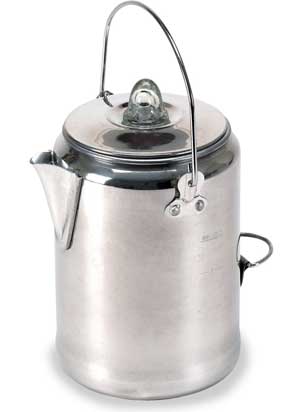 Stansport's coffee maker is made of tough, polished aluminum which is also rustproof. It comes with an easy to grip top and side handles, and a spout for easy pouring the coffee. The coffee maker can easily make 9 cups of coffee and is simple to clean. It's lightweight and can.be carried anywhere easily.
6. Coleman QuikPot Propane Best Camping Coffee Makers
With a brewing time of just 15 minutes, Coleman QuikPot serves 10 cups of coffee easily and without any hassles. It's durable, easy to clean, and portable. This elegant coffee maker is powered by propane and hence doesn't require electricity or matches. The carafe isn't insulated and is made of stainless steel. Since the coffee maker isn't insulated, the coffee after brewing cools down quickly which can be a problem. The coffee tastes great and is free of any sediments. It also comes with a one year warranty.
5. Primula 4-Cup Classic Best Camping Coffee Makers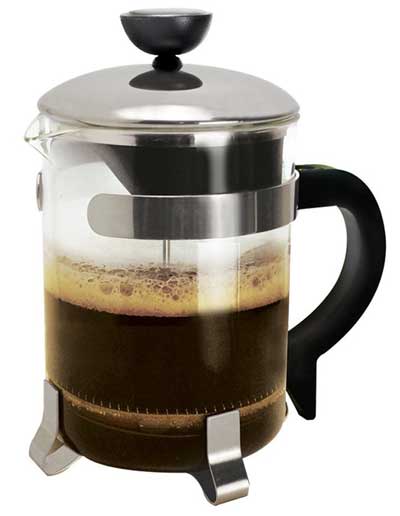 This beautiful coffee maker from Primula makes up to 4 cups of excellent tasting coffee and is available in four colors- black, metallic red, chrome and clear. Made from glass and stainless steel, this coffee maker durable and easy to use and store coffee. It comes with a knob and handles that is heat resistant and a chrome lid that fits perfectly. The filter plunger is of amazing quality which provides you superbly brewed coffee. A wire mesh is also there to ensure that you don't get coffee grounds in your cup. It's also easy to clean as it's dishwasher safe.
4. GSI Outdoors Enamelware Percolator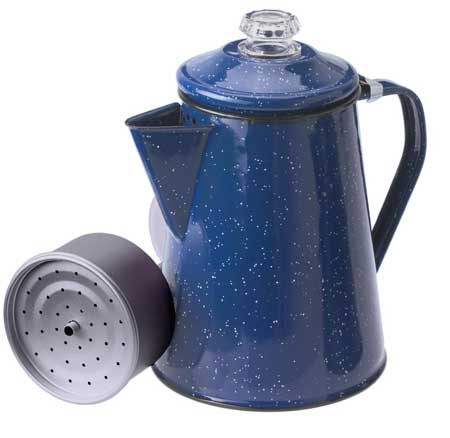 This stylish coffee maker is ideal for outdoor use and is available in two colors – blue and red. The coffee maker comes in three sizes, which makes 6 cups, 8 cups, and 12 cups; you can choose the size according to your convenience. The coffee maker has been hardened at a temperature of 1400 F twice so as to prevent it against any damage or chipping. GSI Outdoors coffee maker comes with an aluminum basket and makes coffee through the process of percolation. The brewing time is about ten minutes and it's easy to clean and is dishwasher safe.
3. Secura Stainless Steel French Press Coffee Maker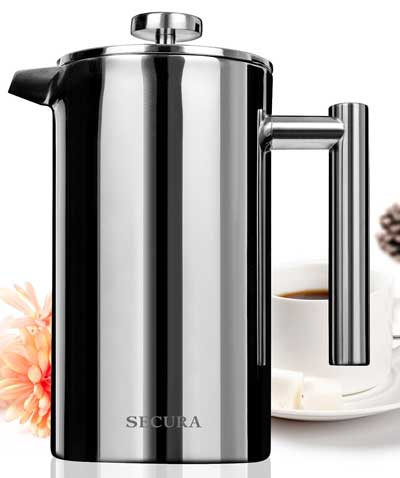 The interior, as well as exterior of Secura French Press Coffee maker, is made from 18/10 stainless steel. It filters stop even the tiniest grounds from getting into your coffee. The knobs and handles are heat resistant and easy to hold. The filter screen can easily be removed and cleaned. It comes with an extra filter screen for the users. The coffee maker is easy to clean and is dishwasher safe.
2. Primula Aluminum Espresso Maker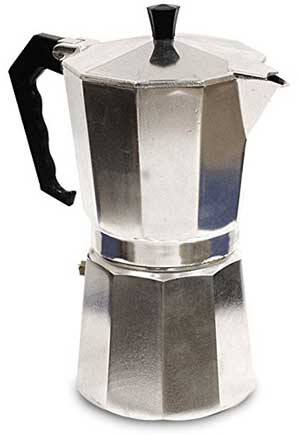 This coffee maker from Primula is entirely made from aluminum. It can make up to 6 cups of coffee and is easy to use. It's available in three beautiful colors- aluminum, black, and red. The handle is made of plastic which is heat resistant and provides you with a firm grip. This coffee maker makes an excellent tasting espresso that is thick and rich in content. However, it's not dishwasher safe and should be washed my hands in hot water. The coffee's brewing time is usually 5 minutes for it to be ready.
1. Texsport 9 Cup Stainless Steel Percolator Coffee Maker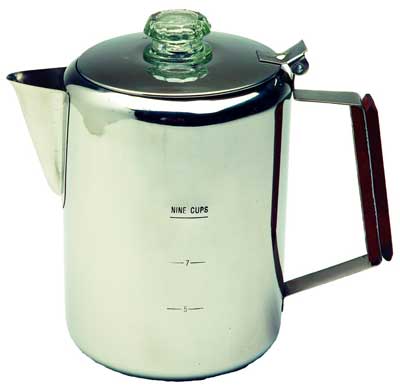 The Texsport coffee maker makes up to 9 cups of coffee and uses the Percolator system to brew its coffee. It's made of stainless steel and is durable enough to be used for camping purposes. It comes with an was to pour handle and a glass knob so that you can easily check when your coffee's ready. It's lightweight and you can carry it outside with you easily. It gets heated quickly and makes coffee in no time.
A coffee maker is not a luxury but a necessity for every coffee lover. There are many coffee makers available in the market but you need to buy one that's durable, portable and doesn't burn a hole in your pocket either. Let's try the above best-camping coffee makers!