Maintaining a clean and organized car requires proper storage and arrangement of your belongings and accessories, especially in the back seat. The most efficient way to do this is by using a car trunk organizer. These organizers feature pockets and compartments that help you arrange your items neatly, regardless of their size. They are easy to install, with the best models securely attaching to the headrest of the seat. High-quality car trunk organizers are made of durable materials and stitched with threads that resist wear and tear, ensuring long-lasting use.
Investing in a car trunk organizer is an excellent way to keep your car clutter-free and tidy. By using one, you can easily find and retrieve your belongings, avoiding unnecessary stress and confusion. With a variety of car trunk organizers available in the market, choosing one that meets your needs and budget should not be a daunting task.
A List of Top 10 Best Car Trunk Organizers
Drive Auto Products Car Cargo Trunk Organizer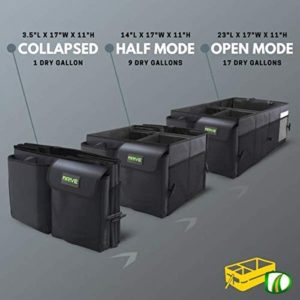 One of the best organizers to help car lovers arrange their trunks is the Drive Auto Products Car Cargo Trunk Organizer. It features a premium Oxford 600D fabric to enhance strength and durability. Additionally, it features a tie-down strap system that allows you to strap the luggage to protect it from falling off. The organizer includes a variety of pockets for the effective storage of different items. Among the pockets are eight side pockets, a water bottle holder, two big front pockets, folding compartments, and fully-wrapped ridged panels designed to hold coffee mugs. You can use the organizer while placed on the front seat while traveling alone, or strapped around the seatback, to protect it from moving after braking.
Honey-Can-Do Folding Car Trunk Organizer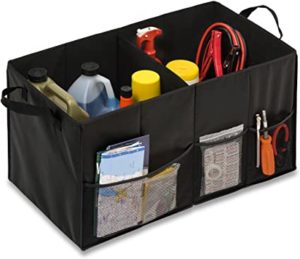 The ideal trunk organizer, when you are looking for the best option for storing emergency equipment and other gear, is_ the Honey-Can-Do Car Trunk Organizer. It is a foldable organizer, thus easy to store when out of use. The unit is made using durable fabric. Because of this, it can hold heavy car accessories without tearing apart. Also, its material is soft to prevent it from scratching the stored items. The organizer comprises of stitched-in handles, making it an ideal trunk caddy. It includes roomy compartments that hold various car accessories in place. Plus, three mesh pockets are suitable for storing small items. The Velcro strap is another plus that secures the organizer to the trunk.
FORTEM Car Trunk Organizer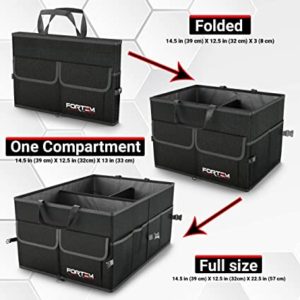 A perfect way to organize emergency tools and cleaning supplies while saving the room in your vehicle's trunk lies in using Fortem Car Trunk Organizer. It is made using 600D nylon to enhance strength. Furthermore, the organizer includes sturdy sidewalls and reinforced base plates for durability. You can use it to organize lots of items, including groceries, emergency equipment, cleaning supplies, sporting goods, and electronic accessories, thanks to the multiple compartments. Besides, the unit integrates sturdy handles for convenient transportation. When not in use, the organizer can fold down to a compact size for secure storage. And once you place it on the trunk, you do not have to worry about it slipping or sliding, thanks to the non-slip strips on the bottom.
YoGi Prime car Organizer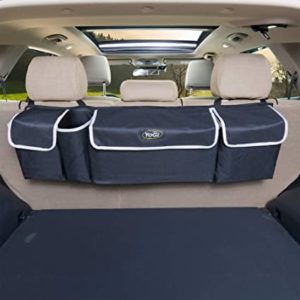 An efficient way to organize the trunk and back seat lies in using YoGi Prime car Organizer. It is easy to install, thanks to the installation clips that make it possible to clip around the headrests. Also, it is easy to clean. The reason is the water-resistant premium high-quality 600D polyester designed to provide optimal protection from spills. The organizer includes four pockets for easy organization of various accessories. Its pockets are deep and robust for the optimal protection of the stored items. The additional lining and stitching can provide increased strength to enhance durability. Moreover, the Velcro on the pocket lids helps to keep the items secure and contained.
Handy Laundry Fold Away Car Trunk Organizer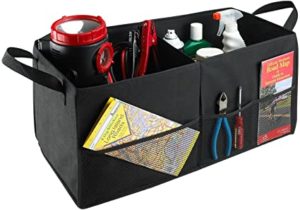 Take full control of your trunk using the Handy Laundry Fold Away Car Trunk Organizer. Using it, you can arrange various items to help you get sufficient space to organize different items. The organizer offers roomy storage. This comprises of two large compartments suitable for holding sports gear, groceries, emergency gear, and auto supplies. Also, it includes three mesh pockets ideal for containing small accessories. The two heavy-duty handles are another plus for easy transport wherever you need it. Besides, there is a non-slip Velcro that secures the organizer to trunk. When not in use, the trunk organizer can fold compactly for secure storage and transportation.
Trunk Organizer by X-cosrack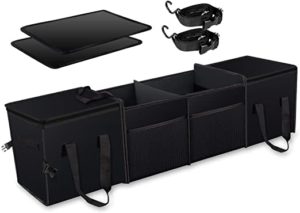 The X-cosrack Trunk Organizer is a perfect choice for helping you organize your busy life. It can fit all vehicles, thanks to the universal-fit design. The organizer is made using durable Oxford polyester with extra stitching. Hence, it is one of the best choices for a built-to-last trunk organizer. Also, it features a 3-layer waterproof and breathable material. The material protects it from liquid spills and splashes. The organizer comprises four compartments that allow you to organize different items. Also, it includes four mesh pockets for smaller items. Because of the thickened PP hollow board construction, the organizer can stand safely even when it is empty. And, the adjustable straps hold the cargo in place to protect it from swinging around.
SURDOCA Car Trunk Organizer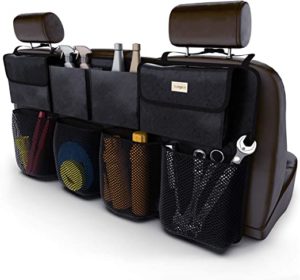 If you are looking for a built to last car trunk organizer, I would recommend Surdoca Car Trunk Organizer. It features a high-quality 600D Oxford material and durable stitching. Thus, you can expect it to withstand all elements you throw at it. Moreover, the organizer fits 90% of cars. The reason is its three strong straps that install and uninstall in seconds. You can use the organizer to arrange a lot of items, thanks to the eight pockets. Besides, the organizer is suitable for protecting various accessories from liquid spills because of the waterproof fabric. After use, you can fold it compactly for storage. Plus, you can clean it easily, given that it is machine washable.
TRUNKCRATEPRO Collapsible Portable Multi Compartments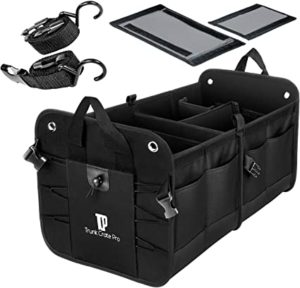 This is a heavy-duty trunk organizer. It is crafted using premium-quality Oxford Polyester material. This material is not only durable but also water-resistant for lasting and reliable performance. Adding to that, the organizer features a reinforced stitching to protect it from tear and wear. Because of the waterproof material, you can get it with an assurance that it is easy to clean. Also, the organizer includes a clip for easy installation. The rigid base plates are another addition to protect it from collapsing when empty. Plus, the organizer consists of three pockets and removable subdividers. As a result, it is perfect for organizing a variety of items. You can fold it into half its length for compact storage after use.
FORTEM Car Trunk Organizer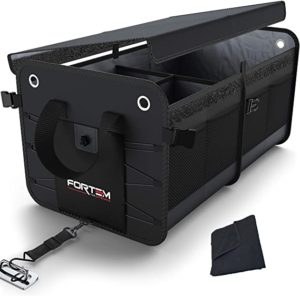 Organize a variety of accessories, from cleaning supplies to groceries or emergency tools, once you get this car trunk organizer. It features a premium heavy-duty nylon 600D material. Because of this, it is durable and water-resistant. Additionally, it features reinforced base plates. The plates enhance stability so that the organizer can retain its shape when empty. The sturdy side walls are another addition to enhance the stability. Plus, strong carrying handles make it easy to lift when packed to the brim. The organizer comes with securing straps that feature metal hooks for secure installation. Its detachable cover lid is sturdy and foldable for compact storage when not in use.
Starling's Car Trunk Organizer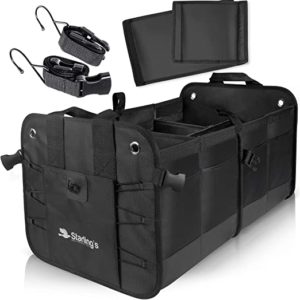 An ideal solution to manage the clutter and mess in your car trunk or backseat lies in incorporating Starling's Car Trunk Organizer. It can expand up to 2-feet long and offer plenty of compartments suitable for organizing groceries, cleaning supplies, tools, and car equipment. The organizer is made using 1680D Oxford Polyester. This material plus the extra stitching, enhance durability for a long-lasting performance. Also, the trunk organizer features a solid 3-layer waterproof non-slip bottom. As a result, you don't have to worry about the slippage of the carried accessories. Because of the waterproof fabric, this organizer is easy to wipe clean. Also, it includes two sturdy handles to enhance portability.