If you're a cat owner, you know that a litter tray is an essential tool for keeping your home clean and your feline friend happy. And when it comes to finding the right litter box for your cat, a self-cleaning option is often the best solution for both you and your pet.
But how many litter boxes should you have per cat? And what features and functions should you look for when buying a cat litter tray?
When it comes to choosing the best litter box for your cat, there are a few key features to consider. These include providing odor control, being automatic, and accommodating picky cats in apartments.
As cat owners, we want our pets to live harmoniously and comfortably in our homes, especially indoor cats. And while dealing with litter boxes is not always a pleasant task, choosing the right litter tray can make all the difference.
With the best litter tray for cats, you'll find that the product features are not only handy but user-friendly as well. So, if you're ready to make your cat's life and your own a little easier, check out our recommendations for the top self-cleaning litter boxes on the market.
A List of the Best Cat Litter Boxes for Odor Control
Omega Paw Roll'N clean litter box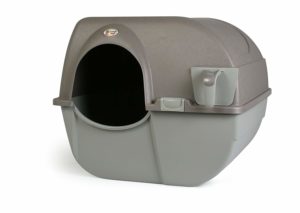 Omega Paw Roll'N clean handles the mess in an elegant way. It has a patented grill which separates the clean litter from waste. Just roll the box onto its top and then spin it back to the upright spot for disposal of waste. The only con it has is that it needs the larger floor space relatively.
Easy and fast cleaning
Ideal for small and big cats
Catit Jumbo hooded litter box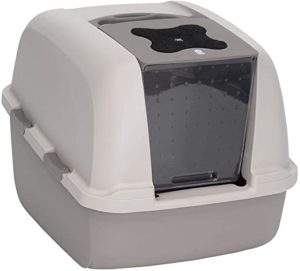 It is one of the top rated litter trays of 2018. A perfect match for multi-cat households and is one of the largest litter box in the market.
A carbon filter for odor control
Large hood for easy cleaning
Swinging door
Petmate top entry litter box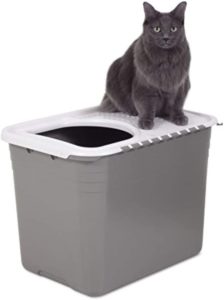 One of the finest option for messy cats. It's an all rounder which allows easy access to your cats. It has a wide top opening and allows your cat to turn around inside it. A non-slip lid attached at the top keeps the litter inside it. Lid has a special grating which helps the litter to fall back into the pan.
High walls prevent litter from spilling
Easy to clean
Built-in handles
Booda Petmate clean step litter dome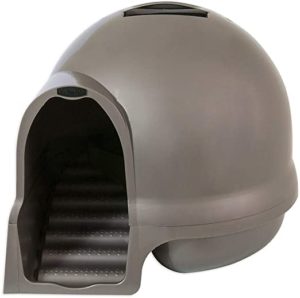 It is one of the finest addition in 2018 which ensures privacy with hooded top. It's sleek design helps to catch the litter from your cat's paws. The charcoal filter minimize the smell. The unique design minimizes overflow and tracking. Your cat will love to poop in this masterpiece!
50% larger than the ordinary litter tray
Ideal for cats of all sizes
IRIS open top cat litter box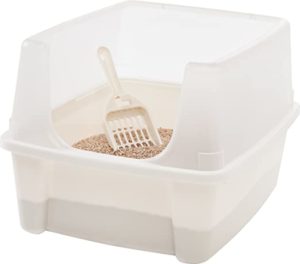 The IRIS open top litter box comes in a stylish design and three sided extra tall walls. It will keep the spray and litter inside the box. Molded-in-feet and recessed bottom provides enough space for litter pan to fit neatly.
Polished interior finish makes it easy to clean
Good Pet Stuff Company Hidden Cat Litter Box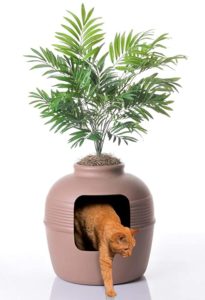 Why we include and recommend this product as one of the best cat litter trays? Well, this large-capacity cat litter box looks like a real clay pot. As you can see from the above photo, the plants and the parts are nested between the top and bottom section of the litter box.
Made of durable polypropylene
Filtered vented system
For large cats and multi-cat households
Measures 42 inches high with included plant
PetSafe Simply Clean Automatic Litter Box System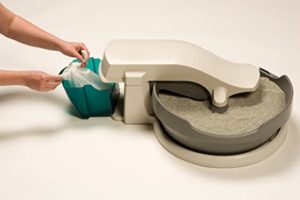 We love how continuously it can clean without disturbing your catReduces odor and keeps waste out of sight. Also, it's best suited for cats 15 pounds or less.
Self-cleaning litter box
No scooping and no mess
Easy to set-up, use, and clean
Low power consumption
Cat Washroom Bench Litter Box Enclosure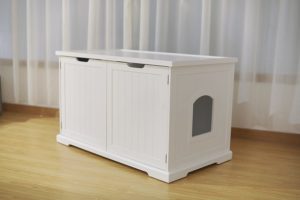 This multifunctional cat bench litter can be used as a litter box cover while providing useful space for any organizing options.
Quick and easy assembly
Extra-large automatic boxes
Litter Genie Plus Pail with Ultimate Cat Litter Disposal System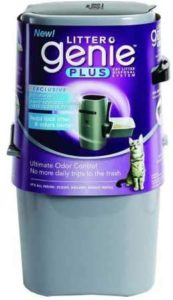 What makes this pet litter outstanding is the seven layer refill with odor barrier technology that seals in litter odors and keeps your home smelling fresh and clean.
Compact design
Less time making daily trash trips
Pre-assembled
Whisker Doodle Giant Open Cat Litter Pan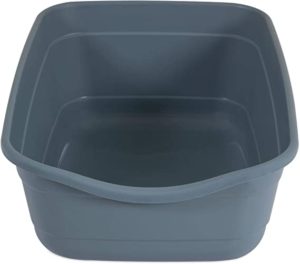 Looking for a great solution for your senior cats? Easy to clean, our cat can jump in and out without problems.
Odor resistant
Recycled plastic litter box
Related Reviews: