The Best Chicken Coops
A chicken coop not only provides a safe and secure home for our feathered friends but also adds beauty to our backyard. It is a place where hens and their chicks can sleep, eat, and rest comfortably, especially during the winter. The coop's door can be locked to ensure the birds' safety from predators.
Chicken coops come in various sizes, from small to large, and provide enough space for the birds to move around freely. The floor can be covered with dry wood strips or straw, which should be changed and replaced weekly. The coop should also have a designated area for feeding and watering the birds. Moreover, the coop protects the chickens from harsh weather conditions, such as extreme heat or cold, rain, and strong winds.
Keeping hens at home has many advantages, including a steady supply of fresh, healthy meat and eggs, which are rich in protein. They are also easy to care for, and their chirping can be soothing to the ears. Additionally, they make excellent pets for children and can be a source of income by selling their eggs and meat.
Furthermore, chicken waste can be used to produce biogas, which is a clean source of energy that can be used for cooking and heating. However, it is crucial to keep the chickens safe from predators, such as dogs, snakes, and foxes, and ensure that they are not exposed to illnesses caused by germs or weather conditions.
A chicken coop is an essential investment for anyone keeping chickens at home. It provides a safe, comfortable, and secure home for the birds and ensures that they are well-protected from predators and harsh weather conditions.
A List of Top Best Chicken Coops for Winter
zoovilla Country Style Chicken Coop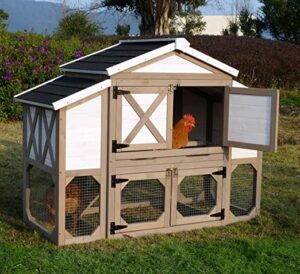 The zoovilla Country Style Chicken Coop has a unique look. Besides, it provides your chickens protection from predators and weather conditions. To add on, the house cage comes with two large nesting boxes and four lockable doors (2 for the run & 2 for the coop).
Perfect for up to 6 chickens
Safe and secure
ALEKO Wooden Chicken Coop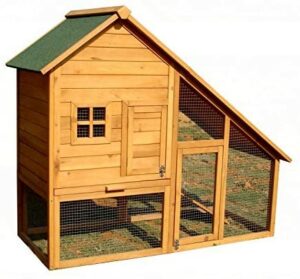 This coop is very nice to look at. With ALEKO Wooden Chicken Coop, it will give your pets a spacious place to play, nest, exercise, and rest. Moreover, it is made from the highest quality Chinese fir wood. And it is easy to clean up.
A weather resistant asphalt shingle roof
Easy to assemble and durable
Keep your pets happy, healthy, safe, and productive
Ogrmar Chicken Coop Large Wooden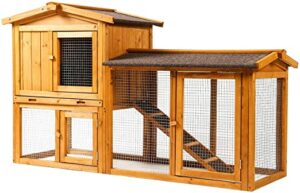 This Large Wooden Ogrmar Chicken Coop is convenient for your pet.  First, it keeps your poultry safe, dry and warm, especially in the rainy cold days. Also, it is handy in the heat as they are shielded from the sun and can easily access their nesting boxes without exposure to the harsh light. Lastly, this is one of the best backyard chicken coops to buy this year.
58″ chicken coop comes with nesting box, resting box and ramp.
High quality grid fences provide a healthy poultry lifestyle.
Sturdy Construction and Weatherproof
New Age Pet ecoFLEX Fontana Chicken Coop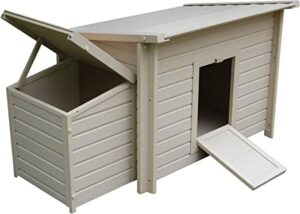 This New Age Pet Chicken Coop is made of ECOFLEX, a non-toxic recycled plastic-wood polymer composite material. Therefore, it will not warp, crack or split. Also, the roof is removable which make your cleansing easier.
10 year warranty
Resistant to moisture, warping, cracking and splitting
Green color chicken coop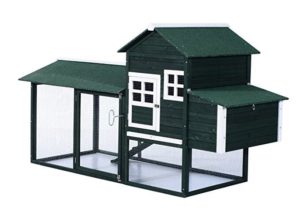 Buy it on Amazon.com
This is very nice in color. And it is very attractive to look at. Also, it will increase the beauty of your house. Moreover, it is one of the most beautiful coops in this list that we have to recommend.
Easy cleaning
Durable wooden construction
ALEKO Raised Fir Wood Chicken Coop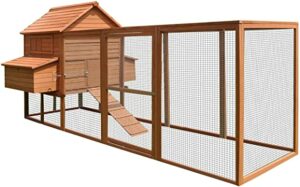 As you know, it is important to make your pets safe, happy and healthy. First, ALEKO's pet house gives enough space for your pets to rest and exercise. Also, there is a weather resistant roof that will protect your pets from inclement weather. And it will let in good weather and sunshine as well.
Comes with 9 sizes and different design
Easy to assemble and long-lasting durable
Cleanup or egg collection is made simple with a pull out metal collection tray
Trixie Pet Products Chicken Coop with a View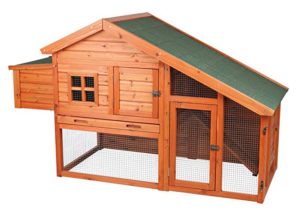 Ideal for 2 standard size chickens or 4 bantams. What most people like about this Trixi chicken coop is that it comes with view.
Wood paneling at back
Hinged roof and removable divider
Best Choice Wooden Chicken Coop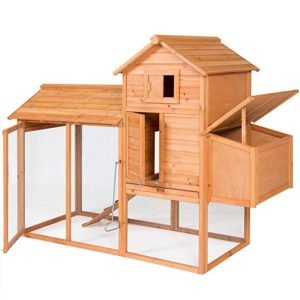 The Best Choice Products 80in Wooden Chicken Coop is another good choice we have to recommend in this list. First, it made of 100% natural fir wood. Importantly, it will last in all weather conditions.
Water-resistant
Removable bottom sliding tray for easy cleaning
Large Wooden Ogrmar Chicken Coop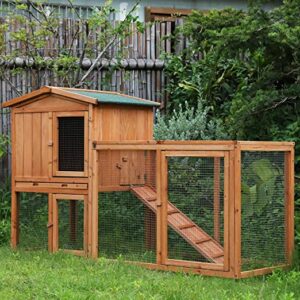 The deluxe large cage makes it possible for your lovely pets to move seamlessly from a cozy enclosure to an outdoor protected backyard. Also, it provides a waterproof roof and heavy-duty wood. As well as, provide a safe and comfortable environment for your poultry. Lastly, the window on the cage allows the light in which helps solar collection and fresh air circulation.
Suitable for a variety of small animals
Easy to Clean
Lockable Door
Related Reviews: