Best Circular Saw Blades
Besides investing in the best circular saw, you also need to have the best circular saw blade to pair with the saw for efficient work. A good circular saw blade should be able to cut even the toughest materials and be compatible with different materials objects. The saw should have multiple sharp teeth that give smooth and precise cuttings results. Well, if you are looking for such a circular saw blade, below are the five best options on the market right now.
[ The Best Manual Pole Saws for the Money ]
These are the most reputable circular saw blades on the market right now. The saw blades are made with a high number of teeth to handle multiple materials. The reviewed circular saw blades are not expensive and can work with different materials. So, find the best model for your DIY or professional jobs from these five choices.
 A List of Top 5 Best Circular Saw Blades
1. Irwin Metal-Cutting Circular Saw Blade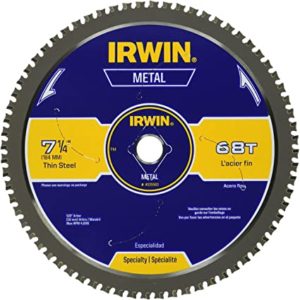 If you are in professional carpentry services, I bet this circular saw blade will fit your regular jobs. The blade has quality materials crafting to handle most steel materials. Another feature that qualifies this as the best professional blade is the anti-vibration vents that ensure you achieve smooth and accurate cuts throughout.
The blade's cutting teeth are made with carbide materials that are quite durable and stay sharp for a long. So, this is a time saver circular saw blade worth buying. The blade has a total of 68 teeth essential when working on large projects or materials.
Pros
This blade does not wobble when cutting
The teeth are quite sharp and durable
The blade is comfortable and light in weight
The blades give smooth cuts on the edges
Cons
This circular saw blade is only recommended for cutting thin steel and metal objects like iron sheets, limiting.
2. DEWALT 12-Inch Miter Saw Blade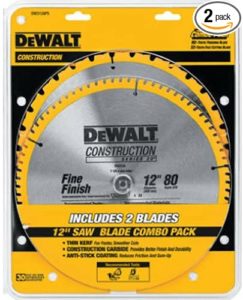 When it comes to quality and efficient cutting results, DeWalt has the best circular cutting blades on the market. This brand's good thing is affordability since you can't spend more than 40 dollars to acquire this circular saw blade. This specific blade is constructed with 80 teeth that give precise and fast cuts, a space of up to 12 inches.
One pack comes with two blades that will last you for a very long time. Again the teeth of these blades are made with a carbide that remains sharp for a long time. Traveling with these blades for outside work is convenient since they come with a carrying bag.
Pros
The blades come with three years warranty
The model is quite affordable
One pack consist of two blades
These are versatile cutting blade
Cons
The blades do not offer laser-cut, which limits the functionality
3. Rockwell RW9282 4 1/2-Inch Circular Saw Blade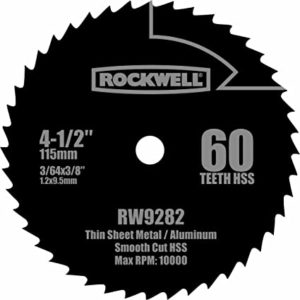 If you are looking for a circular blade that is low on the price for simple jobs at home, this is a perfect model worth checking out. The blade costs less than 20 bucks, which is quite affordable for many people. Still, this is quite a functional blade since it consists of 60 teeth that can cut through 4 1/2 inches objects.
Thus, expect to get smooth and accurate cuts with this blade. Another feature that qualifies this as an all-round blade for the circular saw is versatility. You can use it to cut wood, metal, steel, drywall, and aluminum.
Pros
This blade is quite light in weight
It is versatile and compatible with multiple materials
The blade works fast and gives smooth cut edges
It is an affordable circular saw model
Cons
This circular saw is only compatible with RK3441K Rockwell compact circular saw
4. Enertwist 4-1/2 Inch Compact Circular Saw Blade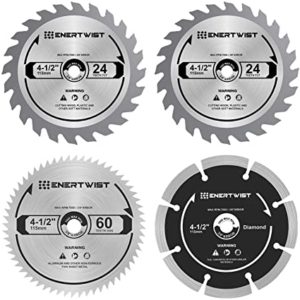 With Enertwist circular saw blade, you will not have to think about buying saw blades for a long time since one package comes with four blades. These assorted saw blades are compatible with varying materials ranging from wood, metals, plastic, and tiles, among others. If you offer commercial construction jobs, I believe this blade model will suit your daily jobs.
These blades' operating speed is recommendable since they can work at a speed of up to 7000 amp. Another feature that stands out on these blades is high compatibility. You can connect the blades with circular saw models like Enertwist ET-CS-20C, Tacklife TCS115A, Worx WX429L, Galax PRO, to name a few.
Pros
One pack comes with four different blades
The blades are compatible with multiple materials
The blades work at high speed of 7000 amp
They are compatible with different circular saw models
Cons
These circular saw blades are compatible with multiple materials but are not suitable for thick materials
5. Overpeck 7-1/4 Inch Circular Saw Blade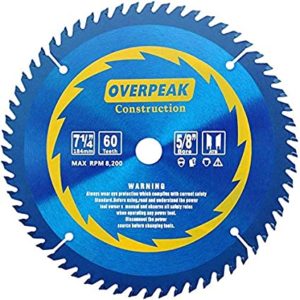 When it comes to durability and efficiency in functioning, this circular saw blade guarantees just that. Being made with the toughest carbide materials, the blades have extensive life more than other models since it is five times tougher. The blade has 40 teeth that give smooth and precise cutting to ensure you achieve precise cuts on the materials.
The blade is made with 4 Laser cut expansion slots and 4 Laser-cut stabilizers that traps noise while reducing vibration to improve the cutting process.
Pros
The blade has low noise and vibration modes
The blade gives smooth and precise cuts
The blade is super light in weight
The blade is five times stronger than other models.
Cons
Some customers have complained that the blade is difficult to install on the saw.