If you're a coffee lover looking for a new way to enjoy your daily cup, then cold brew coffee may be just what you need. With its unique flavor and low acidity, it has become a popular choice in cafes and coffee shops around the world. Fortunately, making cold brew at home is easy and affordable, thanks to the wide range of cold brew coffee makers available on the market today.
When it comes to choosing the best cold brew coffee maker, there are several factors to consider, including price, features, durability, and functionality. We've taken all of these factors into account and have compiled a list of the top cold brew coffee makers available today.
With a cold brew coffee maker, you can enjoy a refreshing and energizing cup of coffee without any of the acidity or leftover grinds that can sometimes come with traditional brewing methods. So why not give it a try and discover the delicious and satisfying world of cold brew coffee for yourself?
[ The Best Pod Coffee Machines ]
[ The Best Portable Ice Makers ]
A List of Top 10 Best Cold Brew Coffee Makers
Takeya Deluxe Cold Brew Coffee Maker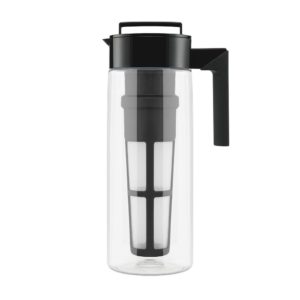 Not only does it offers one of the most delicious brews, but it is also very easy to set up and use. It comes with a durable construction that is simple to store and clean for later use. Another special feature of this model is that that is totally air tight while brewing, which allows the users to store the brewer easily on the side in a packed refrigerator.
BPA-Free Tritan pitcher with an airtight lid and non-slip silicone handle
Brew up to 1 liters of concentrated coffee
Easy to clean and use
Cold Bruer Drip Cold Brew Coffee Maker
The Cold Bruer drip cold brew coffee maker is a unique and beautiful model on the market. It is very mesmerizing to watch it brews, and this is the only cold brewer model that yields the coffee which is ready to drink.
Well-designed unit
Adjustable valve
OXO 32-Ounce Cold Brew Coffee Maker
OXO is one of the most trusted names in the industry for household appliances with user-friendly, durable, and affordable products. Just like both models reviewed above, this unit is very easy to set up, use and also takes up less space on the counter when in use. The OXO brewer can deliver smooth and low-acid coffee in only a few simple steps.
32-ounce cold brew coffee maker
Durable product
Small countertop footprint
Easy disassembly for cleanup and compact storage
Toddy Cold Brew Coffee Maker
Established in 1964, Toddy is always one of the most popular choices of many coffee lovers. By extracting the bitter oils and acids that other brewing machines often leave behind, this Toddy Cold brew coffee maker is able to create a low-acid and smooth concentrate.
Perfect for either iced or hot coffee and tea
BPA-free system
Reusable felt filters and rubber stopper
Filtron Cold Water Coffee Brewer
The last product on this list is a high-quality and durable coffee brewer from Filtron. Quite similar to a Toddy machine, this model is designed with a thick filter and large reservoir so that the grounds can steep.
Easy to set up and store
Simple, easy to use
Airtight Cold Brew Iced Coffee Maker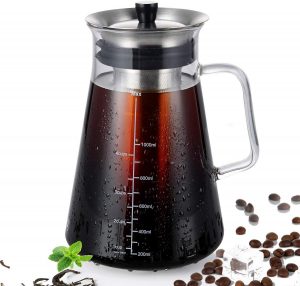 Also best for loose-leaf tea, the Airtight Cold Brew Iced Coffee Maker is highly rated among Amazon.com customers. You can save a lot of money by having this to make your own cold brew coffee. Overall, it's easy to use for having delicious coffee.
Extra-thick, lab-tested borosilicate glass
Stainless Steel Filter & Cap
Toddy Cold Brew System
One of the best cold brew coffee makers on the market, the Toddy Cold Brew System won't disappoint with its price tag (comparing to the OXO brand), it's also easy to clean and maintain.
brewing container with handle
smooth coffee concentrate with 67% less acid
lass decanter with lid
2 reusable filters
Dash Rapid Cold Brew Coffee Maker with Easy Pour Spout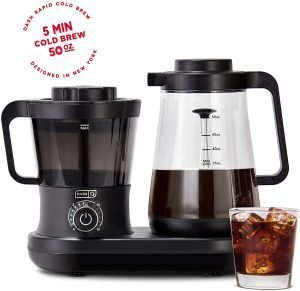 The BPA-free is essential for all coffee maker. If you drink iced coffee everyday, the Dash Rapid is the best for that. Comparing to Cuisinart, this product performs way better.
Simple and easy to use
Improved, redesign
BOZ Cold Brew Iced Coffee Maker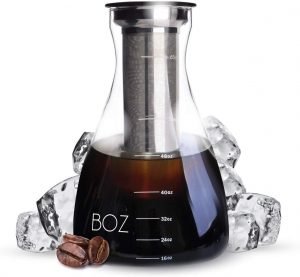 After you can adjust the amount the ground, you'll perfect your cold brew with this maker at home. Good price for the product value. If it's your first time buying a cold brew coffee maker, we highly recommend this.
Stylish design
Easy to use and clean
Hamilton Beach Coffemaker Carafe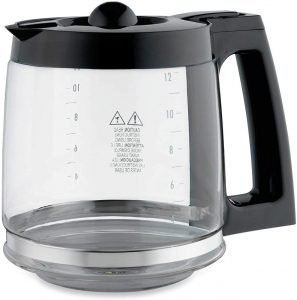 Last on the list is Hamilton Beach, which you should use with extra care. It's quite fragile than others we featured in this review.
Plastic made handle and lid
12 cup carafe
Replacement Carafe