When working with wood, corner clamps are a great tool to have for added stability on the material being held on a workbench. It can help create a high-quality final product. However, with many options available, choosing the best corner clamp for woodworking can be difficult. We have reviewed the top corner clamps based on efficiency, versatility, ease of use, portability, and user comfort.
To ensure you get the best product, take the time to compare different options and choose one that fits your needs and budget. Consider the functions, compatibility and versatility of each product before making a decision.
A List of Top 5 Best Corner Clamps For Wood Working
TACKLIFE Right Angle Clamp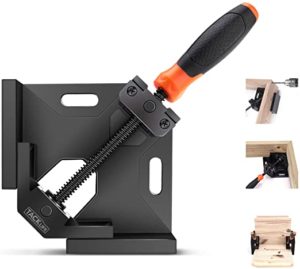 Tacklife clamp is a 90° clamp which is made of a high quality alloy of aluminum and a heat-treated carbon steel which ensures the durability property of the tool. It is more convenient and hold wood pieces more precisely by its design of a swing jaw which can be rotated in a two-way. It has a maximum clamping range of 70mm, the width of its jaw is 95mm and a jaw depth of 35mm. this clamp allows two block of woods of different thickness to be held at right angle and also it can accommodate large materials such as the metal tubes, thick glasses or box frames. In addition, it has a unique design which is covered with a rubber to ensure users comfort is achieved.
Pros
• Durable
• The rubber cover ensure the comfort of the user
Cons
• It is less versatile
SERENDIPPER Corner Clamp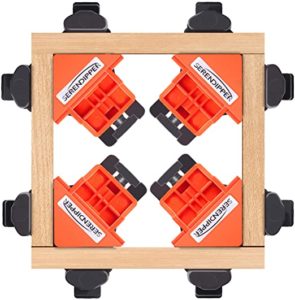 Serendiper clamp is a multu-purporse clamp which can be used in a variety of fields such as in carpentry, welding and wood-working. It consists of 4 angle clips which enables to square up any small wood working project and therefore it ensures that you achieve your clamping works in a convenient manner. Its versatility makes it possible to be used in framing, doweling, preparing cabinet and in drilling. Just to add on, it can also be used in the making of the miter joints. Unlike other clamps, it consist two angles in a single element that the 90 and 45 degrees. It has excellent angle locator which saves on time and effort.
Pros
• Versatile
• It is more accurate
Cons
• Quite expensive compared to other clamps
GLARKS Right angle corner clamp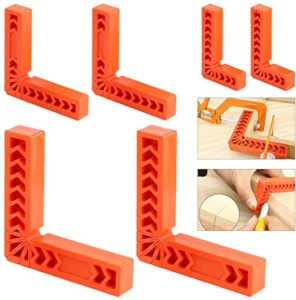 This clamp is made up of a 90 degree 6 pieces positioning squares each for two pieces. The positioning squares are made of a high-impact plastic construction which ensures excellent durability and a lightweight workability. With this property, the positioning squares are simple to clamp and strong enough not to flex. The positioning squares have scales on both the inside and the outside edges which serves as an exacting measuring guides. The clamp is perfect for all the wood working individuals for framing, building or repairing a drawer or welding a square piece. This clamp is a great helper to get an excellent job done.
Pros
• It is made of a durable material
• It is cheaper
Cons
• Restricted for clamping alone.
EVWOGE Right Angle Clamp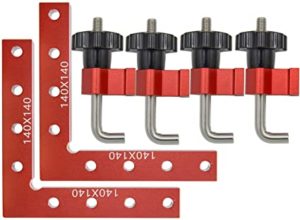 This is a tool which is made of a high quality Aluminum alloy thus ensuring its durability. It is easy and simple to handle with this clamp tool as the squares have Beveled edges which it will not damage the soft cutting edges. The clamp is more convenient for operations as the squares and the clamps are adapted to both large and small DIY projects. The clamp has a variety of applications such as in assembling and clamping of boxes, drawers, furniture cabinets and in maintaining a perfect square while assembling the frames.
Pros
• It is easy to handle and use
• Has wide applications
Cons
• It is expensive
POWERTEC 71017 Clamp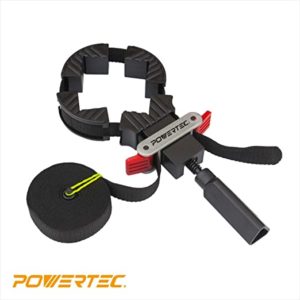 Powertec 71017 clamp consist of a band clamp which has levers which are easily released. It is made of a durable plastic frame along with a non-marring clamping jaws which is paired with a nylon webbing of a high grade. Additionally, it has a band length of 1 inch wide and 12 –feet long. The powertec clamp is versatile in that it can provide tight and adjustable clamping actions for a variety of irregularly shaped items and in projects such as building drawers, picture frames and frames fro chairs. It perfectly use for rectangle, square, round and unique shaped works.
Pros
• It is cost effective
• Can be used on different shaped works.
Cons
• Restricted to clamping works only