In the event of a car fire, a car fire extinguisher can be the first line of defense. Unfortunately, many people overlook the importance of safety when it comes to car fire emergencies. Having a car fire extinguisher on hand is crucial for protecting your property and ensuring your safety. That's why we've compiled a list of the top 10 best fire extinguishers for cars to help you make an informed decision.
We highly recommend that everyone invests in a reliable car fire extinguisher. Cars can catch fire easily whether you're driving off-road, on the road, or on a race track. By having a fire extinguisher in your car, you can potentially save your vehicle or other nearby vehicles from being destroyed.
It's important to properly mount the fire extinguisher within your car. We suggest attaching it to the bottom front of the driver's seat for easy access in case of an emergency. Don't wait until it's too late, invest in a high-quality car fire extinguisher today to ensure your safety and the safety of those around you.
Best Dash Cams for Truck Drivers
A List of Top 10 Best Fire Extinguishers
First Alert Auto Fire Extinguisher 2 Lb.

This fire extinguisher is used for the 5BC general purpose. It contains non-toxic sodium bicarbonate dry chemical and has a 2lb capacity. The extinguisher has a corrosive proof valve, and it incorporates the use of one-touch pressure check. The car fire extinguisher produces powder and belongs to class BC that is friendlier as compared to the ABC extinguisher class.
Pros
Its pressure gauge is easy to use
Uses non-toxic chemicals
Easy to install
Cons
First Alert Auto Fire Extinguisher-AUTO5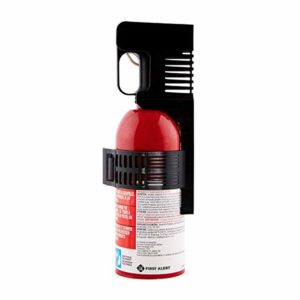 This fire extinguisher can be stored in a vehicle and has been rated as a compact car fire extinguisher that is ideal for use in cars. It is used in putting out electrical fires and flammable liquid. Its size is estimated to be small to the extent of filling in a trunk. This kind of fire extinguisher is ideal for all cars and is rechargeable by certified professionals when used. It is made of durable metal, which ensures it is designed in a way that it meets the desired needs. The extinguisher has instructions that are easy to follow.
Pros
It is highly durable
It has an impressive UL rating
It is affordable
Cons
Sometimes it can create a mess
First Alert GARAGE 10 Rechargeable fire extinguisher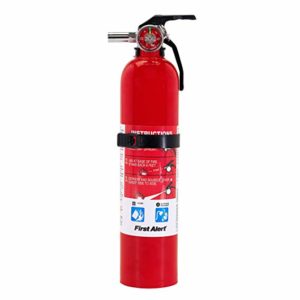 This is an ideal extinguisher for use in the garage. It is also used in putting out electrical fires, as well as flammable liquids. The fire extinguisher is rechargeable by a certain professional. The extinguisher's can is made of a metal head, making it easy to meet its required demands. It also has a safety seal and a metal pull pin that hampers tampering. The can is fitted with a gauge and an easy to follow instruction to ensure its correct use.
Pros
It is a multi-functional fire extinguisher
Easy to mount or install
It is corrosion resistant making it more durable than the other products
Cons
None
H3R Performance HG100C Car Fire Extinguisher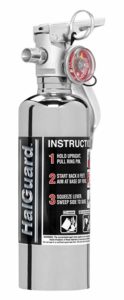 This is a type of car fire extinguisher that has a unique chrome finish. The extinguisher uses the Halguard agent that is essential for the different automotive fires. This extinguisher is designed only for automotive use and is rechargeable, and it is associated with zero damage to car surfaces upon its use. Its cylinders are made of steel and metal construction.
Pros
It is environmental friendly
It is compact, meaning it does it take a lot of space in the vehicle
Cons
None
FIAFESA5 Automotive Fire Extinguisher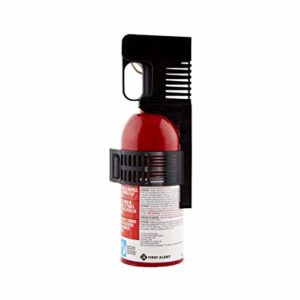 This kind of extinguisher is effective for both electrical and liquid fires. Easy to read gauge, the FIAFESA5 Automotive Fire Extinguisher will allow you to for the capacity left in the cylinder. The extinguisher has a mounting bracket with a button to test the current pressure.
Pros
5-year warranty
Easy to read
Come with mounting brackets
Cons
Kidde Pro 210 Auto Fire Extinguisher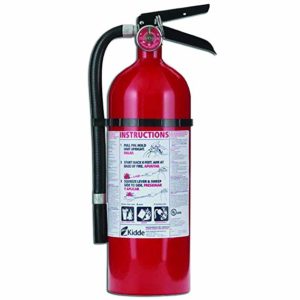 Best for putting out class A, B, and C with an impressive liberation rate, the extinguisher is operates at 100 PSI. Made of corrosion-resistant aluminum with a powder-coated finish, its cylinder contains a dry multipurpose chemical agent. This car fire extinguisher one of the best as it handles all kinds of fires and is rechargeable.
Pros
Handle different types of fires
Corrosion resistant
Cons
Buckeye 45100 Automotive Fire Extinguisher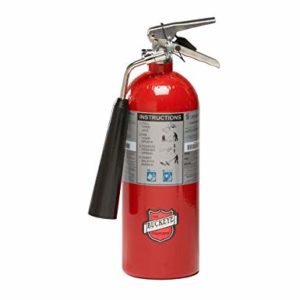 This is a large car fire extinguisher containing 5LBS of the extinguishing agent. It has a liberation rate of 9 seconds. Made from industrial grade aluminum and steel cylinders, it also has a color coded pressure gauge and a polyester powder coating. This car fire extinguisher is ideal for either class B or C fires.
Pros
Rechargeable
Lightweight
Designed with a sturdy, robust canister
Versatile
Cons
Not suitable for highly sensitive electronic devices
Fire Command Vehicle Fire Extinguisher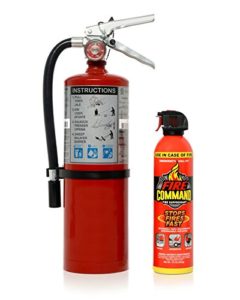 The car fire extinguisher can spray for longer duration. It has a shelf life of about three years and can shoot up to 10 feet within 60 seconds. It has an actuator and a recyclable aluminum can. It is most best for class A or B fires. It also has a non-corrosive and biodegradable formula making it safe for use.
Pros
Convenient and compact
Puts out fire very fast
Biodegradable
Cons
Instructions can fade with time
Amerex B417T Fire Extinguisher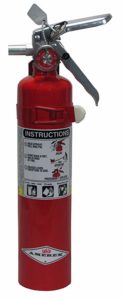 This car fire extinguisher is good for class A, B, or C fires that come with a mounting bracket. The cylinder comes in a long and thin construction. It has a discharge time of about 15 seconds. It uses a monoammonium phosphate agent, and it operates at a pressure of 195 PSI.
Pros
Long discharge time
Handle different types of fires
Cons
Kidde FX511 Automobile Fire Extinguisher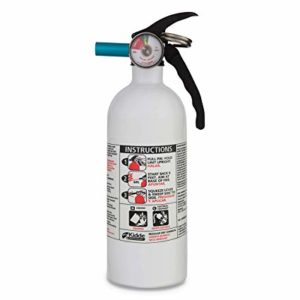 Coated with a white powder finish, the cylinder protection from corrosion operates at 100 PSI. It has a discharge rate of 8-10 seconds and is fitted with an easy to pull safety pin. Mounted with clear instructions with graphics and its handle, the nylon is resistant to rust.
Pros
Features a gauge that shows when it is ready for use and fully charged
Fully rechargeable
Rust resistant: powder coating