Best Garden Weeders (2022)
Are weeds and moss giving you a hard time? Then it would help if you got yourself a garden weeder. A garden weeder will make work easier for you as it will help get rid of all the weeds, even those deep-rooted and stubborn. To make it easier for you, we have listed the five best garden weeders to be easier for you to choose. We have also listed the factors that you should consider when buying a garden weeder.
What makes the best garden weeder?
When choosing a garden weeder, there are three essential factors that you have to consider. These factors are crucial, but they will all depend on your needs and wants. Below is what to look at before buying a garden weeder.
The size and length
The size of the tool is significant if you want it to be effective. If you have a back problem, then go for a device with a long handle. That way, you don't have to keep bending and standing up when getting rid of the weeds. The blade should be thin enough so that it can get through cracks.
Durability
The material used to make the garden weeder should be of very high quality. First, you have to make sure that the blade is stainless steel to not rust. It should also be hardened but at the same time lightweight. The rest of the tool should be made of a material that can last long.
Lightweight
The tool should be made of a material that is hardened but still lightweight. Gardening requires you to move around a lot, so you need a tool to move without dragging you behind. This factor is critical when buying a garden weeder.
If you are looking for a weeding and gardening tool, you have a list of the five best choices. They are all great and not only are they used for weeding but you can also use it to garden like planting and digging. You have to know what you want and how much you are willing to spend.
A List of Top 5 Best Garden Weeders
#1. Nisaku NJP650 Hori-Hori Weeding & Digging Knife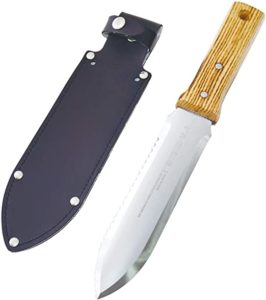 The Nisaku garden weeder is made in Japan, and it features both straight and serrated edge blades. It is excellent for landscaping, gardening, and when going camping. You don't have to worry about storage because it hangs neatly on the peg rack, whether on the workbench or a tidy shade. The knife also has inch markings to plant the bulbs and bulbs at the correct depth. It is made of stainless steel material that will ensure it does not rust and will last a very long time.
The blade is excellent for digging, and the sharp beveled edge is for slicing. If you want to use it for cutting, then you should use the serrated edges. The inch markings can also be used to measure ropes and other things. The knife is constructed using full-width mid-tang so that it can have thick steel without being too heavy. You can also secure it to your belt using the snap loop, making it easy to carry around.
Features and pros:
Inch markings for easy measurement
Finest stainless steel material
Durable and ergonomic
Snap-loop for your belt
Faux leather sheath
Multiple usages
Cons:
Not great for big plants
Cheap vinyl sheath
#2. Worth Garden Stand-Up Weeder And Root Removal Tool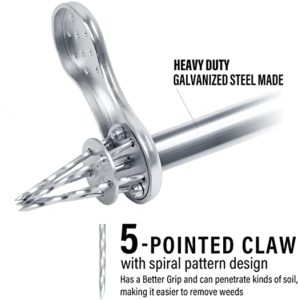 If you are looking for a gardening tool, you should check out the Worth Garden weeder. It is called stand up because you can use it while standing up. It has a durable construction, which means it will last a very long time, making it a significant investment. The handle is 33 inches in length, allowing you to remove weeds without the hustle of bending down.
That makes it great for older people and people with back problems. It is built strong enough that it can withstand your weight when you step on the foot pedal. This stand-up weeder is one of the best gardening tools, and it will last many years with steel construction.
Features and pros:
Padded foam and ergonomic handle
Suitable for different soil types
Durable and long-lasting
Pointed five claw design
Stand up weeding tool
Cons:
Prongs need to be a bit longer
Instructions are not clear
#3. GREBSTK Crack Weeder Crevice Weeding Tool
If you have a problem with weeds and moss that has become too stubborn, then the GREBSTK Crack Weeder will be a lot of help. The sharp edge is perfect for cutting the moss and the weeds and helps you effectively edge the grass line. The beech handle is designed to be strong yet exceptionally lightweight, and it also has a hole so that it can be convenient for you to store it.
The blade is sharp, made of stainless steel, and hardened to be abrasion-resistant and durable. You can use it between the pavements to get rid of weeds, grass, and even moss. This weeder can get into even the tightest places and perfect for lifting rooted weeds that are intact.
Features and pros:
Solid and lightweight beech handle
Stainless steel material
Handle hole for storage
Sharp edge for cutting
Great for tight areas
Cons:
Not thin enough for some
Short handle
Cracks
#4. CobraHead Original Weeder & Cultivator Garden Hand Tool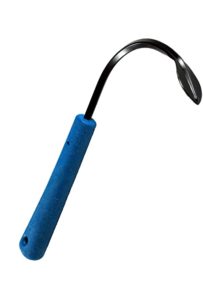 The CobraHead original weeder is the best gardener weeder for any serious gardener. It is comfortable and easy to use, making the work easier. Gardening can be very tedious as some weeds can be very reluctant. This weeder is the best for breaking up tough soil and pulling out those reluctant weeds. The CobraHead weeder makes your work easier to focus on important stuff like nurturing the garden and planting.
It has a slender design so that you can achieve an unprecedented level of precision without tampering with its durability. The tool is excellent because it is made by gardeners who understand the challenges first hand. That is why the device is so effective and easy to use.
Features and pros:
Comfortable universal grip
Curved head for any use
Tempered steel blade
Built by gardeners
Very easy to use
Cons:
Great for cultivating but not weeding
Flaw in design
#5. Radius Garden 205 PRO Stainless Steel Weeder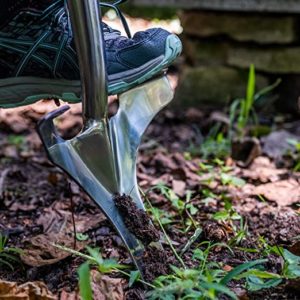 The Radius garden weeder is a great stainless steel weeder that helps you get rid of unwanted weeds in your garden. It is very lightweight and can be used in any gardening. It can get rid of weeds in established gardens without harming the plants in any way. Professionals primarily use this weeder as it provides comfort at the best optimal performance.
This tool also has a long handle so that you can get rid of the long roots that are too deep for other types of weed. The tip may be extended and narrow, but it is powerful and can deal with any gardening challenges.
Features and pros:
Industrial strength
Great for deep roots
Lightweight design
Extra-wide forward step
Stainless steel blade
Comfortable and easy to use
Cons:
Short design
Not rust resistant