Do you enjoy camping or hiking but find lying on the ground uncomfortable? A great alternative is to use a hammock suspended above the ground using straps. To ensure that you have a comfortable and durable suspension system, we have compiled a list of the best hammock tree straps available.
Our recommended tree straps are versatile and can support various weight capacities. You can easily choose one that suits your needs and preferences, and then set up the perfect spot to swing and relax after a long day of hiking or camping.
Keep reading to discover our top picks for the best hammock tree straps, and enjoy a comfortable and relaxing outdoor experience.
A List of Top 10 Best Hammock Tree Straps
Bear Butt Kodiak Hammock Straps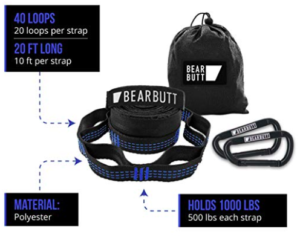 The Bear Butt Kodiak Hammock Straps is another recommendation. Easy to set up and use, you can take each of the straps out and loop it around the tree and pull through the other end. Also, the hammock straps come with two extra strong metal carabiners and two large straps. These come in a lightweight carrying case to guarantee easy setup and storage. The straps feature a weight-bearing capacity of up to 1000 pounds. They are made using polyester that is stronger compared to nylon.
1 inch thick straps : tree friendly
Polyester webbing for no stretching and strength
Securely wraps around trees for no breaking
Stronger than ropes with 1000 lb weight capacity
EASY HANG (8FT) TREE SWING STRAP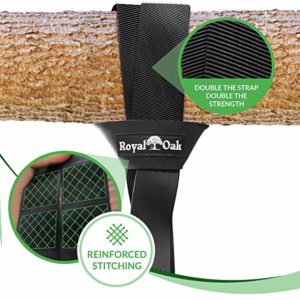 From Royal Oak, we have the Easy Hang tree swing strap. Designed to withstand harsh weather, the strap is made using commercial-grade nylon. It has a carbine hook made from steel to protect it from rust and corrosion. The swing straps support a weight capacity of up to 2200lbs. The straps can fit hammock swings, spinner swings, web swings, disc swings, and tire swings.
Safer screw lock steel carbine
Nylon is able to withstand harsh winters and hot summers better than Polyester
100% waterproof
UV resistant
Friction and chemical resistant
2 inch wide strap to prevent tree damage
Easy cleaning and care
PYS XL Hammock Tree Straps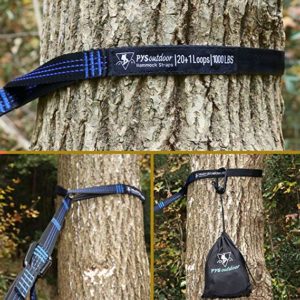 An affordable solution when looking for the best hammock tree straps is the PYS Hammock Tree Straps. Easy to set up, you can wrap them around anything without the need for dealing with complicated knots to tie. Asides that, the hammock tree straps are durable. The reason is the double-power stitching plus the fact that they are tested and approved to support a 2000lbs weight capacity. The tree straps come with a storage bag and instruction card for fast and easy setup.
Easy to use

100% no-stretch polyester webbing
Sahara Sailor Hammock Straps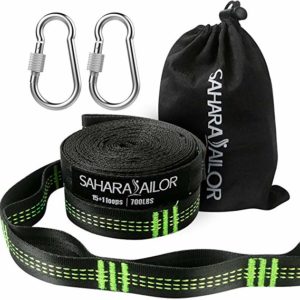 Sahara Sailor Hammock Straps will suspend you safely by anchor points. Made from 100% polyester webbing, it can support up to 1400lbs with more than 30 connection points. Hence, you can expect it to suspend you by anchor points that are more than 20feet apart. Another benefit of the hammock straps is the lightweight design. The straps weigh 12ounces while you can also pack them into a compact size for easy storage. Sahara Sailor Hammock Straps come as a set of 2 hammock straps with 30 hammock attachments loops.
Ymeibe Tree Swing Strap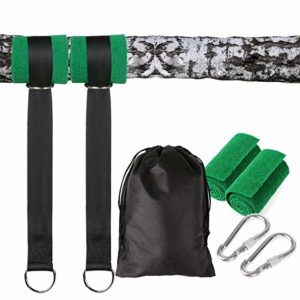 If you need a secure option to hang a toddler swing, I would recommend getting Ymeibe Tree Swing Strap. Designed to follow the SGS safety standard, the straps are safe to use. Better, they are made using industrial-grade polyester. This material can hold up to 2200lbs and withstand all types of bad weather. You can use the straps on all types of tree swings. The product comes with tire swings, platform swings, hammocks, saucer swings, spinning swings, and spider web swings. Also, the swing straps are safe to use, thanks to the 2″ thickness that wraps around the tree .
Gonicc Professional Safety Tree Swing Hanging Kit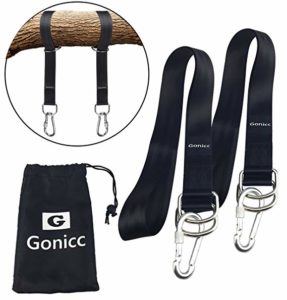 A great choice when looking for durable hammock tree straps is Gonicc Safety Tree Swing Hanging Kit. The kit comprises stainless steel rings, carabiners, and hammock tree straps. The tree straps are easy to install, thanks to the ability to attach them to a tree without the risk of damaging trees. Asides that, the tree straps are durable. The reason is the 100% terylene fiber that offers greater strength and fast elastic recovery ability. The rings and carabiners feature high-grade stainless steel that resists rusting and fading.
SELEWARE Tree Swing Ropes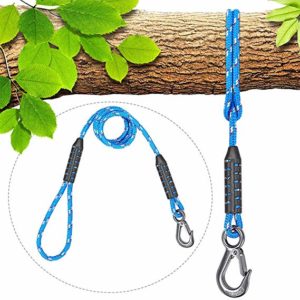 This is a multipurpose tree swing rope suitable for outdoor or emergency activities. The rope is made using 100% polyester material. The material is strong and light for secure handling. What's more, the straps come with snap hooks. The hooks are made using 304 stainless steel that is resistant to rust and corrosion. The ropes can bear a weight of up to 3500lbs. Besides that, they can connect easily since one end is sewed with hooks for a convenient and practical connection.
Sahara Sailor Tree Swing Hanging Straps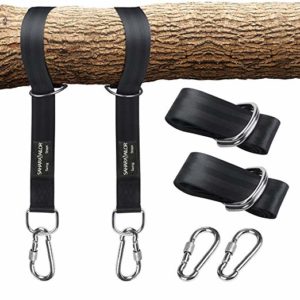 A safe way to have fun lies in installing Sahara Sailor Tree Swing Hanging Straps. Each strap is 5feet and made using polyester that supports a total weight of up to 2200lbs. Asides that, the polyester isn't affected by the weather. You don't have to worry about it fading, tearing, or wearing. The hanging straps are safe to use, thanks to the fact that you do not have to worry about them damaging your trees. Also, they are easy to install, given the simple instructions that provide room for easy and fast attachment. The straps come with stainless steel rings and carbines that resist fading and rusting.
BUSATIA Tree Swing Straps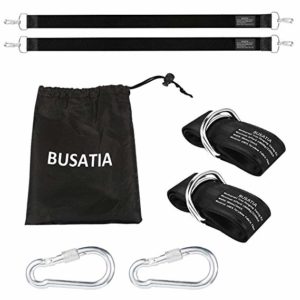 Whether you are camping or want to hang in your backyard, you can expect Busatia Tree Swing Strap to offer the safety and support that is needed. Made using durable polyester, it is water and weather resistant to enhance durability. Besides that, the straps include stainless steel rings and hooks. These can resist rust and corrosion to guarantee durability. Each swing strap is 5feet long and designed to support a weight up to 1100lbs. The swing straps need few minutes to install, meaning that you do not have to be a professional for you to set them up.
Hammock Sky Hammock Straps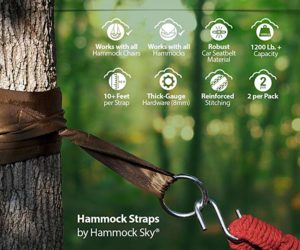 For indoor or outdoor use, these are durable and high-quality straps to set up your hammocks. The straps boost a weight of up to 1200lbs. They come with wide S-hooks enabling them to fit hammocks with larger end-loops. You can expect the straps to fit larger and thicker posts and beams, thanks to the extra-long 10.17 feet straps.
Discover Best Tree Stands for Bow Hunting