Traveling with fragile items can be a stressful experience. That's why a reliable carry-on suitcase is a must-have for most travelers. With so many sizes and options available, it can be overwhelming to choose the right one. That's why we've done the research and testing for you and have compiled a list of the top carry-on bags for frequent travelers.
When choosing a hard carry-on suitcase for travel, there are some important features to consider. Look for a bag that is:
Break and scratch-resistant to protect your belongings
Sturdy and strong when rolling
Lockable and durable to keep your items secure
Equipped with comfortable aluminum grip handles and side handles to prevent strain and cramping
The best hard-side carry-on suitcase should also come with double spinner wheels to reduce strain and fatigue. A 100% polycarbonate hard-shell is lightweight and more durable, ensuring that your suitcase can handle the wear and tear of travel. Additionally, a suitcase handle with a button lock will prevent it from collapsing when extended.
Overall, a small-sized hard-side carry-on suitcase is ideal for air travel, offering convenience and versatility when packing your belongings. With our list of top picks and these important features in mind, you can choose the best hard carry-on luggage for your next trip with confidence.
Top Best Sleep Masks for Travel
A List of Top Best Hardside Carry on Luggage for Travel
Bric's Capri Carry-on Luggage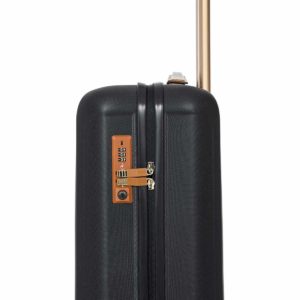 A poly-carbonate bag that has two compartments. Also, the bag contains an elastic strap which allows luggage to be kept neat and organized. And there are available in 2 colors which is grey and matte blue.
A comfortable grip with handles
A water-resistant sealed zipper
A 21 inch carry on
RIMOWA Classic Lufthansa Edition Cabin, Silver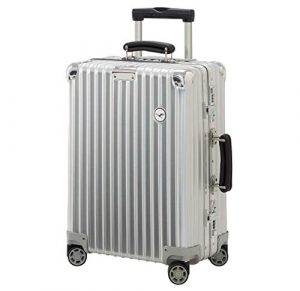 The bag also has smooth roller rolls rotating 360 degrees. Also, it is easy to move when traveling. It has a retractable multi-stage single telescopic grip handle.
Furthermore, the bag also has a flex-divider system which helps to keep the components organized. Especially, it has a TSA recessed locks for security.
Lightweight poly-carbonate shell
Comes in various colors
A padded topside and side carry grips
Fortis Hard side Carry-on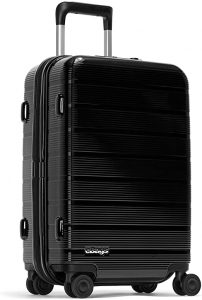 The interior has one full mesh zip section with one open area with tie downs to secure the components when traveling. It has double wheels and a handle. Also, the bag has a mirror finish with rub design. And the bag contains a self-healing coil zipper which integrates with a 3 dial combination lock for security.
Available in 5 colors
Lightweight poly carbonate material
Can expand by 1 or 1.5 inches
Can carry the bag without too much strain
Travelers Club Luna Hard-side Carry-on Spinner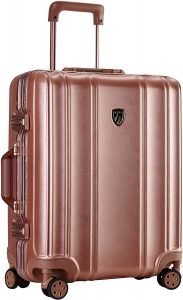 The luggage comes in different colors. It has spinner wheels which turn 360 degrees without straining the traveler. Also, it has a retractable lightweight handle. Lastly, the interior of the bag is lined up with a large zippered mesh accessory pocket.
Light-weight aluminum frame which
Designed to absorb any impact
Samsonite Centric Hardside Expandable Luggage with Spinner Wheels, Teal, Carry-On 20-Inch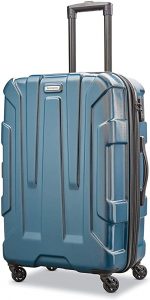 Centric combines scratch-resistant textures with lightweight 100% polycarbonate construction, ensuring your luggage looks as great on the 100th trip as it does on the first. Moreover, this lightweight line offers heavyweight protection riding on effortless 360° Spinner Wheels. Remember, not to pull your case; let Centric roll comfortably beside you on your journey. Importantly, TSA locks help to protect your belongings.
Many colors and sizes
The lightest polycarbonate construction
Strong and durable
The exterior of the bag is polished
Hartmann 7R Medium Spinner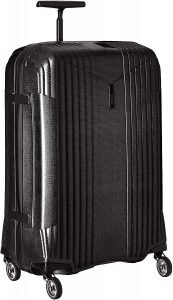 Made from polycarbonate material with dual aluminum wheel handle. The leather grip provides comfort. And it has a removable laundry and shoe bag.
Durable
Four smooth rolling dual wheels
A lockable zipper with sleek and elegant covers
Victorinox Spectra carry-on Bag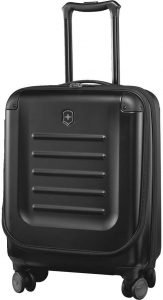 Made from break-resistant polycarbonate material with a scratch-resistant finish. Also, the closure cushions protects the bag from scratch and abrasion. It has exterior compression straps to adjust the interior of the bag. And it has dual caster spinner wheels.
Can expand 4.3 inches
A zippered mesh wall
Side grip handles
Delsey Luggage Chatelet Hard+ 21 Inch Carry on 4 Wheel Spinner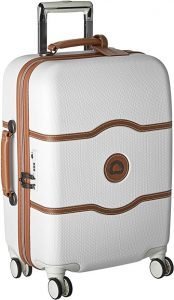 Desley's design looks timeless and elegant. Of the carry on luggage, this one is stylish and beautiful both inside and out.
Fully lined interior
Silent-running double spinner wheels
20.25 x 14.25 x 9.5
AmazonBasics Hardside Spinner Luggage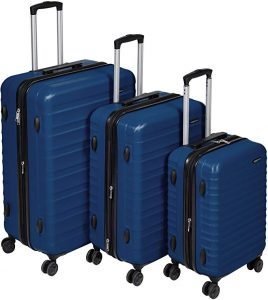 The protective hard shell of this hardside spinner luggage from AmazonBasics is good enough. Importantly, it will not break your bank.
Made of extra-thick ABS
Fully lined interior with divider
4 double spinner wheels
Delsey Luggage Helium Aero International carry-on

The Delsey Luggage Helium Aero International carry-on is one of the most stylish suitcases out there. First, it has a classy yet stylish outer finish and comes in five colors. Also, the suitcases all have a fantastic glossy finish which makes it look modern.
Outside front compartment that has a built-in laptop sleeve
comes with a 3-dial combination TSA approved lock
Available in four sizes
Two compartments
Elastic tie down straps
Samsonite Omni PC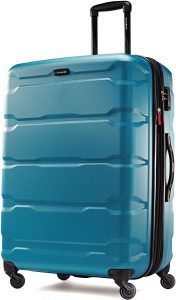 This is a single spinner wheel bag with a wide range of features. You won't have to worry that your luggage may exceed the weight limit. When you open it up, the bottom side has elastic straps to hold things in place while the other side has a mesh covering with zippers. This compartment comes in handy, especially when separating things you don't want to mix.
Ideal travel bag
Poly-carbonate hard-shell
Durable
Also: Samsonite Stryde Hardside Glider Long Journey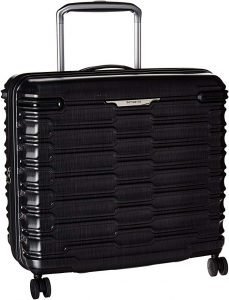 This Samsonite hardside luggage was designed to last. You'll love the fluid movement and a range of motion when you travel with this suitcase. A clunky, impractical baggage can ruin your travel. You should instead get a hardside carry luggage that protects the fragile stuff from damage.
100 percent poly-carbonate material
Eight handle stops
And: Samsonite Inova 20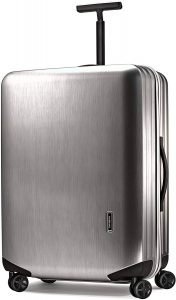 The Samsonite Inova 20 suitcase is one of the best of its kind. And this bag has an integrated TSA lock and is easy to travel around with because of its spinner wheels.
Sophisticated design
Rolls effortlessly and is very light
The Olympia Apache Carry on the spinner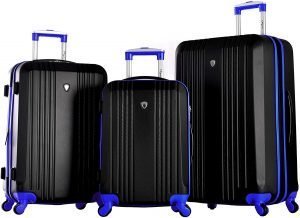 This bag is not your ordinary hardshell bag. It has a hidden compartment on the inside which is great for laptops and headphones.
The lined interior has two pouches with zippers.
The bag is expandable and comes in colors like orange.
Goplus Kids Carry On Luggage Set Upright Hard Side Suitcase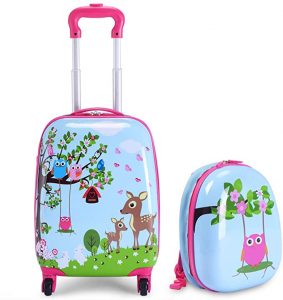 This bag was specifically tailored to cater for kids imaginations. They have full-sized cartoons printed on the exterior and are a bit smaller. The best bag for kids.
Available in 5 different patterns
Also: Goplus global way expandable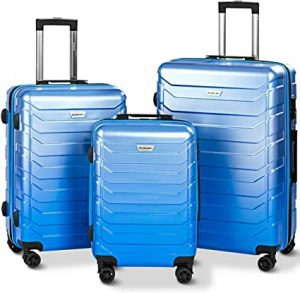 This is the best hard side carry on for budget travelers. However, it does not have security grips, side pockets or fancy handles. It's a functional bag. Also, it does have spinner wheels and comes in eight colors ranging from pink to black.
Available in 2 colors
Cheap and efficient
Light and easy to tote around
Designed with simple style without fancy patterns
Crafted using lightweight, durable ABS hard shell and premium metal pull rod
Rockland 20 inch Polycarbonate carry on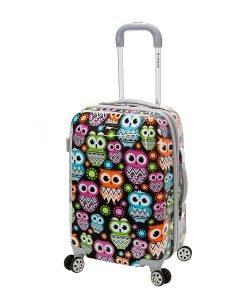 This bag comes in eleven different prints and patterns. Its unique feature is that it comes in a variety of geometric shapes, animals, cartoon characters and flowers.
The bag glides very well on four spinner wheels: multi-directional double spinner wheels
Lightweight yet extremely durable poly-carbonate material
Sturdy ergonomic aluminum telescoping handle
Interior mesh zip pocket and elasticated pocket
Amazon Basics Hardshell Spinner Luggage with Built-In TSA Lock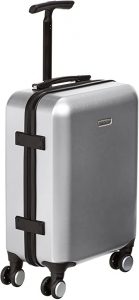 This Amazon Basics Hardshell Spinner Luggage looks pretty cool. It is 22.8 inch and it can be used as a carry-on but spacious enough for the essentials.
Available in 4 colors
Ideal for business travelers
The wheel is 360 Degree mobility whether you push, pull or walk alongside the case.
Nautica Ahoy Hardside Expandable 4-Wheeled Luggage-24 Inch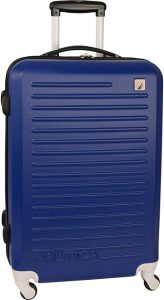 This bag is mainly made in bright orange and yellow. Moreover, its bright color makes it easily noticeable. Therefore, it is easier to identify your luggage in crowded areas.
Spacious interior with elastic fastening bands and zippers
Fully lined interior with two mesh pockets and valet straps
4 wheel spinner system for easy 360 rolling
Telescoping trolley handles are recessed and feature push button locking mechanism
Kenneth Cole Reaction 20 inch ABS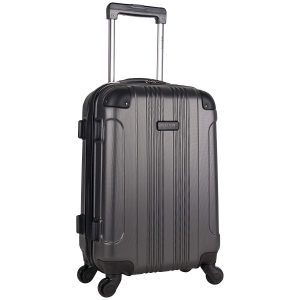 This bag has ample space, looks amazing and is very light. It is also quite expandable. When it is opened, the top flap has a little pocket for shoes and toiletries.
Smooth spinner wheels: multi-directional 4-wheel spinners allow smooth 360° degree movement on any terrain
Lightweight & durable
Top and side easy-grab handles
Two spacious fully-lined compartments allow for double-sided packing
Related Lists: