Best Instant Cabin Tents [2020]
Are you planning a hiking or camping activity? Well, you must carry along the best tent for such events so that you can sleep comfortably outdoors. But, which is the perfect model to purchase, given the range of tents available for you to buy? I would recommend purchasing an instant cabin tent. Unlike traditional shelters, this model is easy to set up and takedown. Furthermore, the best tents can protect you from external elements without sacrificing comfort. That said, I will take you through the ten best instant cabin tents available for you to purchase. Read on.
A List Top 10 Best Instant Cabin Tents in 2020
CORE 9 Person Instant Cabin Tent
This is an instant cabin tent designed to sleep up to nine people in sleeping bags. Asides that, the tent can fit two queen air mattresses so that several people can share it. The instant tent features telescoping poles. The poles are attached to the structure for easy pop up of the tent. Also, there is an electrical cord access port. The port lets you connect a charger and fully close it when it is not in use. A side T-door is another feature that offers easy access to the tent. Also, large mesh windows offer great airflow into the tent. With a 78″ center height, the tent is suitable when used by tall persons without the need for bending. Better, a detachable room divider offers added privacy while you can remove the divider for an open living area.
OT QOMOTOP Instant Cabin Tent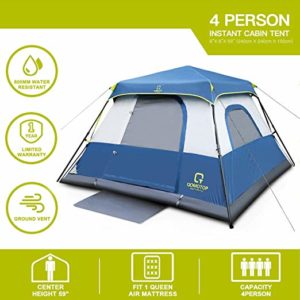 As one of the best instant cabin tents, this is a waterproof tent that takes at least 60 seconds to set up. The tent should be set up by two people, but one person can set it up without much difficulty. It features a spacious interior that fits one queen bed and other camping gear. Also, it features an electrical cord port that closes fully when not in use. The roof features a mesh design to enhance ventilation. On the other hand, there is a ground vent to ensure that water droplets won't condense inside the tent. The PE tube floor integrates welded corners to keep the inside dry during heavy rain.
Sunnychic Instant Pop-Up Set-up Tent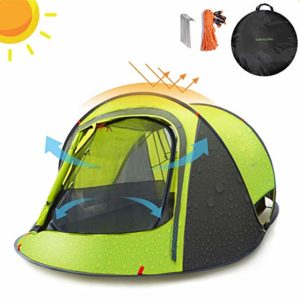 A perfect choice when looking for the best instant cabin tent for outdoor recreational activities is Sunnychic Instant Pop-Up Set-up Tent. Easy to set up, you can open it up and throw it into the air so that it can set up. Asides that, the tent incorporates pre-assembled holes for easy setup. The inside of the tent adopts a PU material coating. This is high-quality and waterproof without any odd smell.
What's more, the outer material is tensile 68D 185T polyester. This material is 2000mm waterproof to protect you against the rain. The bottom features 150D oxford fabric that is 3000MM waterproof to protect it from leaking in the water. Also, all seams are treated using a rigorous caulking process to protect the water from penetrating. The tent features a 3-dimensional ventilation system on the front and back to enhance breathability. Also, it includes a high-density mesh net that keeps bugs out. The doors and windows adopt a double-sided zipper for easy opening when you want to get in or out.
MOON LENCE Instant Beach Tent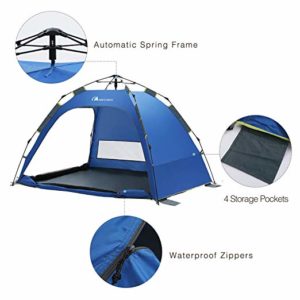 A perfect choice for an instant cabin tent designed for sporting events, summer activities, home patios, parks, and camping sites is the Moon Lence Instant Beach Tent. It is easy to set up, thanks to the pop-up mechanism that eliminates the need for assembly. Also, the tent remains sturdy after setting it up. The reason being its four sandbags that enhance stability. The tent features a 190T silver-coated fabric enabling it to reflect the light and block the sun's harmful rays. Asides that, the bottom fabric is PE material that is not only firm, but also waterproof. Two doors and two windows are included to enhance ventilation. The windows feature B3 black mesh to enhance ventilation and keep bugs out.
DEERFAMY 3-4 Person Instant Tents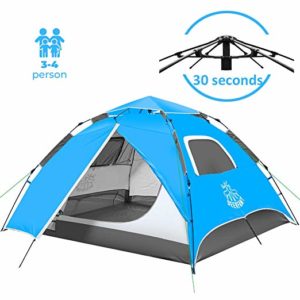 Fifth in the review we have this 3-4 person's instant tent. The tent is made using high-quality and waterproof fabric. With a 2000mm rating, the fabric can keep you dry during the rainy days. Additionally, the tent includes two large mesh windows and two doors. The windows and doors feature two side zippers that make them easy to open and close. You can expect the tent to accommodate three adults, kids, luggage, and pets, thanks to the spacious 93.31L x 78.74W x 51.57H. Also, the tent is high enough so that the tallest people can stretch out after standing.
SKYLINK Dome Tent for Camping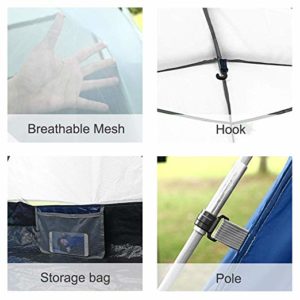 Suitable for all occasions, this tent is suitable for hiking, camping, traveling, and outdoor festival activities. The tent measures 120″ × 120″ × 71″ when open. As a result, it can accommodate up to 6persons. Also, it is made using a 190T polyester. This material integrates a PU fabric with a 3000mm rating to help keep water out. Equipped with an interior storage pocket, the tent can help you store a phone and other personal belongings. Besides that, there are two large D-style doors for easy access and a mesh structure to enhance ventilation and keep bugs out.
ARMOR CASTLE Instant Quick Setup Dome outside Tent
This tent can provide a spacious and comfortable shelter for 3-4 adults. It features an advanced hydraulic pressure mechanism that makes set up a breeze. Moreover, ropes and pegs make it possible to mount it so that it can stay stable in strong wind. The tent includes strong fiberglass poles to enhance stability. Besides that, it is made using a high-density 150D oxford fabric with a silicone coating to keep the water out. You can take advantage of the inner pockets to store small items and personal accessories. Better, the tent includes mesh windows to enhance ventilation and keep bugs out. A convenient hanging hook is another feature that allows you to hang a lantern light or headlamp whenever the need arises.
Ubon 2-3 Person Pop up Tent 3 Seconds Instant Tent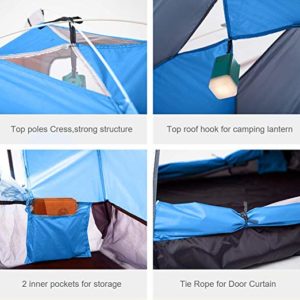 Coming in closely after Armor Castle Instant Tent is Ubon 2-3 person pop-up tent. Easy to set up, it requires you to release it from the bag and pull out two white locks for it to pop up automatically. Asides that, the tent offers an ample space suitable for up to three adults. Made using 190T silver-coated polyester fabric, the tent can keep you protected from direct sunlight. Better, it includes two mesh doors. Not only do the doors offer easy access, but they can keep bugs and mosquitoes out while providing ample ventilation. Two inner pockets are other additions that provide ample space to store a wallet, keys, and other small accessories. Moreover, the tent comes with four windproof ropes and eight tent stakes to protect it from getting blown away by the wind.
Mobihome Instant Backpacking Quick Tent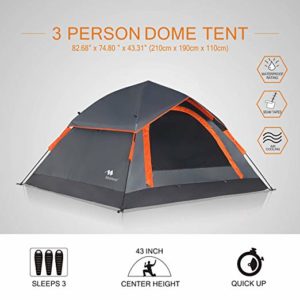 Suitable for outdoor camping, this tent is made using 190T polyester. The fabric is 100% water-resistant to protect you from the water after the rain or shower. Besides that, the tent features a PE tent floor. Not only is the floor sturdy, but it is also waterproof to keep you dry. The shelter is compact and lightweight to enhance portability. It is easy to set up, thanks to the unique hub system that allows you to set it up or pack it within minutes. Because of the breathable micro-mesh roof and two doors, you can expect maximum ventilation aimed at keeping you comfortable. Better, the tent includes rain-resistant door and window seals as well as a fully taped rainfly to offer the best resistance against the water.
ALPHA CAMP Instant Cabin Tent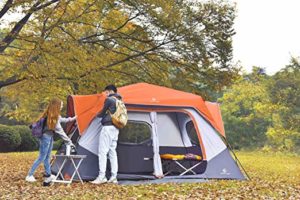 Designed to accommodate 6-8persons, the Alpha Camp Instant Cabin Tent features a 12′ x 9′ floor space and a 76″ center height. Asides that, it features high-grade steel poles and a sealed floor seam. The steel poles offer perfect resistance against the wind while the floor seams block moisture to keep you dry and comfortable. The windows include mesh panels to keep bugs outs. Asides that, there is a large "D" style door for fast entry and exit. The tent is safe for use during the night, thanks to the reflective tent rope. Asides that, it includes a cable port that offers access to an electrical cord. Two large pockets are other features that allow you to organize personal belonging and accessories.
Discover Best Outdoor Party Tents
Conclusion
Whether you are camping, hiking, or hunting, you can opt to buy either of the reviewed cabin tents. Not only are they easy to set up, but they are easy to carry, designed to keep the water, bugs, and the sun out so that you can get the best user experience.
Browse our reviewed products