Kitchen counter stools are an indispensable addition to any kitchen island. They should offer not only comfort but also add a touch of style to your kitchen. When choosing the best kitchen counter stool, it is important to consider the material, height, style, and comfort level. Whether you prefer a traditional, modern, or eclectic look, there is a perfect counter stool out there for you. A well-chosen counter stool can add function and personality to your kitchen, making it the perfect gathering spot for family and friends.
A List of Top 10 Best Kitchen Counter Stools
Ball & Cast Counter Height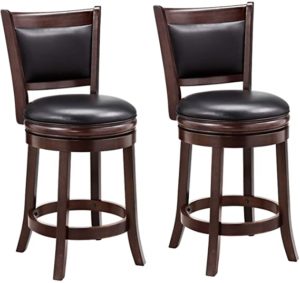 The Ball & Cast is a counter height stool that measures 24″ from the floor to the base of the seat. It features a 14.5″ high backrest to guarantee user comfort. The stool features a solid hardwood frame. As a result, it is quite sturdy and an ideal choice for a durable kitchen counter stool. Besides, it features a cushioned seat plus a comfortably padded curved back. These are covered with faux leather upholstery for adequate water resistance and easy maintenance. The base highlights slightly flared legs and a circular footrest to enhance stability. A 360-degree steel ball bearing swivel plate ensures quiet performance and effortless rotation in either direction.
BestOffice Counter Height bar Stools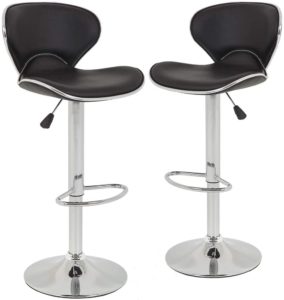 If you are looking for the best kitchen counter stools for use with people of different heights, I would recommend the BestOffice Bar Stools. This set comprises of two seats. The height of the seats can adjust from 25″ to 33″ making the stool a perfect choice for use in countertops of different heights or by people with varying heights. Additionally, the stools are made using a heavy-duty chrome frame for durability without sacrificing style. The seat and back include a foam padding that features a PU leather cover. As a result, the seat is comfortable and easy to clean. The barstools are ergonomically designed and fitted with a footrest for user comfort. The base comprises of a sturdy circular steel base with a rubber ring to protect it from sliding and scratching the floor.
Amazon Brand – Rivet Modern Industrial Wood and Metal Kitchen Counter Bar Stool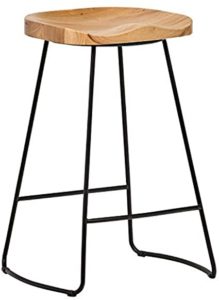 Responding to the need for a durable and stylish kitchen counter stool is the Amazon Brand Kitchen Counter Bar Stool. It features a curved seat to deliver extra comfort to the user. Besides that, the seat is made using solid oak. This material is not only durable but also stylish, and therefore a great addition to modern decors. The stool integrates a metal base. The metal features a black finish to protect it from rust and corrosion. What's more, there are footrests on the base for an ergonomic sitting position. The feet of the stool includes four rubbers to protect it from sliding and scratching the floors. And, the bar stool features classic and modern touches to offer a stylish look in contemporary decors.
Halter Adjustable Height bar Stool Seat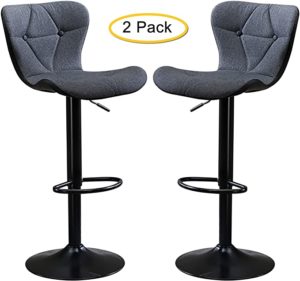 Immerse yourself in comfort, whether you are taking a drink or snack once you sit on Halter Adjustable Height Bar Stool. It blends a contemporary and industrial design that matches a modern kitchen or office interior. The stool combines a mid-back and footrest support to guarantee user comfort. Its back and chair feature optimal padding to ensure user comfort. Also, there is a height adjusting airlift system. The system allows you to adjust the height from 24.8″ to 32.68," which makes it suitable when used from different counter heights. The bar stool is made using a metal plus reinforced fabric to guarantee durability. The base features a flat protective layer that makes it suitable for outdoor use.
Armen Living Shelly 26″ Counter Height Barstool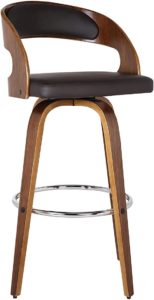 As one of the best kitchen counter stools, Armen Living Barstool is ideal for use in the dining, kitchen, commercial settings, or any living space in your home. The stool features a foam padded seat and back. These are covered in soft faux leather upholstery for durability and easy maintenance. Additionally, the seat can swivel up to 360°. Because of this, the barstool is comfortable to use and designed to help you handle different tasks conveniently. The back features an open curved design to enhance breathability. On the other hand, the frame is a walnut wood with brown upholstery accent for durability. The convenient footrest is constructed using chrome for exceptional stability and support.
Nathan James Kira Counter Bar Stool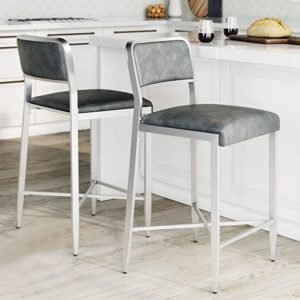 This bar stool provides an elegant way to add style and function in your kitchen. It features a soft, cushioned seat to enhance comfort. The seat is protected using a scratch-resistant PU leather for perfect waterproofing without sacrificing style. You can get this stool when looking for kitchen counter stools that are easy to set up, given that assembling it takes 30 minutes of your time. Furthermore, the stool is a perfect option for a durable counter stool because of the sturdy stainless steel frame. The frame features an elegant silver stainless steel finish to protect it from rust and corrosion. Besides, there is an integrated footrest for additional ergonomics and comfort.
AmazonBasics Classic Solid Wood Saddle-Seat Counter Stool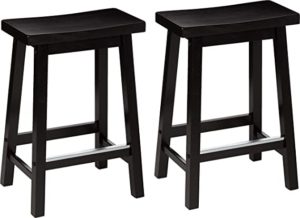 The AmazonBasics is an ideal choice for counter stools suitable for use in home bars, kitchen islands, and work tables. This stool comes as a set of two saddle-seat counter stools. The stools integrate footrests to guarantee user comfort. What's more, they are fitted with contoured saddle seats to enhance comfort. Each stool can handle a user weight of up to 220pounds. Because of the sturdy solid wood construction, the stools serve as an ideal option for counter stools that are designed to last. The models integrate an A-frame design and square legs for optimal stability. The stools are easy to assemble, thanks to the included hardware. And thanks to the classic design, they are a perfect addition to modern and traditional decors.
Nathan James 21301 Hylie Nailhead Wood Pub-Height Kitchen Counter Bar Stool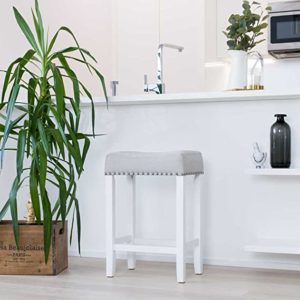 If you are looking for a comfortable kitchen counter stool, you might want to give a try to Nathan James 21301 Kitchen Counter Bar Stool. The stool is built with a 4″ cushioned seat. The seat features a curved design enabling it to deliver optimal support for hours of comfortable use. Adding to that, the stool includes pinewood legs with footrests for added comfort and support. The upholstered polyester fabric of the seat is another plus. It protects the cushion from spills to guarantee easy maintenance. Also, the seat is styled with silver nailhead accents to enhance style. The bar stool is easy to assemble, given that it requires 15 minutes to set it up.
Shelly Faux Leather Counter Height Swivel Barstool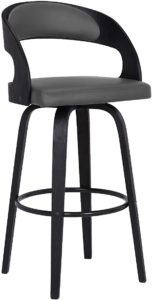 This is a swivel bar stool with a 26″ counter height. It features a soft upholstery that offers a sleek and clean look. The bar stool includes a padded foam seat. The seat can swivel up to 360° to provide comfort and versatility. Also, it features a sturdy metal footrest. Because of this, it can deliver optimal support for hours of comfortable use. The stool is a perfect choice for a durable and dependable kitchen counter stool. The reason is the solid wood frame that provides you with years of enjoyment. Also, it comfortable to use, given the open curved cushion back that allows for a cool and breathable seating experience.
Armen Living Vienna Kitchen and Dining Counter Height Barstool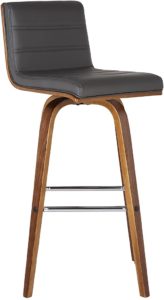 Introducing Armen Living Barstool, this is a counter height stool suitable for use in a dining room or kitchen counter. It features a wooden frame for durability. Moreover, it features two stainless steel footrests to guarantee comfort to the user. The seat and back feature a comfortable padded foam to offer support and comfort to the user. Also, the foam is covered in a soft and smooth faux leather for durability and easy cleaning. The seat can swivel up to 360° to enhance versatility. The barstool is available in two height options, 26″ and 30″ so that you can pick one that suits your needs.