As a professional carpenter, you understand the importance of having a reliable tool belt that can withstand the wear and tear of everyday use. A leather tool belt is an excellent investment that guarantees durability and functionality. To help you find the best leather tool belt for carpenters, we've compiled a list of the top 10 options available.
These leather tool belts are designed to provide long-lasting storage for your essential tools, ensuring that you have everything you need at your fingertips. With features like multiple pockets, sturdy construction, and comfortable fit, you can work efficiently and comfortably without worrying about your tools falling out of place.
So, if you want to invest in a tool belt that will serve you well for years to come, consider purchasing one of these top-rated leather tool belts.
Best Air Compressors for Home Garage
A List of Top 10 Best Leather Tool Belts
Occidental Leather 9855 Adjust-to-Fit Fat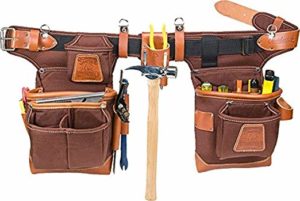 Occidental Leather 9855 is a comfortable belt that features a fat lip bag design. Besides that, the belt's main bag is 10″ deep, enabling it to fit different tools. The belt uses high-quality components, including rugged nylon, high-density neoprene, and leather reinforcements. You can use it with suspension system bags because of the pre-installed D-rings. Also, the tool belt can hold a range of tools and supplies because of the 24pockets and tools holders. The belt can adjust in length, so you to fit it in a paint waist ranging from 32″ to 41″.
LAUTUS Oil Tanned Leather Tool Belt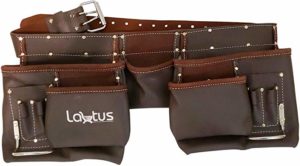 Are you looking for a leather tool belt to take the wear and tear of an everyday job? If that is the case, you will want to buy Lautus Oil Tanned Leather Tool Belt. The belt is made using 100% real genuine leather to enhance strength. Besides that, it features a variety of pockets so that you will never run out of space. The belt can fit on a range of waist sizes ranging from 30″ up to 46′.
CLC Custom Leathercraft I427X Heavy Duty Contractor-Grade Suede Leather Work Apron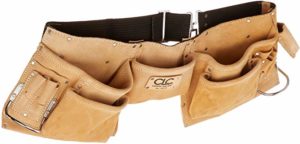 This is a heavy-duty work apron. It is made using heavy-duty contractor-grade suede leather to enhance strength. The apron consists of 12 pockets. The pockets have 4 main tool pockets and eight smaller pockets designed for nail sets and pliers. You can expect the apron to fit a range of waist sizes ranging 29″ to 46″. The apron comes with a 2″ poly web belt featuring a metal interlocking buckle.
Style n Craft 98434 17 Pocket Top Grain 4 Piece Pro-Framers Combo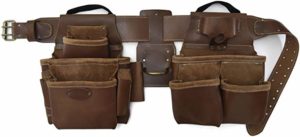 The Style n Craft 98434 is a 17-pocket tool belt made using heavy-duty grain oiled leather. The tool belt further features a heavy-duty nylon thread designed to enhance strength. You can expect the belt to fit waist sizes ranging 34″ to 46″ because of the double-prong roller buckle. The belt can hold a variety of tools. It has 6 internal pockets, 2 small pencil holder pockets, a tape holder, metal hammer holder.
Occidental Leather 5080 LG Pro Framer Package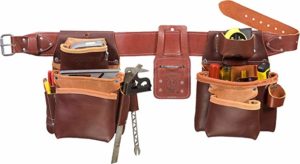 Occidental Leather 5080 is a high-quality tool belt with efficiency and comfort. The tool belt is made using quality leather to enhance strength. Further, the belt features copper rivets designed to reinforce the main bag. You can use the belt to hold all tools neatly because of the 21 pockets and tool holders.
BBI LTD Heavy Duty Scaffolding Black Leather Tool Belt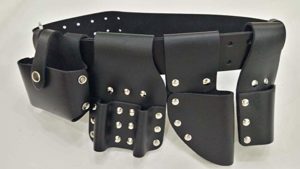 This is a durable and robust leather tool belt. It features a button loop, level holder, and tape measure holder. Furthermore, the belt features a corrosion-free steel buckle and brass stud for strength.
Has Shop Scaffolding Tool Belt Electrician Waist Pocket Tool Set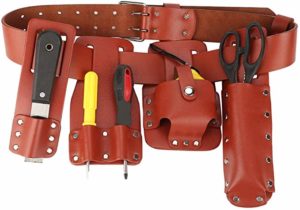 Bring convenience in your line of work once you get Has Shop Scaffolding Tool Belt. The belt is made of high-quality leather to enhance durability. Also, it features a strap that is easy to tie and wear around the waist to guarantee comfort. The belt features 4 movable tool holders for efficiency. You can get it when looking for the best leather belt that is designed to place a spanner, level ruler, and hammer.
Occidental Leather 5191 M Pro Carpenter's 5 Bag Assembly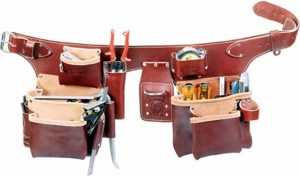 The belt is made of top-grain cowhide for strength. Also, its finish uses a special blend of waxes and oils to meet the daily demands of heavy outdoor use.
The main bags use copper rivets to enhance strength. Furthermore, the belt has hand specific tool holders. Occidental Leather 5191 Toolbelt includes 22 pockets and tool holders for easy organization. Also, the belt features a one-piece design that distributes the load evenly for comfort.
McGuire-Nicholas 10-Pocket Full Grain Leather Nail & Tool Apron Carpenter Belt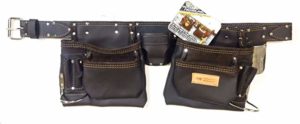 Keep all tools within easy access once you get McGuire-Nicholas Carpenter Belt. This belt comprises ten pockets to ensure easy organization of the tools. Further, it's made of full-grain leather for strength. The heavy-duty rust-resistant buckle is great addition to withstand outdoor elements. Also, there is heavy-duty rot-resistant stitching, and reinforced steel rivets for durability.
Heavy duty
Rot resistant stitching
Reinforced steel rivets
Durable
Occidental Leather 5089 M Seven Bag Framer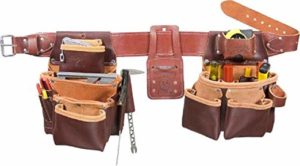 Occidental Leather 5089 M Seven Bag Framer is a heavy-duty tool belt made of top-grain leather. It features a no-spill tool holder system for the safety of the stored accessories. You can expect the belt to hold a variety of tools given 23 pockets and tool holders. Moreover, the belt can meet the demands of heavy outdoor use because of the unique blend of oils and waxes.
Premium top-grain leather
Available in sizes small through xxx-large
Copper rivets reinforce main bags
No Spill tool holder system
Function engineered for the modern builder
Made in USA