The Best Machinist Toolboxes
Machinist's toolboxes have been a go-to solution for organizing and maintaining tools for a long time, with carpenters and mechanics among their most common users. However, it's crucial to invest in a quality machinist's tool chest to avoid breakage and ensure longevity. When looking for the best machinist's tool chest, there are several factors to consider, such as organization compartments, portability, durability, security, and size.
The best machinist's toolboxes offer a convenient way to keep your tools organized and within reach. With some models even featuring wheels, you can easily move them around the work site as needed. In this article, we've compiled a roundup of the top ten machinist's tool chests, taking into account the key factors mentioned above. By paying attention to these considerations and selecting one of the reviewed toolboxes, you can find a long-lasting solution to your tool storage needs.
Best Home Tool Kits for Home Repair
A List of Top 10 Best Machinist Toolboxes
Kennedy Manufacturing 52611B 11-Drawer Machinist's Chest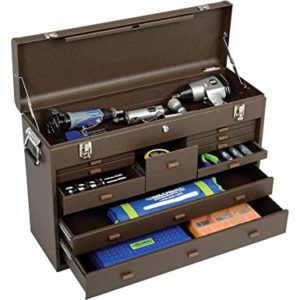 The Kennedy Manufacturing 52611B 11-Drawer is a durable machinist's chest made using 22-gauge industrial-gauge metal. It has a high storage capacity of up to 3976 cubic inches. The chest comprises of 6 adjustable drawer dividers. Hence, you can use it to organize a variety of tools. Also, it consists of heavy-duty friction drawer slides for the smooth rolling of the drawers. The machinist's chest includes a top handle that makes it easy to lift when transporting. Its tubular lock is another addition that keeps the contents secure. Moreover, there is a front drop panel that conceals and secures the drawers, while the felt lining protects precision tools from scratches.
72″ Wide 15 Drawer Stainless Steel Anti-Fingerprint Tool Chest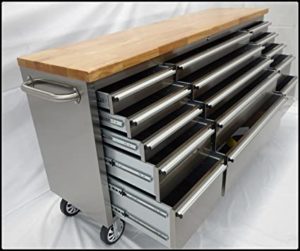 This is a 72″ tool chest. It comprises of 15 drawers for the secure storage and organization of various accessories. The tool chest features a rubberwood on the top that is not only durable but also slip-resistant. Also, it features 100-pounds rated drawer slides that ensure the smooth rolling of the packed drawers. Four wheels are another addition for the smooth rolling of the tool chest. Two of the wheels can lock in place to create a stationary workstation. The tool chest includes two side handles for easy transportation. Its finish is anti-fingerprint to eliminate the need for frequent cleaning. Because of the locking system, you can secure the drawers to guarantee the safety of the stored items.
Homak Industrial 20-Inch 3-Drawer Friction Toolbox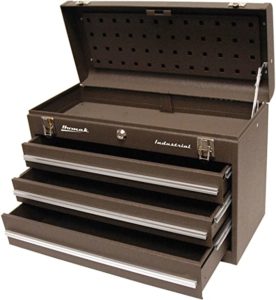 The Homak Industrial Friction Toolbox comes in next in our review. It is a 20″ toolbox with three drawers. The toolbox features a solid industrial construction to guarantee strength. It includes a high-security tubular locking mechanism for the safe storage of different items. The drawers include EVA liners to protect the stored items from scratches. Also, it features an 8mm metal thickness to enhance strength. You can use the toolbox to organize a variety of items, thanks to its three friction drawers. Moreover, the lid opens up to reveal a storage below it for additional storage space.
Keter Rolling Tool Chest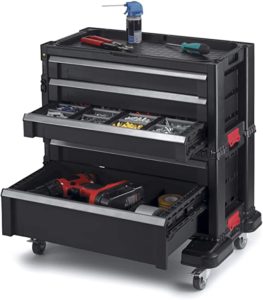 This is a versatile tool chest that offers a perfect spot for organizing tools for different projects. You can get it for DIY projects, auto mechanics, or home improvement projects. The tool chest is made to last, thanks to the weather-resistant polypropylene construction that protects it from peeling, rusting, and denting. It offers a large bottom drawer that offers sufficient storage to organize tools such as a wrench organizer, socket set, and power drill. The central locking system is another feature. It maintains all drawers in a secure state, before, during, and after use. The tool chest includes 16 removable bins for organizing small parts, a screwdriver set, bolts, and nuts. Moreover, it features caster wheels for convenient mobility.
GEARWRENCH 20″ 3 Drawer Black Steel Tool Box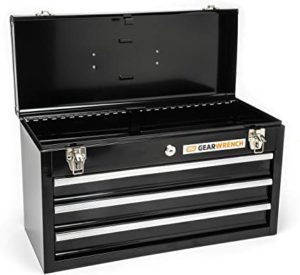 This is a 20″ steel toolbox. It features a black powder coat to protect it from rust and corrosion. Moreover, the coating allows for easy cleaning, given the ability to wipe it clean using a wet cloth. The toolbox is easy to carry, thanks to the top handle that allows you to lift it comfortably. Also, it is secure to use because of the keyed center lock that safeguards the stored accessories from unauthorized access. The unit packs three drawers, all with a 2″ height for the efficient organization of different accessories. The drawers roll on ball-bearing slides to offer smooth access to the stored items.
BIG RED TB101 Torin 19″ Hip Roof Style Portable Steel Tool Box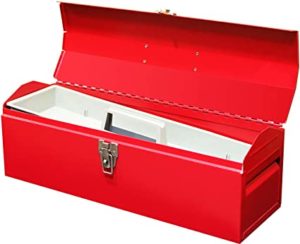 This is a portable toolbox. It is made using heavy-duty steel with a corrosion-resistant powder coat to enhance strength and longevity. The toolkit packs a large removable storage tray. Therefore, you can be sure to gain easy access to the tools. Also, it integrates a comfortable-grip handle. Thus, it is easy to lift and carry from one place to another. The heavy-duty plated latch is another plus that keeps the lid closed to enhance the tools' safety.
18-inch Toolbox, Consumer Storage and Craftsman Toolbox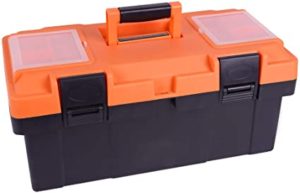 This is a consumer storage and craftsman toolbox. It is made using high-quality PP plastic for durability. The toolbox features an ergonomically designed handle. The handle is nonslip and designed to offer a reliable and secure grip. Adding to that, the toolkit packs top organizers. You can use the organizers to store small parts for easy access without opening the toolbox. The tool chest incorporates a pad eye lock so that you can lock in the tools for safety. Also, it includes a removable internal utility tray to allow you to organize the tools efficiently. Because of the strong anti-fall design, this toolbox can withstand falls without the risk of getting damaged.
TANKSTORM Portable Steel Tool Chest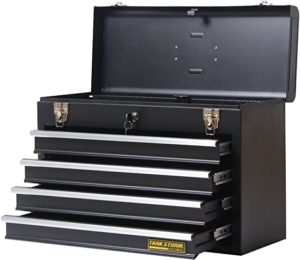 The Tankstorm is a portable tool chest made using steel. It is strong and durable, thanks to the heavy-rust plated latches and full-length piano hinge. The tool chest packs four drawers. The drawers can hold a variety of tools to guarantee easy organization. Also, it includes a top tray that holds wider tools, making it a perfect choice for keeping most-used items. The tool chest features a black powder coat that offers superior scratch and chemical resistance. Because of the heavy-duty ball bearing slides, the tool chest can open effortlessly and smoothly.
OEM TOOLS 24675 20 Inch Portable Steel Tool Box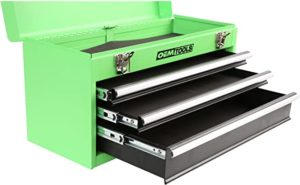 The OEM TOOLS 24675 is a heavy-duty toolbox made from rugged steel. It is hard to misplace, thanks to the patented hi-vis green color that sets it apart from friends' and coworkers' toolboxes. The toolbox offers adequate storage in three drawers, each with a 33lbs of storage capacity. It can keep all tools in a secure state because of the durable dual-locking steel clips. The internal locking strip is another plus for the security of the stored accessories. And there is a comfortable and ergonomic handle for secure carrying. The drawers roll on a smooth ball bearing mechanism for easy opening and closing. Each of the drawers includes EVA liners to protect the stored items from scratches.
17-Inch Multi-Purpose 3-Layer Toolbox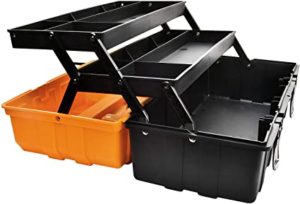 This is a 17″ multi-purpose toolbox. It features a foldable 3-layer tray to provide a bigger storage space while allowing for easy organization of the tools. The lid organizers include transparent covers. Therefore, you can easily view the stored accessories without the need for opening. Besides, the toolbox incorporates stainless steel latches for a long service life and a strong load-bearing capacity. The thickening folding rods are another plus to enhance the sturdiness. The bottom features a bump design to enhance the overall bearing capacity while protecting it from slippage. Because of the 180-degree horizontal placement design, you can view everything at a glance once you open the toolbox.