A machinist toolbox is a crucial investment for any tool enthusiast as it helps you to keep your tools organized and easily accessible. It is essential to purchase one of the recommended tool chests that will last for many years.
Unfortunately, many people overlook the importance of selecting the right machinist toolbox. Choosing the wrong one could result in the loss or damage of your tools. Although the original packaging may seem like a good storage option at first, over time, it becomes unreliable. Therefore, investing in a sturdy tool chest with adequate compartments for organizing all types of tools is crucial. The tool chest should be durably built to withstand wear and tear from elements such as moisture and temperature changes.
To help you make an informed decision, here's a rundown of the top 10 best machinist tool boxes available in the market today.
A List of Top 10 Best Machinist Toolboxes
Kennedy Manufacturing 52611B 11-Drawer Machinist's Chest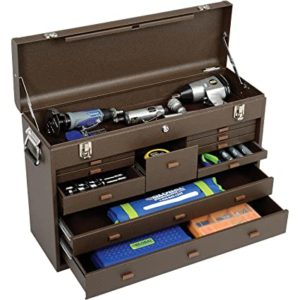 The Kennedy Manufacturing 52611B is an 11-drawer machinist's toolbox. Its drawers are constructed using 22-gauge industrial-grade metal for long-lasting and durable performance. Further, the drawers provide storage of up to 3976 cubic inches. As a result, you can expect to get sufficient area that will allow you to organize different accessories. The drawers integrate felt linings for reliable protection of precision tools. Moreover, there is a tubular lock that enables you to secure the stored contents. Six adjustable drawer divers are another plus for easy organization of different-sized tools. And, a front drop panel can conceal and secure the drawers for safety and a concealed look.
Thor Group 72″ Wide 15 Drawer Stainless Steel Anti-Fingerprint Tool Chest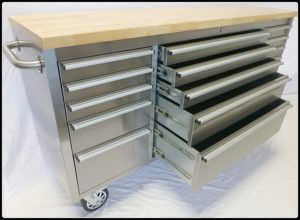 This is a 72″ wide tool chest. It is rated to support a weight of up to 100 pounds, thus an excellent option for use in large or small workshops. The tool chest features a rubberwood on the top. This material allows you to use the top surface as a work table for easy access to different tools. Further, it includes 15 drawers. With these, you can organize all types of tools for easy access. The tool chest is easy to maneuver, thanks to the four wheels. Better, two of the wheels are lockable to create a stationary workstation. The sides integrate secure handles that make it easy to push around. Plus, the toolbox features a stainless steel construction for durability.
TANKSTORM Tool Chest Heavy Duty Cart Steel Rolling Tool Box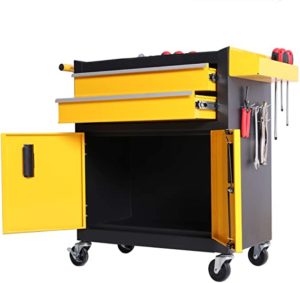 If you are looking for a durable machinist toolbox, the Tankstorm Tool Chest is an ideal product. It is made using high-quality cold-rolled steel. This material resists rust and corrosion for long-term and reliable performance. Adding to that, the steel is coated using a blue finish. The coating protects it from scratching to enhance durability. The toolbox is equipped with four swivel caster wheels for smooth rolling. Moreover, it integrates an internal locking mechanism to keep the doors locked. A non-slip rubber mat is placed on the top of the cart to provide a non-slip work area. Plus, there are two top drawers for the secure storage of small tools, and a big bottom cabinet for large appliances.
Handee 17-Inch Multipurpose Tool Box

The Handee toolbox is a 17″ tool chest. It is suitable for storing all kind of tools, including power tools and hand tools. The chest measures 17″ x 8.5″ x 7.3″, while it can support a weight up to 40lbs at a time. It is secured using two metal latches while it includes a combination lock for added security. You can get this toolbox while looking for a tool chest that is designed to last. The reason is the heavy-duty metal body plus the tough plastic top that guarantee strength. Better, the toolbox features a bottom that withstands scratches for a long-lasting performance. Because of the removable tray and the lid compartments that integrate dividers, you can be sure to organize small parts with a lot of ease.
Homak Industrial 20-Inch 3-Drawer Friction Toolbox

Next, we have the Homak Industrial Toolbox. It features a solid industrial-quality construction for strength and durability. Adding to that, the toolbox features an 8mm metal thickness. Therefore, it can support a massive amount of weight without deforming. You can expect the chest to withstand factors that are likely to result in rust and corrosion, thanks to the durable powder coat finish that safeguards it from rusting. Also, there is a high-security tubular locking mechanism that secures the stored items. The EVA drawer liners are another addition aimed at protecting the tools and stocked items from scratching. And, a hand-carry handle provides room for effortless transportation of the toolbox.
Apollo Tools 2-Drawer Heavy-Duty Steel Chest

This is a versatile tool chest suitable for all DIY projects. You can choose to use it for storing school supplies, cooking utensils, kitchen knives, or craft supplies. The toolbox is made using heavy-duty steel. The steel is coated in a smooth powder-coated finish to protect it from rust and corrosion. You can easily access the tools stored in the drawers, thanks to the ball-bearing mechanism. Also, the toolbox is easy to carry. The reason is the center latch that locks it securely and comfortable handle that facilitates easy lifting. The tool chest includes two drawers and a deep top storage compartment for maximum organization. Plus, the box can accommodate a small lock that keeps essential items safe and out of reach.
Beyond by BLACK+DECKER Tool Box

This is a set of two tool kits. The kits comprise a 19″ toolbox and 12″ toolbox. These boxes are made using durable plastic so that they can withstand frequent use around the yard, home, and garden. Further, the tool chests incorporate locking lids. The lids feature two removable clear compartments for easy visibility of small tools and crews. You can organize the boxes easily, thanks to the removable inner trays that provide storage while allowing you to organize the tool kit. Also, the toolbox can secure the stored contents. The reason is the built-in padlock eye that allows you to add a small lock.
Gerstner International GI-T24 Red Oak 11-Drawer Top Chest

The Gerstner International GI-T24 is a tool chest that is suitable for storing precision tools. Besides, it is an ideal choice for organizing watches, craft items, jewelry, and stencil tools, given the multiple compartmented designs. The tool chest is constructed using American red oak hardwood. The hardwood protects it from moisture for long-term strength and durability. Also, it includes chrome-plated hardware for durability. The front lid can stow under the drawers while opened for a concealed look. The drawers integrate a felt-lined interior that provides a cushioning performance to protect the tools from scratches. And, there are two narrow drawers, six medium ones, and three full-width drawers to provide ample room for storage.
TANKSTORM Portable Steel Tool Box

This is a portable toolbox. It is made using cold rolled steel. The steel is coated using industrial-grade powder coating for a rustproof, scratch-resistant, and corrosion-proof performance. What's more, the box integrates three drawers that incorporate a central locking mechanism. As a result, you can expect it to ensure safe storage of different items. The drawers roll out easily and smoothly, thanks to the smooth action slides. Also, the lid can lock onto the box body via two latches for secure transportation. The top of the box integrates a tray inside the lid to provide ample storage space for tools with a big size. And, there is a top handle for the convenient transportation of the toolbox.
Kennedy Manufacturing 3611B 11-Drawer Machinist's Chest

Last but not least, we have the Kennedy Manufacturing 3611B. It is an 11-drawer machinist tool chest. The chest incorporates a drop front panel. This feature conceals the drawers from the elements in the work environment to safeguard them from damage. Further, the drawers integrate wool liners. The liners provide a cushioning performance while protecting precision-designed tools against scratches. The tool chest can offer the security of the stored items, thanks to the high-security tubular locking system. Better, it can assist with the effective organization of the tools because of the six adjustable drawer dividers. Each drawer slides smoothly while it withstands a weight of up to 90lbs for reliable performance.
Also recommended: Best Mini Milling Machines