A well-equipped kitchen requires the right tools, and a can opener is one of them. Opening cans is an inevitable task in the kitchen, and it should be made easy, comfortable, and safe. An ideal can opener should be comfortable to grip, allow for easy and efficient opening, and minimize the risk of cuts or messes. That's why I've compiled a list of the top 10 manual can openers that will make opening cans a breeze.
When choosing a manual can opener, consider factors such as ease of use, comfort, and safety. A poorly designed product can lead to accidents and waste, so it's essential to make an informed decision. Based on our review, we highly recommend purchasing one of the can openers listed to simplify the process of opening cans and avoid frustration.
A List of Top 10 Best Manual Can Openers
OHSAY USA World's Best Can Opener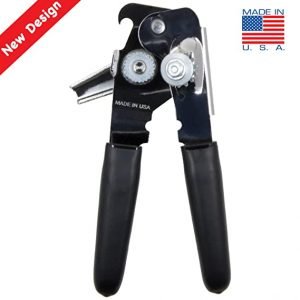 Designed to open large commercial cans and small cans, this is a durable manual can opener made using 1008 carbon steel. The opener features a heat-treated and zinc-plated blade. The blade stays sharp so that you can cut the entire circumference of the can. Adding to that, the opener includes a non-slip grip handle. Thick and rubberized, the handle is comfortable to hold so that you can use the opener to open a range of cans comfortably. An easy-turn crank is another addition. It offers extra torque aimed at preventing wrist and hand issues.
KitchenAid KC130OHAQA Classic Can Opener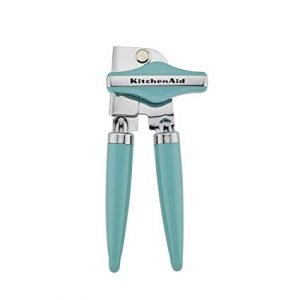 The KitchenAid KC130OHAQA is a classic can opener made using stainless steel. It can puncture and open all types of cans, thanks to the firm and sharp stainless steel blade. Also, the can opener is easy to clean, given the ability to hand wash it using warm water with a mild detergent. Equipped with an oversized and easy-to-grip knob, the can opener can open all cans easily. Better, it features ergonomic handles that offer a sure grip. Besides Aqua Sky, you can get it in a range of colors, including ocean drive, black, pistachio, red, and white.
Swing-A-Way 407BK Portable Can Opener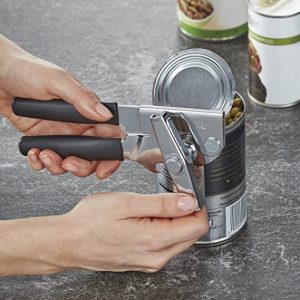 Get through tough Can-tops with the help of Swing-A-Way 407BK Portable Can Opener. It features all-steel construction to enhance durability. Moreover, it integrates an extra-long crank handle for a better grip. The can opener comes with extra-long cushion grips. The benefit of this is the ability to handle the opening of lots of cans while taking the strain and pain from the hands. Also, it integrates a cutting wheel made using high carbon, enabling it to glide effortlessly across the top of the cans. Designed to be hand washed using warm water and a mild detergent, this is one of the best choices when looking for a can opener that is easy to clean.
OXO Good Grips Soft-Handled Can Opener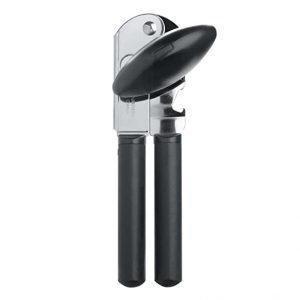 Equipped with large and comfortable handles, this is one of the best choices when looking for the best can opener that will take the pain out of opening the cans. It integrates a sharp cutting wheel made using sturdy stainless steel. Its oversized knob can turn easily to take the hard work out of opening the cans. Asides that, the opener integrates big and cushioned handles for a comfortable and non-slip grip, even with wet hands.
Adoric Stainless Steel Manual Can Opener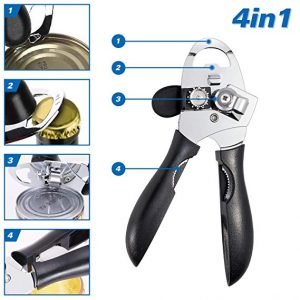 Fifth in the review comes the Adoric 4-in-1 Manual Can Opener. It is made using wear-proof and durable high-strength alloy metal. Better, the opener includes FDA-certified sharp blades for a safe and hygienic opening of the lid. Easy to clean, you can wipe it or rinse it under running water.
ZYLISS Lock N' Lift 7″ Manual Handheld Can Opener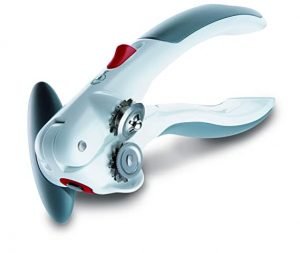 The ZYLISS Lock N' Lift Manual Can Opener comes in next. It adopts a durable cutting mechanism made using high-grade sharpened stainless steel. Also, the can opener includes a smooth and easy turning handle featuring a soft-touch design to eliminate hand fatigue. With built-in magnets, the opener lifts the lids off the can for hands-free disposal. Better, the opener adopts a locking mechanism. The mechanism locks the cutting wheel in place for reduced strain on the hands and a consistent cut. Because of the modern design, you can expect this can opener to fit perfectly into different types of kitchen styles.
EZ-DUZ-IT Deluxe Can Opener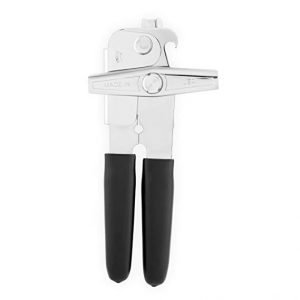 If you are looking for a durable manual can opener, this is one of the best choices. It features a heavy-duty swing design, whereas it features heavy-gauge chromed steel. Also, the can opener includes a carbon steel cutting blade and thick rubberized deluxe handles to offer a secure and comfortable grip. The can opener is easy to wash using warm soapy water. It integrates a gear-driven design for smooth and easy operation.
JF CO1 Manual Can Opener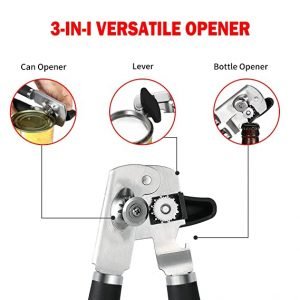 The JF CO1 is a Manual Can Opener made using high-quality high-hardness metal. It includes a cutting blade that resists rusting and cracking to enhance durability. Furthermore, there is an anti-slip handgrip for fast and secure opening of the cans. The ergonomic knob is another feature that allows for easy turning without hurting the fingers. Better, there is a strong and sharp cutting blade for effortless can opening. The can opener doesn't consume much energy when using it, making it suitable when used by women, elders, and people suffering from arthritis.
Hokimax Smooth Edge Manual Can Opener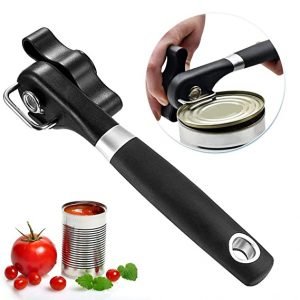 This is a high-quality manual can opener. Equipped with a food-safe stainless steel blade, it is safe to use and durable. Better, the can opener features an ergonomic design. Specifically, it includes an easy-turning knob and comfortable crank handle for effortless can opening. The cutting blade doesn't contact the food while you can put the lid back into the can without it falling inside. Asides that, the can opener is easy to clean given the ability to wash it under running tap water. Featuring a lightweight and compact size, this is the ideal choice for traveling or camping.
Smooth Edge Can Opener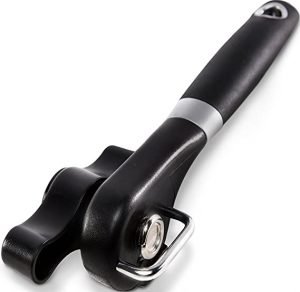 Open cans effortlessly without leaving sharp edges with this smooth edge can opener. It includes a big easy-to-turn knob so that anyone can handle it. Moreover, it consists of an easy-to-clean side cutting blade. The blade doesn't touch the food; neither does it leave sharp edges for user safety. Featuring a sleek looking design, the can opener is made using high-end food-grade stainless steel material. Better, it features an ergonomic non-slip design for user safety.