As the popularity of electric vehicles continues to grow, it's essential to have an Electric Vehicle Supply Equipment (EVSE), commonly known as an EV charger, to supply energy for recharging. With the increasing number of electric vehicles on the road, manufacturers are working hard to meet the demand for efficient and reliable charging solutions. By 2030, the number of EVs on U.S. roads is expected to surge to 18.7 million, up from 1 million in 2018.
However, with so many EV chargers available, it can be overwhelming to choose the right one. In this review, we've compiled a list of the top 5 level 2 EV chargers that are worth considering for your electric vehicle. In addition, we'll provide you with some key features to look for when selecting an EV charger to help you make an informed decision.
Electricals specs
These include electrical current, power, and voltage.
NEMA outlet Connection-Adapters
There can be different 240V or 220v even among level 2 chargers. Look out for what's available in your garage.
Enclosure Rating – Indoor or Outdoor
Choose where to install your charger as not all are suitable for outdoor environments with rain and snow.
Installation
Check out for hardwired and plug-in installations as they come with different installation requirements.
Connectivity and Ease to Use
Moreover, you have to keep in mind your wireless connections and also cable connections with their different requirements.
A List of Top 5 Best Portable Level 2 EV Chargers
JuiceBox Pro 40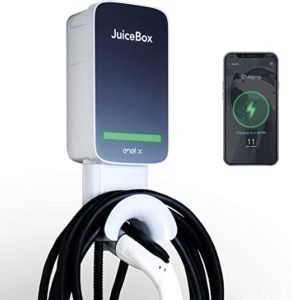 Built in the U.S and measuring 10 inches by 6 inches by 3.5 inches with a-25 feet cable length; it is one of the smallest EV chargers currently available. It has 10kW power output, input voltage of 240V, 40-amp electrical current output, and a NEMA 14-50-volt outlet.
With JuiceNet- a full web-based app compatible with Amazon Echo and Alexa, you can charge your vehicle via voice control or your smartphone. This EV charger can also be installed indoors or outdoors.
JuiceBox has a smart function that allows for scheduling of charging times according to electricity rates to achieve higher energy savings. The station is also made easily portable due to its aluminum quick-release bracket.
Pros
Advanced Wi-Fi control
Web and smartphone access for smart charging
Fast charging
Fire/waterproof metal case
Durable and Portable
3-year warranty
Cons
Reported Wi-Fi unreliability
Challenging installation for some people
Siemens VersiCharge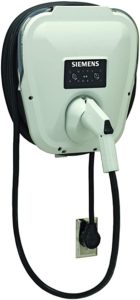 With a measurement of 14.5-inches wide by 16-inches tall by 6.5-inches deep, the charger comes in three models:
1. Hardwire: Most affordable but must be wired directly into the electrical panel for indoor use.
2. Universal: This is the best and offers a plug-and-play solution that works both indoors and outdoors.
3. Smart Grid: Like the universal with plug-and-play solution, Smart Grid uses WiFi and can be remotely controlled via iOS or Android app.
All the above three have a 30-amp output and a 240V connection that provides up to 7.2Kw. It charges EVs up to four (4) times faster than level 1chargers. Installation is easy and comes with a complete mounting bracket set, a- 20-feet cable for Universal and Smart Grid, and 14-feet for Hardwire, along with a NEMA 6-50 plug connected to a typical 240V outlet. It can be installed via hardwired or plug-in connections.
Siemens VersiCharge has a built-in flexible charging function that allows you to pause and activate the charger with a 2/4/6/8-hour delay; this may not work for all vehicles.
Moreover, with a temperature operating range of between 30 C-50 C, it is suitable for indoors and outdoor use. The charger also uses a universal SAEJ1772 connector, which allows it to charge all EVs.
The required circuit breaker for installation is a 2-pole, 40A breaker. After 1 hour of charging, your EV goes between 40-60 miles of range per hour.
Pros
Multiple versions available
Flexible control
3-year warranty
Cons
Delayed charging not compatible with all vehicles
The unit doesn't flush totally with the wall
ChargePoint Home Flex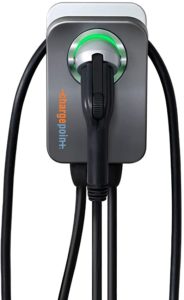 This Wi-Fi-enabled charger is available in either hardwired or plug-in versions. You can choose a NEMA 14-50 plug or a NEMA 6-50 as both options feature a 23-foot long cable. The ChargePoint Home charger can be controlled remotely on an Alexa device or your smartphone, just like JuiceBox.
The ChargePoint app allows you to schedule charging when electricity is cheapest and set reminders on when to plug in your vehicle.
This charger can charge up to 50 amps; this adds up to 37 miles of range per hour for most electrified vehicles. Depending on your homes' electrical supply, you can set the plug-in station to charge at (16-50) amps. ChargePoint Home Flex is a UL-listed charger designed for electrical safety.
Pros
3-year warranty
Energy-star certified
Built-in Wi-Fi compatible with Alexa
Hardwired and plug-in versions
Up to 50A charging for 37 miles of range per hour
Cons
Zencar Portable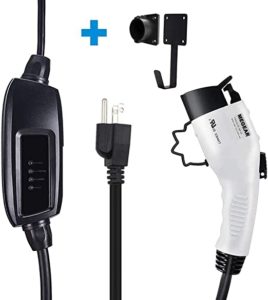 This charger comes with a 25-foot long cable and features like leakage, overheat, overcurrent, and overvoltage protection. It is IP55 waterproof, lightning proof, and flame resistant, making it so reliable for safety and durability.
Zencar Portable charger is also available in a wide variety of plugs, including a Level 1 version, if you need a standard power outlet. The l14-30, NEMA 6-20,10-30, and 14-30 plug versions are16-amp Level 2 chargers. The NEMA 14-50 current can be adjusted from 16 amp to 24 amp to 32 amp.
Pros
24-month warranty
Adjustable current on NEMA 14-50 version
Variety of connectors
Highly portable
Cons
5. Mustart Level 2 EV Charging Station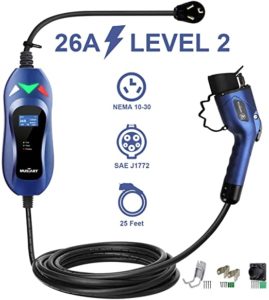 Mustart Level 2 charging station is a portable charger with an electric current of 32A, input voltage of 220/240V multiple plug-in versions, and power output of 7.68kW. It has an LCD screen with LED lights that display charging status, operating temperature, output power, and charging current. It also comes with a 25-foot charging cable.
Additionally, it has a SAEJ1772 standard connector, enabling it to power all kinds of electric vehicles. This charger is also compatible with most 240V outlets like NEMA 10-30, NEMA 14-30, NEMA 6-50, and NEMA14-50. No matter what your 240V/240V connection, this charger will sort you out.
Mustart Level 2 charger also comes with a carrying case. It is, however, commended for indoor use only. It must be connected to a GFCI supply protector.
Pros
Portable
2-year warranty
Plenty of option to choose
Cons
Not recommended for use in rain or snow
Plug a bit tight on some vehicles-hard to remove