Prolonged periods of standing can take a toll on your health, especially if you have a desk job or work from home. To avoid long-term health issues, investing in a high-quality standing desk floor mat can help relieve the pressure on your feet, legs, and back.
After extensive research and testing, we have compiled a list of the top 10 best standing desk floor mats for home office use. These mats provide excellent support and cushioning to alleviate the strain caused by standing for long periods.
Using a standing desk floor mat not only enhances your comfort but also promotes better circulation, improved posture, and reduced fatigue. Our carefully curated list includes a range of sizes, materials, and designs to suit different preferences and needs.
By incorporating a standing pad for your desk, you can effortlessly transition between sitting and standing while taking care of your well-being. Make the smart choice for your health and consider one of the best standing desk floor mats on our list.
Also: Best Adjustable Standing Desks
A List of Top 10 Best Standing Desk Floor Mats
Gorilla Grip Original Premium Anti-Fatigue Comfort Mat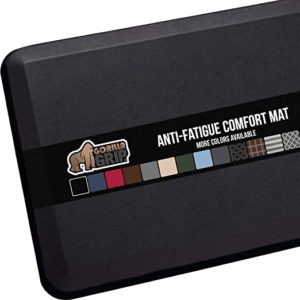 If there is something which stands out this mat is its versatility. From Air Mat, this one stands from other standing desk floor mats because of its broad usability. No matter if you put it in your kitchen, standing desk, or garage, it can take everything you throw at it. Also, its round edges are made in such fashion that there are fewer chances to trip over it or to slip on it, even when it is wet.
It is extra thick which is more than enough to give your feet gentle, yet firm support.
Cushable Anti-Fatigue Ergonomic Comfort Mat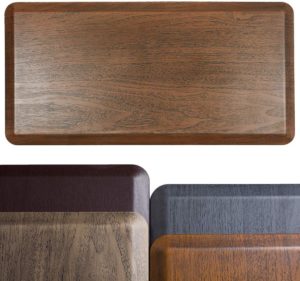 Nicely shaped edges will provide easy access, while foam will keep your feet rested at all time. Moreover, not all standing desk floor mats are convenient for use with and without shoes, but this one luckily is. In case that you don't like what you have bought, you can even return it, since the manufacturer wishes to take a good care of customers.
3/4″ thick floor mat, which is excellent for those who love the natural look, since it comes in the design of wood.
Homey Brands Anti Fatigue Non-Slip Standing Mat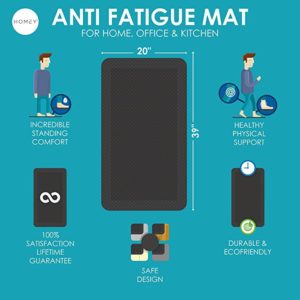 However, this model features lined surface which increases friction, so slipping is out of the question. Its lower surface is what separates it from other standing desk floor mats since it has an incredibly good grip so that it can be used even next to a shower. Also, the manufacturer gives a towel for cleaning, free of charge!
CumulusPRO Commercial Couture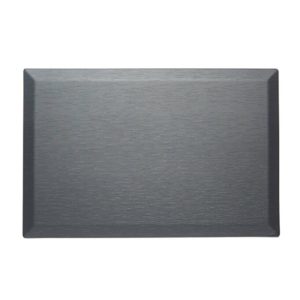 While other standing desk floor mats are intended for general use, this one is oriented more toward business users. The design which will fit your office without a problem. It is slightly thicker than the rest of the competition. So it is ideal for those who are looking for better support.
Butterfly Long Kitchen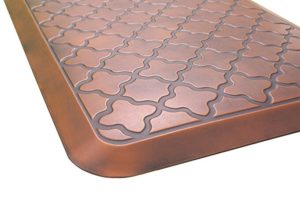 It may have "kitchen" in its title, but this mat is perfect for whichever place you want to use it. Its butterfly-shaped surface is excellent if you love to work barefoot since it will provide mild massage of your tired feet. However, it is slightly bigger in length and wideness, so you may consider it if you have a long desk.
This manufacturer as well gives a lifetime warranty.
As for the thickness, it is 3/4″, as others standing desk floor mats on this list.
Sky Mat, Comfort Anti Fatigue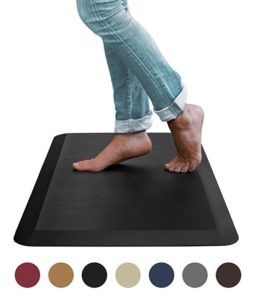 Do you wish to choose colors and design and still to have one great mat? If the answer is yes, then this one is for you. Featuring small notches for massaging of tired feet, this model will provide excellent support. And don't think that support will lack because it may seem thinner than other standing desk floor mats. It remains competitive. Wide arrange of colors are there to give you freedom of choice!
Great quality materials
No toxic off-gassing smell
Butterfly Ergonomic Non-Flat Standing Desk Mat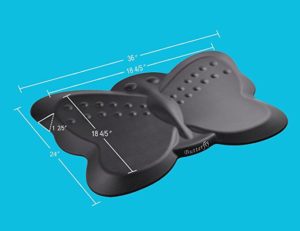 This model is specially designed for businessman and woman. It has a bit unusual shape, and since it sports areas with spots for massaging, it will simply make you to move your feet while standing, to make the blood circulation better. Of course, if you like it much, you can put one in your kitchen as well. Other standing desk floor mats have a rectangular shape, but not this one. Fly like a butterfly!
Easy hands-free edge position
Very soft and comfortable
Topo Mini by Ergodriven
The Ergodriven Topo Mini is the best floor mat for any small rooms. You'll realize that this will make standing more enjoyable. It will take you some time to learn and adapt when using the this mat.
Can easily positioned with just one foot
7-year warranty
Good value for the money
VARIDESK Standing Desk Anti-Fatigue Comfort Floor Mat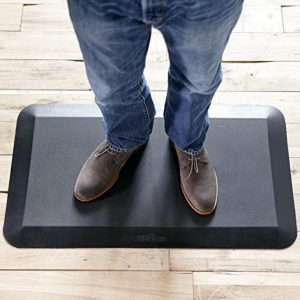 Buy it on Amazon.com
This is another great floor mat for your feet, knees, hips and back as you work. If you work from home, this mat will certainly help you avoid back and hip start aching.
Durable mat cushions
High-density core for long-lasting support
Measuring a full 24″ x 36″
Beveled with no-curl edges and a non-slip bottom
Flexispot Ergonomic PU Office Standing Desk Mat and Kitchen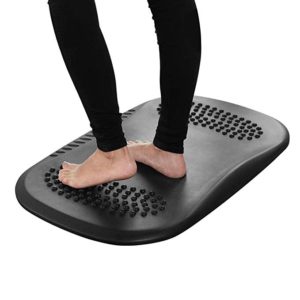 The Flexispot desk mat will reduce compression to your feet, spine and coccyx. For those who really need quality, thick, and spacious mat, we highly recommend this top rated product. You can even use it in your office.
Made from 100% polyurethane material
Enough space to move and shift position
Massage points and mounds