Are you looking for a way to easily carry extra luggage on your vehicle? A roof rack is a great solution that allows you to carry bulky items, such as camping gear, that may not fit inside your car. The Toyota Tacoma is a popular mid-size truck that's loved by many for its versatility and adaptability to different uses. Adding a roof rack to your Tacoma allows you to easily carry all the extra storage you need for both short and long trips.
With so many companies producing roof racks for the Tacoma, it can be overwhelming to choose the right one. That's why we've researched and reviewed some of the best roof racks for the Toyota Tacoma to help you make an informed decision. Whether you prefer a crossbar design, a flat-lying roof rack, or a roof rack basket, our list includes a variety of options from different brands, each with unique features to suit your specific needs and preferences.
No more cramped spaces with limited storage – these expandable solutions cater to all your storage needs. The Rhino-Rack Roof Mount Cargo basket stands out as the most affordable option with great features. However, depending on your budget, cargo, and style, any of the roof racks on this list can be a great choice for your truck.
What's more, the roof racks can be customized to your desired functionality. This guide will be particularly useful for Tacoma owners looking for accessories for their truck. Upgrade your vehicle with a top-quality roof rack to accommodate all your storage needs and enjoy the benefits of a versatile and adaptable truck.
[ The Best RV Wheel Chocks ]
[ Best Heavy Duty Engine Stands ]
[ Best Kayak Racks for Truck ]
A List of Top 5 Best Tacoma Roof Racks
KC Hilites C-Series Aluminum Rack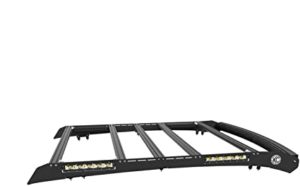 This is a lightweight and low-profile roof rack choice suited for the Tacoma. It is built from aluminum, which offers sturdy support to heavyweight cargo with ease. Its lightweight helps the vehicle stay stable as it does not interfere with the center of gravity that would make the vehicle sway while on the move. Furthermore, it is still a good choice,even at fast speeds.
Pros
Lightweight
Sturdy
Long-lasting aluminum frame
Bears additional LED lighting system that illuminates frontward and sideways
Cons
Great demand that makes it difficult to access at times.
Rhino-Rack Roof Mount Cargo Basket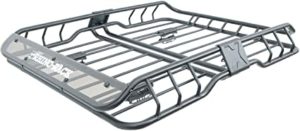 In the second place is the Rhino rack roof. This cargo basket is one of the most reputable of its kind in the market. Just like the KC Hilites C-series, it is lightweight and among the lightest cargo baskets in the market at only 35lbs. It is aesthetically appealing with a sturdy steel frame and great design that features a wind deflector for more stability. The wind deflector is removable, and even better, the space left behind can comfortably accommodate a light bar for users who prefer to have this instead.
Pros
Unique stylish design
Greatly affordable
Supports loads of up to 165lbs
Cons
Slightly limited space compared to an open rack.
Front Runner Tacoma Slimline II Roof Rack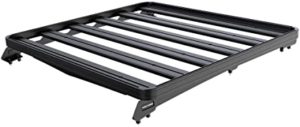 If searching for a basic but timeless roof rack, then this might be the choice for you. It is highly praised as one of the most reliable roof racks with a great ratio of its weight to the weight of the load it can support. It is easy to mount luggage above it, below, and on the sides without the worry of toppling over or making rattling sounds when on the move. Also, it fits perfectly on a Tacoma and worth buying if looking for additional space.
Pros
Great design
Wind deflector to reduce drag
Low profile and less bulky than most racks.
Strong aluminum frame that withstands all tough weather.
Cons
Does not come with its own lighting solutions
Hooke Road Roof Rack with LED Lights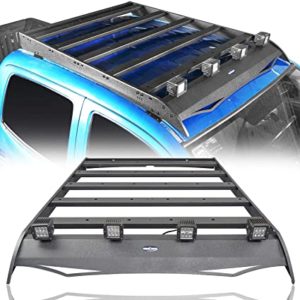 As the name suggests, this rack comes with its own lighting system that may be useful when traveling at night in harsh terrain. It is a stylish rack made from heavy-duty steel with a nice black powdered coating that retains a great outward appearance even after many years of service. It is long and spacious, providing a large surface area to accommodate more luggage when needed. What's more, it is one of the few roof racks that seldom require any modification to increase its functionality.
Pros
Heavy duty
Affordable
Stylish
Accommodates a lot of luggage.
Cons
Takes time and expertise to bolt steadily.
Quite heavy
More prone to rusting than racks made from aluminum
ROADFAR Roof Rack Aluminum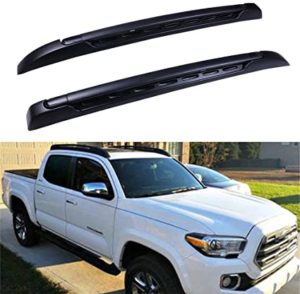 This rack's aerodynamic nature is one of the features that ranks it as a best seller of its kind. To the eye, it may appear less fancy than most other roof rack solutions, but this does not compromise on the load it supports. In fact, it is quite the rack hauling up luggage of up to 165 pounds comfortably. It is a great investment for added storage when traveling, and you can easily detach it from your Tacoma and stash it till when needed again.
Pros
It can be fixed on a need basis.
Easy to store
Affordable
Minimalist design
High hauling capacity
Cons
Prone to breakage as it is not very strong.
Requires expertise to fix on to your truck.