If you are into hydroponic gardening, then you know the importance of having a reliable TDS (Total Dissolved Solids) meter. These devices help to measure the concentration of minerals, salts, and metals in water and can determine if the water is suitable for growing crops. Choosing the right TDS meter can be a daunting task, given the wide range of brands and models available in the market.
At our review, we have taken into account the essential features that a TDS meter should have, such as a hold function, automatic temperature compensation, automation, and waterproof capabilities. With these features in mind, we have thoroughly researched and tested the best TDS meters on the market to provide you with a comprehensive review of the top-rated brands.
Our review includes information on each product's accuracy, ease of use, durability, and price. We have also provided a comparison chart of the products, so you can quickly compare and select the best TDS meter for your hydroponic garden. With our expert guidance, you can make an informed decision and choose a reliable TDS meter that will help you grow healthy crops.
A List of Top 5 Best TDS Meters for Hydroponics
1 Health Metrics Professional TDS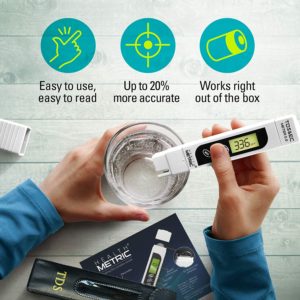 The Health Metrics TDS comes with easy to read and understandable instructions, which makes it comfortable. Uniquely, it measures water quality in seconds. All you need is to insert it in water and stir. This TDS is a 3-in-1 advanced smartpen that utilizes EC, TDS meter and temperature to enhance its accuracy. Similarly, it is a lightweight device that you can have around at any time. This product offers the best and cheaper method of measuring the efficiency of the DI systems regularly. What makes it more unique is the automatic temperature compensation with the range measurement of 0-9999ppm.
Pros
High accuracy
Affordable
Easy to use
Durable construction
Cons
The readings on the row may vary
2 Hofun TDS Temperature and Conductivity Meter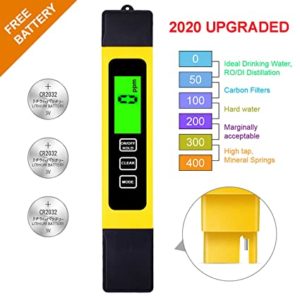 This is a digital temperature and conductivity meter designed with advanced technology. It features a quality titanium alloy to enhance quick testing. With this brand, you are assured of accurate measurements since it has advanced Automatic Temperature Compensation. Also, the readings here are displayed on the LCD in seconds after placing it in water. The LCD offers wider angles for data reading and even night reading. Similarly, Hofun TDS has wider usage such as DI water system, laboratory, aquarium, drinking water test and more.
Pros
Easy to use
Automated shut off when not in use
Backlit LCD for quick reading
High accuracy
Cons
Costly
3
VIVOSUN 4-in-1 Digital pH Meter with ATC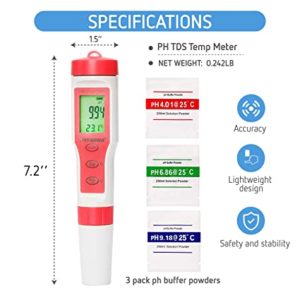 VIVOSUN tester is designed to measure the TDS, salinity, pH, EC, and temperature for any general water solutions. This tester is dustproof, waterproof, and designed to float on water; hence, you won't lose it when it falls in the water. Similarly, it has a bright LCD screen with three backlit colours; therefore, it can display three different modes.
Pros
You can customize settings to suit your needs
It's dustproof and waterproof
Large LCD screen
Easy to use
Cons
Distilled water may destroy the glass membrane
4 HAPHID Combo PH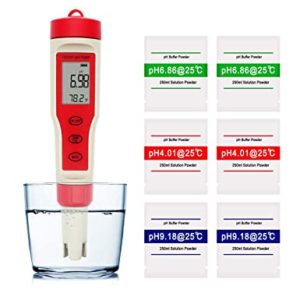 This water quality meter is suitable for hydroponic pools, drinking water, RO/DI systems, aquariums, and more. It is designed with a sensitive glass probe that gives the measurements in high resolution. Similarly, the readings displayed are fast, reliable and stable. It is also small-sized hence you can carry it anywhere. Besides, it consumes low energy as it shuts down when it's not in use after five minutes. Consequently, HAPHID comes with a battery indicator that will help you show the energy remaining.
Pros
Easy to use
Consume less energy
High accuracy
Multifunctional meter
Lightweight design
Cons
Costly
5 DUMSAMKER TDS Meter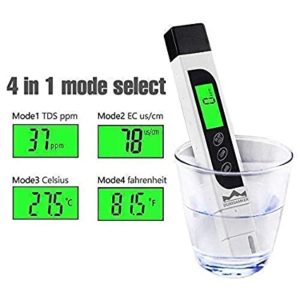 This TDS model is perfect for hydroponic due to its performance and ease of use. It is designed with the hold function so that you can save your recordings and reading. Similarly, the measurements range from 0 to 9990ppm with resolution increments of 1ppm. The DUMSAMKER TDS Meter is built to shut down automatically after two minutes when it's not in use. Besides, it give instant readings. Apart from hydroponic use, it's also suitable for swimming pools, aquariums, drinking water, RO/DI system. Additionally, the design of this model doesn't require any maintenance as it is built to last for a longer time.
Pros
High accuracy
Easy to use
Hold function
Instant readings
Cons
It has a narrow display
Conclusion
When it comes to hydroponic, you will need something that can help you check on the concentration of nutrient-rich water. Therefore, you need to pick the best model. Our selected brands are best suited, so you don't have to worry about your crops. But don't forget to consider the size of your budget. You can also shop around to compare their prices.