Best TV Headphones for Seniors (2022)
When looking for the best TV headphones for seniors, you have to consider some of the features they offer and the pricing as well. If you live in a busy neighborhood where there's always noise, buying reliable wireless headphones is an ideal option to consider.
Headphones can help you watch TV in peace without straining to hear what your favorite actors or news anchors are saying.
There are plenty of other best TV headphones for seniors. The ones we've discussed in this post are the most ideal to consider buying on the market.
A List of Top 5 Best TV Headphones for Seniors
Sennheiser RS 195 RF Headphone System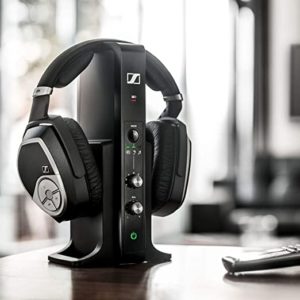 The Sennheiser RS 195 RF headphone system offers the best digital wireless transmission of audio, with a delivery range of up to 328ft/100m connectivity. The technology in these headphones is ideal for seniors, since its selectable hearing boost presets comes with additional suppression of noise.
It also offers clear dialogue and superior speech and features a multipurpose transmitter that supports both digital and analog inputs. However, it's not compatible with Bluetooth technology.
Pros
• Affordable
• Easy to use
• Excellent digital wireless audio transmission
• Noise suppression feature
Cons
• It doesn't support Bluetooth connection
BOHM B66 Black Silver Wireless and Noise Cancelling Headphones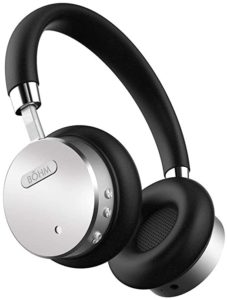 The BOHM B66 noise cancelling headphones offer comfort to users and they come with lightweight earbuds. These wireless headphones are suitable for watching TV since they transmit audio efficiently and their noise cancellation also makes them ideal to use in neighborhoods with so much noise.
Another good thing about these best TV headphones for seniors is that they are sold at an affordable price, and when using them you can freely move around without any limitations.
Pros
• Compatible with iOS and Android devices.
• Active noise cancellation feature
• They are wireless, which means you can walk around the house freely when using them.
Cons
• Not comfortable when you wear them for long.
Simolio SM 824D1 Headphones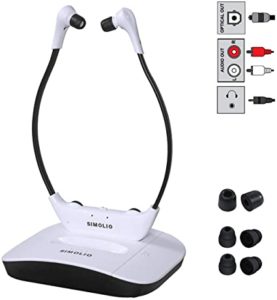 The Simolio SM 824D1 headphones are compatible with digital TVs, and they also come with personal sound amplifier functionality. The headphones also come with a built-in mic button that enables those with hearing impairment to temporarily amplify people's voices nearby.
They also feature a voice clarify and balance control that enables the TV dialogue to stand out from the sound on the background. The balance control allows volume adjustment so that you can hear properly on both ears. The headphones are not only impressive, but also quite flexible.
Pros
• User-friendly
• Comfortable
• They produce high-quality sound
• Noise cancellation feature
Cons
• Long process of Bluetooth pairing
• It doesn't work with audio port functionality
Sennheiser SET 840 Listening Headphone System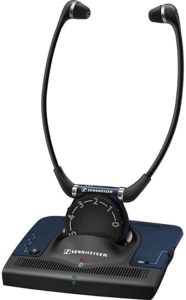 The Sennheiser SET 840 headphone system comes with wireless connectivity technology. They feature radio frequency system with receiver and transmitter. These headphones offer convenient mobility within a range of 100 feet. And they can even transmit through walls.
They feature 3 selectable hearing settings located on the transmitter to make it easier for users to optimize the speech. They also include two 3.5 mm stereo jack plugs which are used as TV connection cables and 1 adapter.
Pros
• High-quality sound production
• In-built mic
• Customizable sound sensitivity options
Cons
• Only compatible with TV boxes of 3.5 mm aux audio or the RCA audio output
COWIN E7 Noise Cancellation Headphones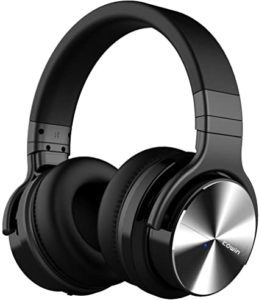 The COWIN E7 noise cancellation headphones feature a perfect design. And they can work anywhere, from home to even when you're traveling. They have an accurate bass response and produce high-quality sound. They feature NFC technology which provides convenience to users when watching TV.
The COWIN E7 headphones also have professional 90-degrees protein earpad swiveling earcups that offer comfort. And they are quite durable. They can last for up to 30 hours per every charge in Bluetooth mode.
Pros
• High-quality sound
• Reliable battery life
• Built-in microphone
• Comfortable
• Noise cancellation technology
Cons
• Breakage may occur after long usage
• Reproduction of high frequency sound