Whether you're kayaking for sport or leisure, it's important to wear the right gear to ensure your safety and comfort while on the water. Specialized kayaking clothing can protect you from the elements and help you stay dry and warm. A dry top or kayaking jacket is a common choice for kayakers, and in colder weather or cool water, a full kayak wetsuit can provide extra insulation. Some kayaking clothing is designed to be worn under other layers, and many are waterproof to keep you dry during your paddling adventures.
When selecting kayaking clothes, it's essential to consider your comfort, as you'll be spending a significant amount of time on the water. Look for clothing that allows freedom of movement in your limbs while paddling, and choose the right thickness and style for the weather conditions you'll be kayaking in. Investing in quality kayaking gear can make all the difference in your overall enjoyment and safety on the water, so take the time to choose the best options for your needs.
A List of The Best Wetsuits for Kayaking
O'Neill Men's Reactor 3/2mm Back Zip Full Wetsuit
If you're looking to buy a suitable wetsuit that is ideal for warm waters, you might want to consider O'Neill Reactor 3/2mm Back Zip Full wetsuit. From strategically designed paddle zones for free and easy movements to the 3/2mm thick skin, the gear features Krypto Knee Padz that prevents wear and tear. Of course, you will want a comfortable suit. Consequently, the chest and back sides of the gear are made with fluid foam. What's more, the suit features flatlock seams that make it completely waterproof.
WindRider waterproof Paddling Sailing Spray Top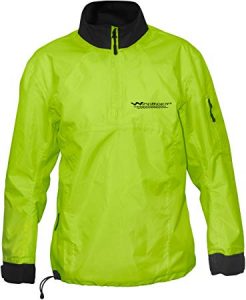 The 100% waterproof gear is made from PVC and is coated with nylon which is necessary for keeping you warm and dry while kayaking. Another impressive feature of the suit is the adjustable neck and wrists that use Velcro adjusters to makes it completely waterproof. Also, the suit has a barrel lock closure around the waist that gives you a perfect fit.
Lemorecn Adult's 3mm Wetsuit
Make kayaking fun and exciting by investing in the Lemorecn Adult's 3mm Wetsuit that will give you warmth and comfort. Interestingly, the wetsuit is designed with high-quality premium neoprene material and flatlock seams to provide a smooth interior. This reduces irritation to make the gear more comfortable. The suit also features easy-reach, extra-long leash, and back zipper for easy on and off. Available in different sizes, you're sure to find a gear that perfectly fits your body.
Dive and Sail Wetsuit Pants

Well, this wetsuit pant should fit snug, but not too tight. The pants are made of 1.5mm ultra-soft neoprene fabric and the flatlock construction for enhanced comfort. Besides, the premium neoprene prevents water from seeping in and out which keeps you warm. Also, the suit offers excellent UV protection and keeps your skin off any kind of water irritant. The wetsuit is available for both men and women.
Cressi Men's Front-Zip Full Wetsuit

You're probably looking for a kayaking body gear that can be ideal for other water activities. That's alright! The Cressi wetsuit is designed with 2.5mm double-lined elastic Neoprene – making it an excellent option for temperature regulation and enhanced durability. Also, the arms and legs are made from stretchy neoprene to provide comfort and easy movements of limbs. The knees and shins of the suit are reinforced to prevent wear and tear.
Seavenger 3mm Odyssey Wetsuit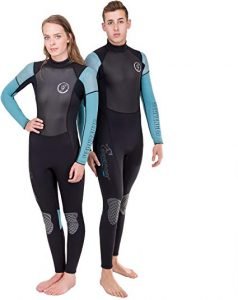 Another impeccable kayaking cloth is the Seavenger. You'll hardly miss the exceptional knee and shoulder pads that feature anti-abrasion technology. If that's not enough, the suit features a stretchy 3mm neoprene fabric for smooth mobility around the knees and armpits. The flatlock stitching makes the suit relaxing. The wetsuit also features sharkskin chest which provides an extra layer of protection.
Beautyin Women's Rash Guard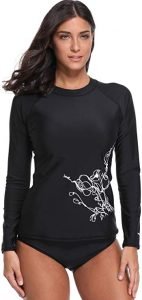 Built with 80% polyester and 18% spandex, this rash guard is designed for women who want to look stylish. The gear not only provides UVB and UVA protection but also protects your skin from sea irritants. Made with elastic, lightweight fabric and flatlock seams, the suit features a super comfortable interior.
Vapor Apparel Hood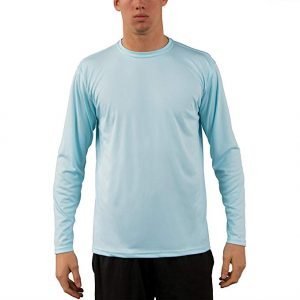 Vapor Apparel Hood is an outstanding cloth for kayaking with impressive features. After a long day of rigorous activities, your body will produce odor. That is why Vapor Apparel suits come with anti-odor technology that prevents bad odor from seeping out. What's more, the suit features Pure-Tech moisture wicking which expels water from the body to the hood. Also, the hood is an effective UV shield with UPF 50+ sun protection.
Supreme Men's Reach Poly Hybrid Jacket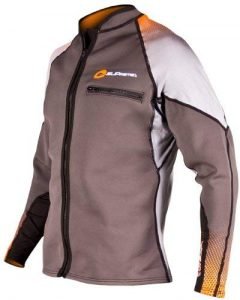 Are you looking for a Kayaking Jacket which is perfect for cold, moderate, and warm water conditions? Well, Supreme Hybrid Jacket features an interior made with 100% thermal microfleece which keeps you warm throughout. The outer sleeves are made with 1.5mm quantum foam neoprene. If you're worried about sun exposure, this jacket offers 50+ UV protection. This gear also comes with a cellphone pocket with an internal elastic key retention loop.
Kokatat GORE-TEX Wetsuit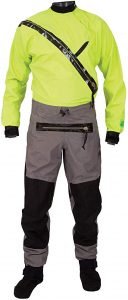 If you intend to remain dry all through the kayaking adventure, you might want to check out the Kokatat GORE-TEX suit. The suit gives you full body cover: from the neck all through to the feet. The gear is made using 3-layer Gore-Tex material which is not only waterproof but also breathable to keep your body warm and dry. Also, the laps, knees, seats, and elbows are reinforced with military-grade 330d Gore-Tex for enhanced durability.
Waterproof Windrider spray top for paddling
[Azonasinid asinid="B078SK79HR"]
This is a 100% waterproof garment that will keep you dry throughout. The Windrider has PVC with nylon coating. The joins are taped to ensure the whole spray top achieves a perfect waterproof seal. It also comes with adjustable wrists and neck to provide proper insulation from the elements.
Pros
Waterproof
Adjustable neck and wrists
Stohlquist Treads Paddling Pant
[Azonasinid asinid="B004ZR9LTK"]
When paddling, you will need to keep every inch of your body warm. This includes from the waist downwards. That is the function of this waterproof paddling pant. It comes with a waterproof material made of neoprene. It is also has a mesh pocket that is accessible via a zipper.
Pros
Waterproof but breathable
Heavy duty
Dive & Sail Men's Wetsuit Pants
[Azonasinid asinid="B01GTRUDC2″]
This is pants that will come in handy when you want to swim out of a situation such as your kayak capsizing. The pants come with 1.5mm neoprene making them waterproof. They have been designed to fit perfectly but not too tight. You can even wear them with paddling pants.
Pros
Warm leggings
Great value for the money
Baleaf men's Rashguard Long Sleeved
[Azonasinid asinid="B076CC89B8″]
Rashguard men's apparel is what you need to wear under a paddling jacket. You can also use it on its own depending on the weather. It is long-sleeved, so be sure that it will cover the neck and the arms. It comes with an easy to dry fabric that can stretch four ways. It also has sun protecting capabilities, so consider yourself fully protected.
Pros
Great fabric quality
Sun protection swim shirt
Made with premium quick-drying, breathable, 4-way stretch fabric
Beautyn women's Rashguard
[Azonasinid asinid="B07CTHX6FT"]
Beautyn Rashguard long sleeved top is designed for women who love Kayaking. It comes with a great material that is 82% polyester and 18% spandex. The fabric is designed to block any UV rays and has a UPF of 50+. There is a screen print on one side near the waist, giving it that girly vibe. Overall, the Beautyn Rashguard is perfect for swim shirt for swimming, surfing, snorkeling and beach use.
Pros
Lightweight fabric with flat lock seams
Comfortable
Ilishop Women's UV sun protection Rash Guard
[Azonasinid asinid="B010P964GY"]
If you want to go Kayaking with style, then you can go for this women's long sleeved rash guard. What makes one of the best clothes for kayaking is that it comes with a zipper at the chest and codes on the size so you can pull it to transform it into a T-shirt. It also has UV blocking capability to protect you from the sun.
Pros
Adjustable ruche sides
82% chinlon + 18% spandex
Vapor Men's Long Sleeved Hood
[Azonasinid asinid="B06WWF2PHD"]
This is an excellent kayaking clothe that comes with remarkable technology referred to as moisture wicking technique. This technology moves moisture from the body to the hood. It also has M-shield anti-odor incorporation that will ensure bad odor doesn't sip through after a long day of vigorous kayaking. You will also be protected from UV rays thanks to its incredible permanent UPF.
Pros
100% Microfiber Long Sleeve Hoody
Lightweight and breathable
Quick-drying
Kokatat GORE-TEX SuperNova Angler PaddlingSuit
[Azonasinid asinid="B01N7WI6NZ"]
This angler paddling suit is an all in one kayaking apparel designed to cover you from the neck to your feet. It is both waterproof and breathable with 3 layers of GORE-TEX fabric. The wrists have a latex finishing to make them secure; they have hook-and-loop cuffs. It also has a remarkable zipper pocket.
Pros
Waterproof and breathable
Adjustable hook-and-loop cuffs
SUPreme Hybrid Jacket
[Azonasinid asinid="B00BN7A1XU"]
This is a kayaking jacket that will ensure you are fully protected when enjoying your best sport. It comes with the sturdy neoprene material and quantum foam that nicely done on the front and outer sleeves. This is the type of jacket you will appreciate on a cold day. You just have to wear it with a good waterproof kayaking jacket or paddling suit.
Pros
Breathable Platinum Polyolefin back
Durable
Crewsaver Junior Drysuit
[Azonasinid asinid="B00N3TOEK2″]
This is one of the best kayaking suits that is 100% waterproof. The knees are reinforced, and the internal braces are adjustable. It also comes with taped seams to ensure perfect insulation. What makes it even better is that it comes with a dry bag. This means that you can carry things such as your cellphone and other important stuff while kayaking.
Pros
Internal braces for an adjustable fit
Breathable fabric with taped seams