Windscreen damage is one of the most unpredictable and frustrating accidents that can happen while driving. A cracked or chipped windshield can not only be unsightly but can also compromise your safety on the road. However, with the availability of windshield repair kits, you can quickly and easily fix the damage without having to replace the entire windshield.
Before choosing a repair kit, it's important to assess the type and extent of the damage to your windshield. Different kits are designed for different types of damage, so it's essential to choose the one that's best suited for your needs. You can find repair kits for small chips, cracks, and even spiderweb-like patterns that require more intensive treatment.
Once you've identified the right kit for your damage, it's essential to follow the instructions carefully. This will ensure that you use the kit correctly and avoid any mistakes that could further damage the windshield. Generally, most kits involve filling the damaged area with a resin or adhesive, which is then cured using a UV light.
It's worth noting that while windshield repair kits can be a quick fix, they are not always a permanent solution. In some cases, the damage may be too extensive, and a replacement windshield may be necessary. However, using a windshield repair kit can buy you some time until you can get a proper replacement.
A List of Top 10 Best Windshield Repair Kits
RAIN-X Windshield Repairing Kit, Model: 60001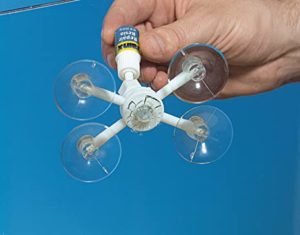 This is a reliable company when it comes to car care products. As it can prevent cracks from spreading from the original point of impact as well as fill up the cracks left from the original focal point. It expels air from the point of fracture or scratch and fills it with resin which makes effort to restore it. The resin is 0.96 ounces in weight and comes with 4 suction pads. The resin this kit uses must be applied before the area gets contaminated by dust or other contaminants. It can deal with one-inch diameter pits but cracks that don't exceed 12 inches.
Pros
Best for a wide range of laminated glass and different types of cracks.
Uses high-quality resin
Can handle big dents and long cracks.
Cons
It can't repair more than 1 layer of glass.
Time-consuming to apply though worth the wait.
Permatex Windshield Repairing Kit, Model:09103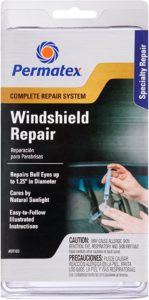 It works well and has a new spring lock mechanism that holds the contraption in place when working, this feature you won't find in any other kit. It makes a seal that is free from air and can handle a wide variety of laminated windshields. This kit repairs varied dents and holes all while saving you money. The resin should be applied in a shaded area with temperatures ranging from 40°F to 70°F and should be sun-dried.
Pros
● Can handle irregularly-shaped cracks.
● You don't need to mix the resin.
Cons
● It takes longer for the resin to cure.
Blue-Star Wiper Repairing kit, MODEL:777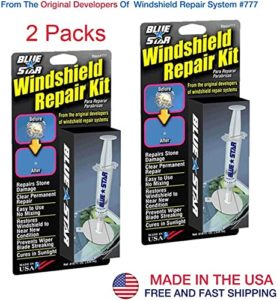 This is an effective way to repair a windscreen as the kit is easy to use and anyone can handle it. It can tackle almost if not all types of crack that find themselves on windscreens. The syringe penetrates far into the crack and drops resin to strengthen and close the Bond between the glass particles. It requires UV sunlight to harden and cure and take shape around the crack to control the spreading. It is a study and long-lasting repair kit with a good finish to mimic almost factory conditions.
Pros
Easy to use
Can handle most types of cracks
High-quality finish
Cons
Make sure you follow instructions keenly otherwise you could ruin how it cures.
3M Windshield repairing kit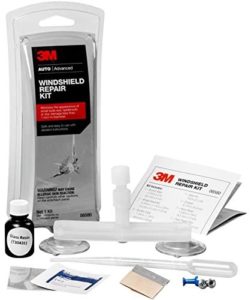 3M is a well-known Car Care product manufacturer and boasts of high-quality products. Inside the box, you will find resin, a blade, wipes, and 2 suction pads. When preparing to apply the resin on the crack no heating or mixing is required in the preparation. It cures in less time and produces a high-quality finish once it is buffed out.
Pros
Reliable
The resin cures fast.
High-quality finish
Cons
The screws that come with it tend to be fiddly and it is recommended to use your own.
Blue-Star Windshield Repairing Kit, Model:CSA-192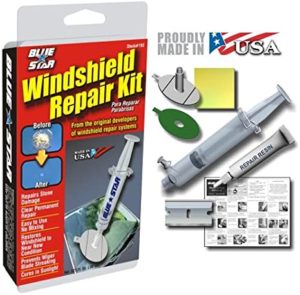 This is an all-in-one kit that comes with every single essential tool for the job, like a 1.6-ounce Reservoir of resin, a resin chamber, a razor blade, and a curing film. Its a method of restoration that involves introducing resin to the chip and curing aids to harden and produce a good smooth finish. Make sure to apply the resin to an area free from dust and water which may hinder a good bond. It is recommended to repair under sunlight.
Pros
● The instruction manual is easy to follow.
● It can work on most laminated glass.
Cons
● It may not work well on larger cracks.
J-B Weld Windshield repairing kit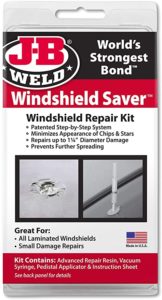 This is a repair kit that suits the job it does and it does it well. It can work on all types of laminated glass and works to restore the star or bullseye crack damage caused on the windscreen. It also acts to prevent further spread of the crack. Using this kit you apply resin on the cracked area through a syringe and pedestal arrangement.
Pros
Work not only on the windscreen but the rear window as well.
The resin is fast-curing.
Produces a high-quality finish
Cons
Best for a small surface area only
Permatex Bullseye Windshield repairing kit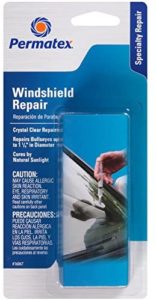 This kit makes long-lasting and airtight repairs that will be sturdy and will hold even in rugged conditions. The main difference between this 16067 model from the 09103 model is that the syringe comes preloaded with resin for timely and ease of application which makes it neat. Every tool you need comes in the packaging and it is effective in its job. The resin cures quickly and once finished the result could be unnoticeable. This kit is designed to handle bullseye damage up to 1 and 1/4 inches.
Pros
Easy and fast to apply
Its packaging is top class.
A good and tidy finish.
The resin is quick to set.
Cons
The type of damage to be repaired is specific. ( bullseye)
The syringe may not be big enough for large-sized dents.
It is good for a single repair.
PDR King Windshield Repairing Kit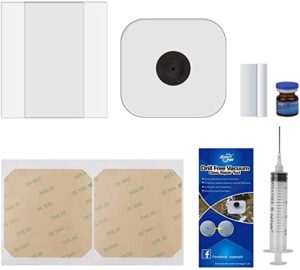 This repair kit can handle any type of windshield or laminated glass with the damages ranging from bullseye cracks to star cracks. It can also deal with the cracks stretching out from the focal Point The Chinese company boasts of 20 minutes cure time, making this one of the most time-efficient kept on the list. The contraption evacuates and sucks in all the air before applying a non-yellowing resin for a stronger fix. It can handle cracks up to 3 cm of the area regardless of the shape.
Pros
A high-quality resin that doesn't turn yellow over time.
Superfast cure time.
It can deal with a great number of cracks.
Cons
Reading the manual might be difficult.
Clearshield Autoglass Repairing Kit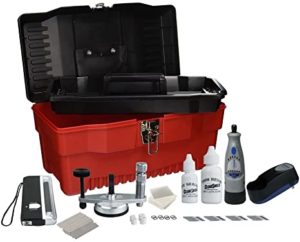 The best do-it-yourself problem solver kit that saves you time and money when fixing your damaged windscreen. Simple and effective to use, it comes in a whole variety of tools from your average Joe to the skilled technician. It is a study well compact kit that can comfortably handle more than 200 repairs. It has great value for money.
Pros
Anyone can use this kit because of its simplicity.
Accommodate every user skill
The kit can handle many repairs.
Cons
Tri-Glass Basic Windshield repairing kit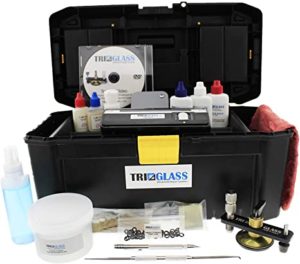 This is a robust windshield repair kit that comes fully stacked with resin sealants and tools that will see you through more than 200 repairs. The vacuum process expels the air and fills in resin to ensure a strong and safe Bond. The resin is cured by a UV lamp and can handle any type of laminated glass.
Pros
Heavy-duty
Can handle plentiful of repairs
Portable
Cons
They may be costlier compared to other repair kits