Finding the best baby bathtub for your little one can be a daunting task. However, it's essential to invest in a bathtub that is safe, convenient, and easy to clean. Gone are the days when babies were washed in the kitchen sink. Nowadays, soft plastic foam tubs are available to provide a clean and safe bathing experience for your little ones. Not only do these bathtubs provide comfort for newborns, but they can also be used for older babies.
If you're still unsure about whether a baby bathtub is necessary, consider the convenience it offers in easing the workload for parents. Additionally, with so many options available in the market, it can be challenging to find the best one.
Top 10 Best Baby Carriers for Breastfeeding
A List of Top 10 Best Baby Bathtubs
Munchkin White Hot Inflatable Duck Tub

One of the key features of this tub is that it will turn white if the water is too hot. It is a padded tub which adds to the comfort. It is guarded against all the sides ensuring the kid does not fall. It is the best suited for kids aged between 6 to 24 months. It can easily deflate and can be holed. Therefore, you can carry it too.
Blooming Bath Lotus Baby Bath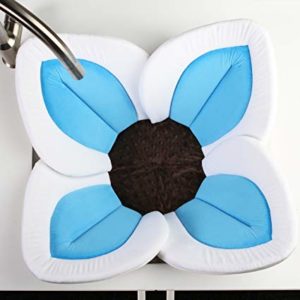 This is one of the best baby bathtubs and the best suited for infants between the age of 0 to 6 months. It is extremely soft and comfortable for the kids. The design is like that of four petals from the sides. This bathtub is available in an array of colors and can perfectly for the size of the baby.
Boon Soak 3 stage Bathtub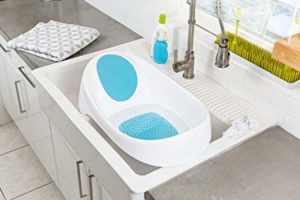 This is one of those bathtubs which is available for kids of all the age groups, infants, newborns to toddlers. You can easily adjust and position in the sink. To prevent your kid from falling, the bathtub comes with an adjustable bump and has the non-slip foam. You can easily clean it since it is made of plastic.
Summer Infant Newborn to Toddler Bath Center and Shower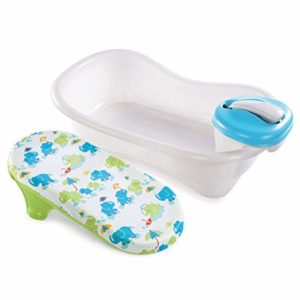 This is available for babies of all age groups. You can remove the sling and place the baby bathtubs in the sink. The removable shower unit is usually placed in the adult bath tub. It comes with a portable motorized shower which makes it easier for you to clean it.
Fisher Price Whale of a Tub Bathtub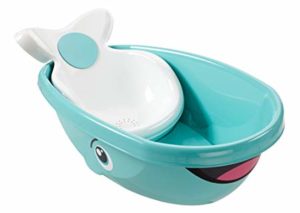 With an extensive design, your child is sure to love this. It has a contoured, comfortable seating pad which protects the baby from slipping or sliding. Apart from that, the flush drain makes it easier to clean and is pretty comfortable too. You can place the bathtub in your sinks as well.
FLYMEI Portable inflatable baby bathtubs
If you are looking around for a portable bathtub, then nothing can be a better choice than this. Not only is it affordable but it is extremely comfortable as well. It is made of non-toxic materials ensuring the safety of your child. The textured bottom will protect your kid from slipping away. The side pocket will help you to store the bath products. You can also use the drain plug to clean it.
Textured bottom keep babys/toddlers won't slip, ensure safe production and comfort of your baby.
Folds compactly for traveling and storage
Even great for the Beach
Perfect as a baby shower gift!
Skip Hop Moby Baby Bath Tub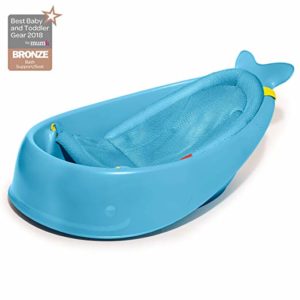 You can use this for your newborns, infants, and toddlers. It has a mesh sling support to prevent the water from accumulating. It ensures complete comfort for the kids and comes with the drain plug which allows the water to wash off.
Mesh Smart Sling provides Comfort-Edge support and locks into two ergonomic positions: Upper position: Offers head-to-toe newborn cradling; Lower position: Supports infants learning to sit
Remove sling completely when baby sits upright
Swivel hook for hanging on showerhead, shower bar or towel bar
Non-slip interior texture
Drain plug
Summer Infant Comfort Height Bath Tub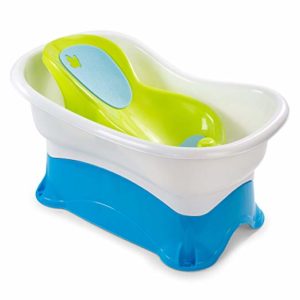 This tub has a raised bath Center, making it easy for you to bathe the child. It also has a larger tub to help you bath the toddlers up to two years of age. It has a sturdy raised platform which is comfortable for the person to kneel on. It can also be used as stands later on.
Sturdy platform safely raises baby to parent's level, later converts to stand-alone kneeler or step stool
Locking tabs ensure a snug fit between tub and base
Shuffle Baby Bath Tub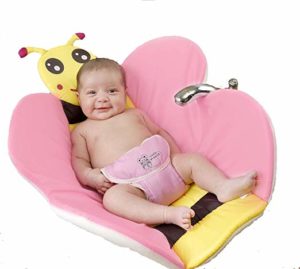 The curved design is what will catch your eyes. It is very compact, yet it can store up to two liters of water. You can use it for a child up to one year of age. The warm, foam backrest ensures that the kid sits comfortably and does not slip away. What's else? Well, you can store it in any part of your room, and since it is lightweight, you can easily carry it. It is very safe for your child. The only drawback is that it is slightly expensive.
0-12 Months Old
Cushiony & Machine/Dryer Safe
Quick-Drying FabricAnti-sliding
Disney Minnie Mouse Inflatable Bathtub
This is one of the safest and best baby bathtubs having the non-slippery flooring. It has a large pocket in the side thereby helping you to store a lot of products. Why? Well, you don't need to fuss about cleaning, as you can dry it off after slight washing. The bathtub also has a temperature display.
Large storage pockets for easy access to shampoo
Deflates for compact storage, great for on-the-go bathing