Top 5 Best Home Brewing Kits (2022)
Have you ever dreamed to make your own freshly small-batch beers at home? Thanks to brewing kits available as they allow you to ferment, brew and bottle your own beer. These kits ensure that you have everything you need and come with step-by-step instructions to make a perfect beer to the comfort of your own home. After you familiarize yourself with the process of brewing, you will find it easy to tweak and test recipes until you produce a batch of beer that satiates your taste.
There are tons of home brewing kits on the market and it becomes challenging whenever you are selecting the best one for you. to make selection easy, we have done extensive research and come up with a review of the top 5 best home brewing kits that can further your knowledge of home brewing.
A Review List of Top 5 Best Home Brewing Kits
5. Mr. Beer Complete Beer 2 Gallon Making Starter Kit, Brown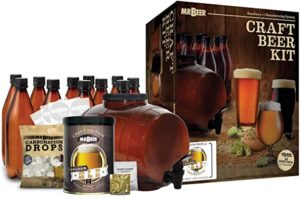 Mr. Beer brewing kit is affordable, beginner-friendly, and offers a variety of options. It is designed with the first-time user in mind as it is easy to use, with simple ingredients, and step-by-step instructions included. Using the included Malt extract, you will brew your beer in only 30 minutes. Typically, this kit includes the Best Ingredients to assist you to create a consistent beer every time and reducing the risk of contamination.
When you purchase this kit, there is no need for additional strainers, large pots, or brewing equipment. What's more, the fermenter has a wide mouth at the top for easy cleaning and brewing.
4. PicoBrew Pico C 14″ x 12″ x 16″ Beer Brewing Appliance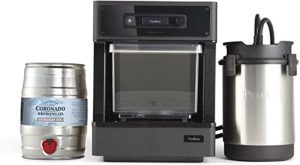 This Brewing Appliance includes nearly everything you require to brew. It will help you to brew your beer without complex equipment, sterilization, vessels, and cleanup. Typically, this brewing appliance allows you to brew 5 liters of your favorite beer at a time. It also includes a perfect balance of pre-measured yeast, hops, and fresh grains so that you can brew fine-tune any pico Pak to your liking. The components of this Beer Brewing Appliance are dishwasher safe and easy to clean.
This machine has the capacity to distill liquor with the assistance of the separate PicoStill attachment. You will be able to fine-tune your beer to bitterness level (IBU) and alcohol content (ABV) and comes with a carbonation system that assists to speeds up the process of brewing.
3. BeerDroid Fully Automated American Pale Beer Brewing System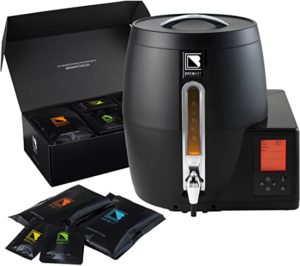 Looking for a Beer Brewing System with less work? The BeerDroid will fully automate the home beer brewing process. It brews 2.6 gallons of quality premium beer in just a push of a button. Typically, this temperature-controlled fermenter allows you to customize using BrewArt ingredients and brew BrewPrint recipes. The BrewArt ingredients are 100% free from preservatives and additives.
The system has easy to read LCD screen that allows you to check your brew status, customize your brew and control the temperature. Moreover, there is an easy flush drain and 2 piece snap tap for minimal cleaning. You can connect the BeerDroid to Wi-Fi for you to control and monitor your brew using the free BrewArt App.
2. Midwest Supplies Simply Beer Making Starter Kit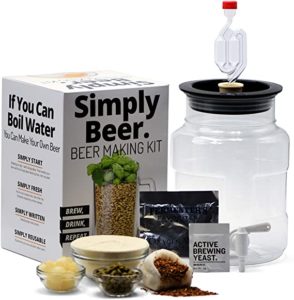 The Midwest Supplies Beer Making system is suited specifically for beginners and it is labeled as very easy to use, but it can be used by any homebrewers on any level. The kit includes a Siphonless fermenter, steeping grains, dry malt extract, brewer's yeast, premium hops, and cleanser complete instructions. Whether you are gift-hunting for the beer lover in your life or interested in diving deeper into beer, this beer kit will get a taste that spawned the craft of the beer industry that you love.
Most people love this kit as it comes at an affordable price and has almost everything you need in terms of equipment. Finally, the kit is very easy to clean.
1. Coopers DIY Beer 6 Gallon Home Brewing Beer Making Kit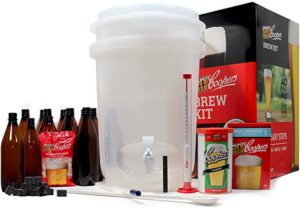 This beer-making kit from Coopers includes everything that you require to make six gallons of great tasting beer. It comes with a patented fermenter that will make the brewing process quicker and easier and is completely reusable. The kit includes additional accessories including Coopers Beer Hydrometer, tap assembly, Beer Mixing Spoon, Coopers Bottling wand, Coopers Brewing thermometer, Coopers Lager Refill Pack, and 740ml plastic PET bottles with caps.
Typically, this beer kit is completely reusable allowing you to brew batch after batch of a quality all-malt beer. The brewing fermenters have a wide base and mouth for easy cleaning. Lastly, these certified master brewers will allow the novice to the professional brewer to make all styles of high-quality beers.
Conclusion
If you want to take your home brewing to the next level, it is time to equip yourself with the right home brewing kit. Whether you are a novice or an expert, you will love any of the brewing kits listed above. They are a complete set that comes with everything you need to make your lovely beer. Get one today!