Top 10 Best Saltwater Fishing Pliers (2022)
No true fisherman wants to be caught with the wrong kind of gear. One of the most important pieces or gears is the fishing pliers. Deceptively small, they are practical and can tackle bent wires, loose knots, and remove hooks. Buying the wrong pair can mean you end up with a rusty piece of equipment. That's why we rounded up the best saltwater fishing pliers (either made of titanium or alumnum) you can buy (2021).
Best Fishing Rods for Beginners
A List of Top 10 Best Saltwater Fishing Pliers to Buy
MadBite Lighted Aluminum Pliers

The MadBite is an inventive gadget. Equipped with an 18k millicandela LED light, it produces a bright beam when you project it. For people who love fishing at night, this is a life and time saving feature. The light is waterproof and runs on a normal battery, available anywhere. The silicone grip ensures that it doesn't slip or corrode when exposed to air or water. At 7.5 inches and 6.5 ounces, these pliers are compact yet powerful.
Aerospace-grade aluminum
Non-slip silicone grip handles
Available in various colors.
PlusINNO Fishing Pliers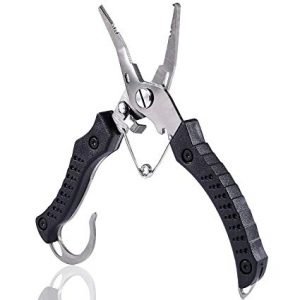 PlusINNO is one of the few companies to offer a 12 month warranty, the pliers have a belt sheath and coiled lanyard which makes them easy to carry. A titanium coated stainless steel fish hook remover which simplifies cutting fly lines and back lines for even the most amateur of fishermen. PlusINNO is a budget buy and great if you are looking for something to start your journey with.
Easy to cut the heaviest mono leader, the fly lines and backing lines
Made from 430 stainless Steel material with titanium coating
Corrosion resistance
Light and ergonomic
Spring loaded non-slip handle is light-weight
Easy to carry and handhold
Boomerang BTC203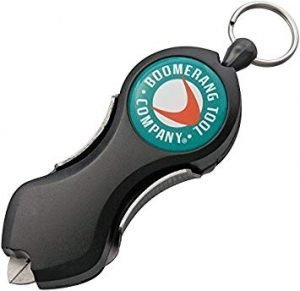 Not everyone is comfortable with pliers or scissors. For such people, the Boomerang Braid Cutters are an ideal option. Braid cutters are used to cut the ends or frays while tying fishing knots. Attached with a retractor, you can hang them around your neck or waist and use it when necessary. The one handed snip lock is a boon when you can't really spare both hands.
Stainless steel corrosion resistant cutters
Great for braid, fluorocarbon, and mono lines up to 50 pounds
Integrated safety system
Cuts clean and smooth every time
Booms X1 Fishing Pliers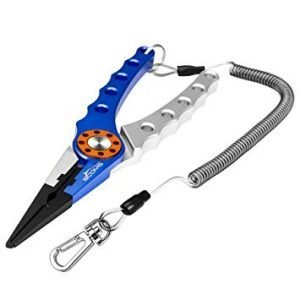 Every fishermen or angler will have a preference and budget. Some may like a spring loaded handle that the Booms X1 has which makes it possible to use the pliers with one hand. The material used however remains the crucial deciding factor. Corrosion resistant material is used to construct the Booms X1 and it can be used in freshwater or seawater.
Aluminum and corrosion resistant
Inset stainless steel jaws: Coated carbon stainless steel inserts
Ultimate strength and durability
Spring loaded handle for easy one handed use
Wolfyok Aluminum Fishing Pliers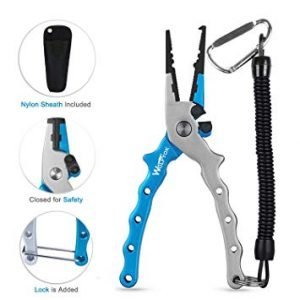 For quality, you will need to pay a premium price. If you are looking for a starter pair and have a medium budget, the Wolfyok Fishing Pliers are the ones you should pick. At only $16, they come with replaceable tungsten carbide cutters. It is always useful to have a spare. A wire coiled lanyard, nylon sheath and a one year warranty sweeten the deal for customers.
Special anti-slip and spring loaded handle designs

Titanium coated stainless steel jaws
Saltwater resistance
SANLIKE Aluminum Fishing Pliers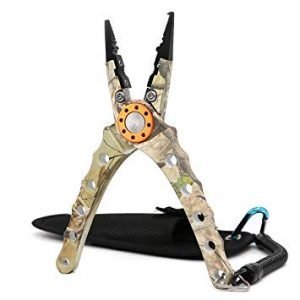 SANLIKE offers a full money-back guarantee to unsatisfied customers. This product is loaded with features such as spring loaded handles, aircraft-grade aluminum, anti-slip handle, and stainless steel jaws. The multipurpose fishing pliers are amazing for amateurs and experts.
Aircraft-grade anodized aluminum
Special wave-shaped anti-slip handle design
Booms L1, 13-in-1 Fishing Pliers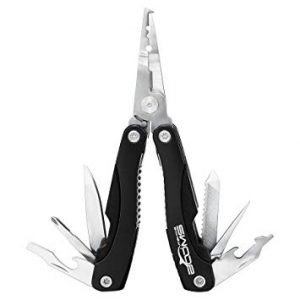 At a slightly higher price, you can avail the multi-purpose tool for anglers and fishermen. Booms L1 has a wire cutter, braid cutter, split ring opener, and hook remover. 6.5 inches in size, this compact tool even has a bottle opener and screwdriver for emergencies. These are the best fishing pliers in their category and price range.
Made of anodization and polished stainless steel
Easy to use
Rust and corrosion resistant
KastKing Cutthroat Fishing Pliers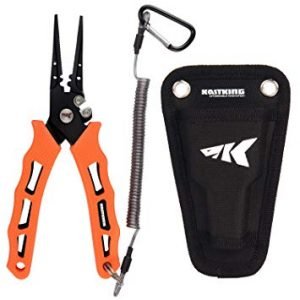 Made specifically for long term use in freshwater and seawater, the KastKing is priced at $20 on Amazon. The jaws are available in split ring nose design or a straight nose. A custom molded sheath with belt clip is also included so you can protect it when it's not being used.
Ergonomic textured rubber handle
Made from corrosion resistant 420 stainless steel
HJJS Fishing Pliers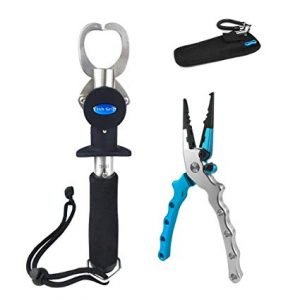 A nylon pouch and elastic straps are offered with the HJJS fishing pliers to cover and protect them. The anti-slip handle makes grabbing or picking fish comfortable and helps you avoid lose your catch. You also get a measuring tape and scale so can you weigh and measure your catch. This will help the excited fishermen or first timers!
Corrosion resistance
Air-craft grade aluminum
Piscifun Aluminum Fishing Pliers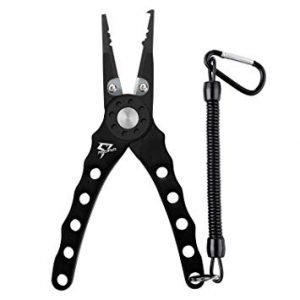 Piscifun Aluminum Fishing Pliers is the best fishing pliers available on Amazon. Also, rated highly by fishermen across the world. Piscifun is made of aircraft grade and anti-corrosion aluminum that is light and long-lasting. They have the sharpest tungsten carbide cutters. These make cutting through ropes and lines easy and quick. Whether you fish in freshwater or seawater, they have a sheath which makes carrying the pliers comfortable. The price points, sturdiness, and metal make it our top choice to buy (2021).
Durable titanium-coated stainless steel jaws