The Best Nursing Pillows
Congratulations on deciding to purchase a nursing pillow! This is a wise decision that will undoubtedly make feeding and bonding with your baby easier and more comfortable. In this article, we will provide you with a comprehensive review of the top 10 best nursing pillows available in the market, so you can choose the perfect one for you and your baby.
Having a nursing pillow can make a significant difference in your daily routine as a mom. It can help reduce strain on your back, neck, and arms while nursing or bottle-feeding your baby. It also provides a comfortable and supportive surface for your little one to rest on during feeding time.
When choosing a nursing pillow, it's important to consider the size, shape, and firmness that best suits your body type and nursing style. Additionally, having a pillow cover can protect the pillow from spills and stains, making it easier to clean and maintain.
Best Toddler Beds for Active Sleepers
A List of Top 10 Best Nursing Pillows
Boppy Cotton Blend Nursing Pillow and Positioner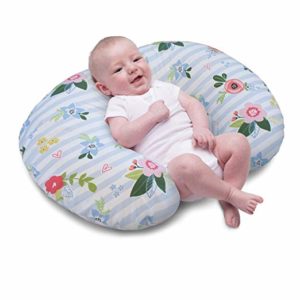 This nursing pillow provides relief to you for breastfeeding your child as the baby is lifted to a more comfortable position. It helps your baby to transition well as he grows up to the time the baby can sit. It comes with a cottony cute slipcover. It's advisable to have more than one slipcover. However, you will have to buy separately these additional slipcovers. Both the pillow and slipcover are machine washable. A common feature of Boppy pillows is that they are curved in shape and so is this pillow. The difference in the products they produce always is about the slipcover.
Provides your arms and back relief by lifting your baby to a more ergonomic position when breastfeeding or bottle feeding
A cotton blend fabric with an allover fashion
My Brest friend original nursing posture pillow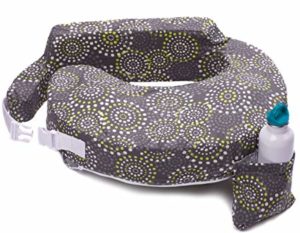 One of the most notable features that differentiate this design from the rest is the fact that they have a wraparound design. They are suitable for lactating mothers and will help alleviate back and arm pains during the breastfeeding or bottle feeding process. It has a removable slipcover which is always colored differently.
Adjusts to fit most sizes, this pillow surrounds your body securely, for the ideal position
Minky Nursing Pillow covers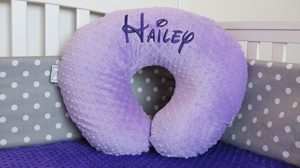 It's made of mink fabric which is soft and won't irritate the baby. Has a removable slipcover which unlike the rest its hidden this ensures that the baby's soft skin won't come in contact with it ensuring that the baby cannot suffer further injuries. It has some stylish prints on the slipcover.
Super soft, premium quality
Side seam zipper allows use of both side
Made to fit the standard Boppy nursing pillow
Stretch Nursing Pillows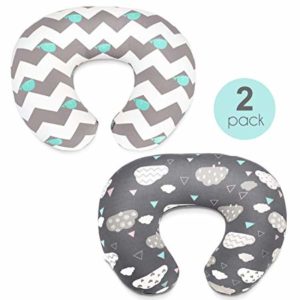 They come with two slipcovers, therefore, reducing the cost that you would have to buy an additional slipcover and making it easy to change the covers. They too have a hidden zipper and are machine washable.
Concealed zipper in the middle side keeps it away from both you and your baby
High quality, breathable, super soft, stretchy fabric that will fit snuggly in all standard baby pillow brands and allow your baby fell comfy and safe
Infantino elevate adjustable nursing pillow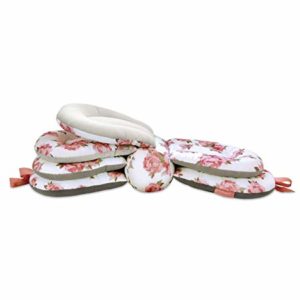 With this type of nursing pillow, you can adjust the nursing height to the position that suits you. For instance, there are three height positions one could adjust to, the neutral position, moderate elevation, and the maximum elevation. To adjust to any of those positions you flip the layers. In addition, it supports different nursing positions such as football positions or cross-cradle. Its machine washable.
Elevate your little one to breast height for improved latching
Supports upright nursing positions for little ones with acid reflux or gerd
Supports a variety of nursing positions including cross-cradle or football positions
Designed by Nursing Moms
All American collection nursing pillows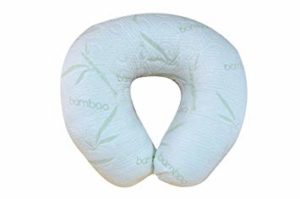 This nursing pillow is made of 100% polyester which guarantees you of how durable it can be. The polyester used is soft for the baby and that mother. Any potential of diseases arising such as allergy is eliminated by the fact that it's made of allergen-free materials. This guarantees you the safety of your baby. Its machine washable therefore you should not worry about keeping it clean.
The cover is 40% Bamboo and 60% Polyester that make it portable, soft and light
Allergen protected and smooth cover protects your baby's skin from irritation
The Lansinoh Nursie breastfeeding pillow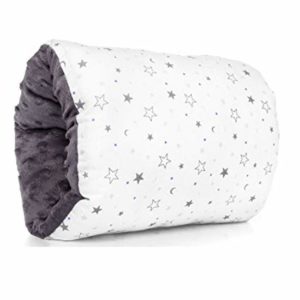 This pillow is somehow different from the others. You slide it around the arm moms using this type of pillow do not need to lean to breastfeed, they bring the baby up for breastfeeding. It's small, portable and super soft which makes it ideal for moms who are always traveling.
Compact & portable, fitting easily in a stroller, diaper bag or backpack & ideal for air travel
Comfortable, ergonomic design makes it great for dads to use, too!
Itzy Ritzy infant nursing pillow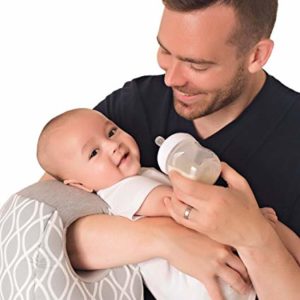 Itzy Ritzy is specifically designed for breastfeeding and bottle feeding the baby. It raises the baby to an angle which prevents the baby from getting any type of reflexes whatsoever. To use it, the caregiver has to his/her own hands through an opening which is large enough to fit into any hand. Therefore, it requires no straps.
Adjustable pillow works for bottle feeding and breastfeeding
A stay-cool inner lining keeps the Milk Boss feeding pillow at a comfortable temperature on the arm
Leachco Natural Boost – Adjustable Nursing pillow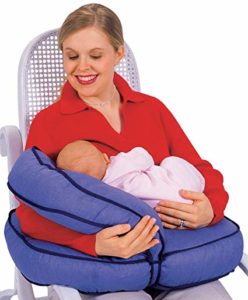 As the name suggests this pillow allows you to boost the elevation angle that is suitable for you and your baby. It comes with a nursing pillow and a boost pillow. The boost pillow can be removed as the baby grows. There is no denying that the boost pillow can help you as the child develops through different stages.
Polyester 65%/Cotton 35%
Made in US
Boost pillow flips from side to side as baby changes nursing positions
Ideal size for travel
Non-removable cover
NurSit Basic nursing pillow and positioner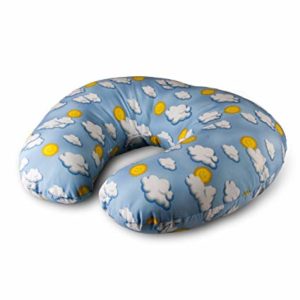 It's the US made pillow and is made of polyester. NurSit Shares a lot of features with the Boppy pillows starting from the shape to the way it can be applied for use. It's a good breastfeeding pillow which can be used both at home or while you are traveling. Its machine washable making cleaning easy. And it has been made easier by the fact that there is no removing of slipcovers.
100% polyester cover
Filled and finished in the USA
Machine Washable
Guaranteed to be as soft as new each and every time you use it