Fencing pliers are essential tools that every fencing professional or DIY enthusiast should have. They are specifically designed for fence building, repair, and maintenance. Although their main function is similar, each plier is unique and comes with advanced features that differentiate it from the rest.
To choose the right fencing pliers, it's crucial to consider factors such as functionality, comfort, durability, endurance, maintenance cost, and price. After careful research and analysis, we have compiled a list of the top five fencing pliers that stand out in the market.
Whether you're a professional or a DIY enthusiast, these pliers offer unparalleled performance and efficiency. They are durable, easy to use, and designed to meet various customer needs. Choose one of these fencing pliers and take your fence building experience to the next level.
A List of Top 5 Best Fencing Pliers
TEKNO 3541 10-1/2 INCH Fencing Pliers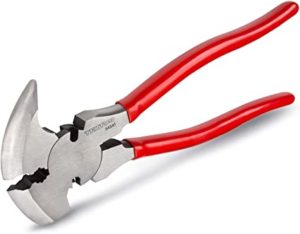 This multipurpose tool is designed specifically for wire fence installation, repair, and maintenance. It is a 7-in-1 pliers, which saves you a lot in acquiring different tools for different purposes.
It saves you from carrying around a heavy toolbox; hence, it is easy to work with for a long time. Among its cool features are:
Hammer for driving in staples into wooden fence posts
Sturdy staple claw for removing staples
Two shear-type wire cutter placed strategically on either side of its pivot area
2 wire-splicing crimpers, one with a smooth edge for slicing less sturdy wire and the other for tougher fence wire
Staple starter for holding staples ensuring the safety of your hands
Gripping jaws for maximum gripping strength
2-wire splicer
Tekno 3541 pliers is made from an extremely strong vanadium material, which makes it very durable. Moreover, you enjoy magnificent grip and proper control of this sleek tool, which means improved safety.
Pros
Durable and long-lasting
7 in 1 multipurpose pliers
Versatile with slim, strong handle design
Very safe to use
Cons
Poor jaw grip when working with finer material (staple claws not well pointed)
IRWIN VISE-GRIP 10-1/4 Inch Fencing Pliers

This multi-function fencing tool can be used to fence both barbed and any other fencing wire. It is made of nickel-chromium, an extremely strong alloy that resists wear and corrosion; hence, it is ideal for the toughest fencing work and guarantees durability.
During fencing, its grooved hammerhead can be used to pound nails and staples into timber logs. The hammer has a sharp claw on the opposite side, sturdy enough to pull out the toughest and rusty nails.
For comfort in handling and usability for long without getting fatigued, the pliers handle has grips with complete ProTouch technology.
This pliers boasts an additional 1.25 inches jaw capacity designed with maximum gripping strength and can cut the thickest and toughest fencing wire.
Pros
Non-slip and anti-pinch grip
Ideal for both wooden and metallic posts
Comes with an ergonomic handle design
Corrosion-free
Cons
Grabbing staples with its tip is a little challenging
Some customer reported non-satisfaction with the handle
Channellock 85 10-1/2 Inches Fencing Pliers

This plier comes in elegant design with a curved grip that allows for sufficient pressure when gripping fencing wire. It has rubber grip handles for comfort, thus capable of working with for long hours.
The pliers also comes with two different cutter sizes capable of cutting high tensile thicker and thinner fencing wires. The cutting shears are treated with laser heat, making them effective for a longer period.
This pliers is very versatile, capable of stretching, splicing, and cutting fencing wires. It also comes with a staple starter for safely holding your staples, ensuring fingers safety when hammering staples.
Furthermore, it has a hummer and staple puller for use in your fence posts (driving in and pulling out staples, respectively)
Pros
Extremely versatile
Elegant design and strongly built
Safe to use with excellent grip and non-slip design
Cons
Rusts over time not suitable in rainy environments
Overpriced and not for everyone on a tight budget
Wide inside grip jaws not good for finer material
DEWALT DWHT70273 Fencing Pliers

This pliers comes from one of the companies that prides itself with most professionals' durable and reliable tools. The versatile pliers has padded handles for excellent and comfort in your hands. It can be used for cutting, splicing, and pulling staples.
Additionally, it comes with a two-wire cutter that can effortlessly stretch and splice high-tensile fencing wire. The stretcher features also work well in tightening sagging fencing wires.
It is, however, made of softer metal that scratches over time. Also on the downside is its wide gripper between the handle, which can be a little uncomfortable.
Pros
Versatile
Best for the money
Reliable hammer face
Cons
Prone to scratches
Gripper between handles a little too wide
Crescent 10-inch Heavy Duty Fencing Pliers

Made of forged alloy steel for enhanced strength and durability, this pliers also comes with a corrugated head for enhanced rigidity.
It has a very sharp staple claw efficient for pulling off rusty or strongly hammered staples. It comes with two wire cutters that are electronically hardened for cutting high tensile fence wires.
The pliers has a special opening and a polished head for easier staple and fence wire gripping during installation or maintenance.
Its non-slip handles allow for a firm grip during squeezing and twisting. It is also very sturdy, making it reliable even in the most demanding fencing applications.
However, its handle's red rubber grip comes off easily and does very little in offering comfort.
Pros
Special grip for removing staples
Affordable
Heavy duty and carefully designed
Cons
Not comfortable
Grips come off easily
Not ideal for users with small hands