When it comes to buying your first wheelbarrow, there are several factors to consider. Firstly, you need to determine the purpose of the wheelbarrow. Will it be used for a small yard, farm, backyard landscaping, or any size garden? Wheelbarrows come in different sizes and designs, and selecting the right one can make a big difference.
A wheelbarrow is essentially a hand-driven cart with one wheel and two handles at the rear. If you've ever been on a construction site, farm, or home garden, you've probably seen one. But how do you choose the right wheelbarrow for your needs?
One essential factor is the weight of the wheelbarrow. Lightweight plastic wheelbarrows are easy to move around even with heavy loads in them. It's also crucial to consider the wheels and handle grips. These should be smooth and comfortable to save your energy during use.
The standard size of a wheelbarrow varies depending on its purpose. Wheelbarrows come in different volumes, with sizes ranging from 2 cubic feet to much larger contractor-grade wheelbarrows of up to 6 cubic feet. If you need a wheelbarrow for gardening, it's best to get one with a deep basin to hold at least 3 cubic feet.
A List of Top 10 Best Wheelbarrows for Gardening
MARATHON DUAL WHEEL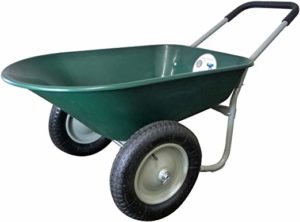 This is a light wheelbarrow that is not hard to push around the farm. We like the air-filled wheels, which makes it easy to lift, balance and maneuver. Overall, it's one of top best wheelbarrows for gardening we recommend in this review.
Loop handle
lightweight, ergonomic design
Features a rust-proof 5-cubic foot poly tray and 300-pound load capacity
Easy to assemble
WORX AEROCART MULTIFUNCTIONAL WHEELBARROW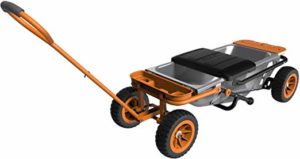 It is also convertible to a dolly among others. Its size is three cubical feet, weighing in at 48 pounds. It is also two-wheeled like the marathon dual wheel. Made of strong material, it's durable yet very light.
Instantly converts from wheelbarrow to dolly and more
Patented design
Flat-free tires mean zero maintenance
Heavy-duty steel build
Included seat increases comfort
POLAR TRAILER LG7 LAWN AND GARDEN TRAILER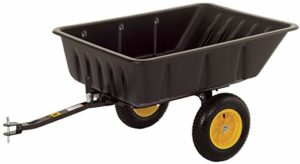 The adjustable pivot arm is flexible. You can easily attached this Polar Trailer to a tractor. Made of heavy duty polyethylene tub, the wheelbarrow is great for heavy loads.
Heavy-duty polyethylene tub
All steel frame with powder coat finish
Shielded ball bearings
Quick release tipper latch
Easy to assemble
jackson M6T22 CONTRACTOR WHEELBARROW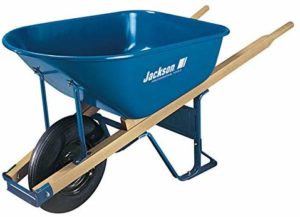 Well assembled, the metal used is thicker and well built. The wooden arms are not smooth as it has a knobby tread tubed tire with grooves.
Heavy-duty steel tray
Patented leg stabilizers
40% more tip-resistant
Heavy duty wood handles
SIMPLE 3 EASY HAUL PLASTICWHEELBARROW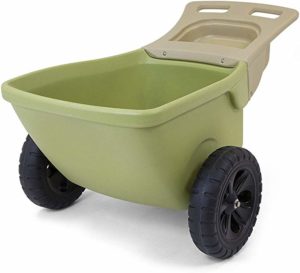 As the name suggests this wheelbarrow is a plastic kind of wheelbarrow. It has very big loop-shaped handles for an easier grip. Unlike other wheelbarrows, it has only a part of them being plastic this is entirely plastic. It is also 2 wheeled for stability purposes.
Durable, heavy duty plastic wheelbarrow
Smart easy to tilt design
2 easy grip handles for stable loading and unloading
Extra deep with 4 cubic feet of heaped capacity for heavy loads
Heavy duty, double wall resin build
Made in the USA
24 VOLT ASSIST WHEELBARROWS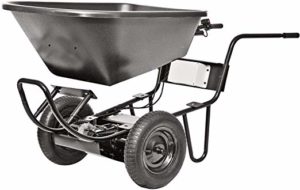 This wheelbarrow is motor driven by a 24volt battery. It has 2 independently movable wheels controlled by a switch. The switch is at the handles to move forward and back. The handles are are comfortable to move the wheelbarrow around. Lightweight, this wheelbarrow is great for most gardeners to speed up heavy duty work. Overall, the 24 Volt Assist is one of the best electric wheelbarrows for most people.
200lb capacity
24V battery-operated drive system
Independent two-wheel drive
Simple push-button forward and reverse control
Perfect for hauling dirt, sod, sand, shrubs, rocks and more
GARDEN STAR 70018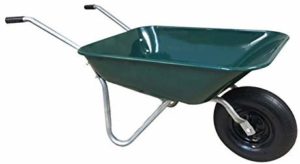 This is an all-purpose kind of garden cart. It is a bit lighter than the Worx Aero cart, it has one wheel and two handles at the rear that are a bit inclined. The garden star is easy to assemble in 5 amazing steps and with 6 bolts.
4 cubic foot lightweight powder-coated steel tray
Rust resistant zinc handles and legs
Easy to assemble in 5 simple steps
GORILLA CART GOR4PS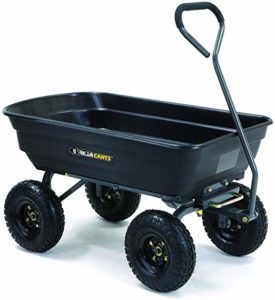 This gorilla cart makes works easier when moving materials on any terrain. Using 4 wheels and a single pivotal handle, it can move on either side. It comes with pneumatic tires that can move on any surface. The four tires make it easy to move and be steady in balance.
Patented quick-release dump feature
New frame design
Durable 38.7-inch x 20-inch rust-proof poly bed and 10-inch pneumatic tires
Padded pull handle makes it easy to pull up to 600-pounds
1-year limited warranty
JACKSON M6T22
Made of heavy material, the wheelbarrow comes with strong wood handles. Undeniably, it's one of the best wheelbarrows for heavy duty gardening tasks. Easy to assemble, you'll never go wrong with this JACKSON M6T22 wheelbarrow.
Heavy-duty steel tray braces
Glide-ring design on steel trays won't catch shovels or hoes
AMES TRUE TEMPER R6STSP25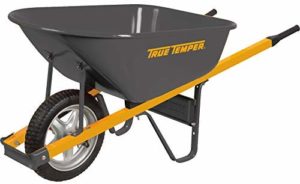 Made to surpass tests of time, this 27 inches high will prevent you from bending so low while hauling it. Built of durable steel, it's strong and rugged. Comfortable handles at the edge of the steel arms are great for most gardeners.
6 cubic foot steel tray
Steel handles
Comfort end grips for less fatigue
Single wheel
Flat-free tire never needs air