The Best Audio Interfaces
If you're serious about music production, then having a top-notch audio interface is essential to achieving a professional sound. With so many options on the market, choosing the best one for your needs can be overwhelming. Luckily, we've done the research for you and have compiled a list of the top audio interfaces.
When selecting an audio interface, it's important to consider factors such as compatibility with your device (Mac or Windows), connection options (USB, Thunderbolt, PCIe), and the number of inputs and outputs. The reviewed audio interfaces are some of the best in the market, delivering high-quality sound and featuring durable construction. Whether you're a beginner or a seasoned pro, these audio interfaces will help you take your music production to the next level.
Best Portable Headphone Amplifiers
A List of Top 10 Audio Interface
Behringer UCA202 Audio Interface

When looking for an audio interface, you want something that comes with quality construction can be able to emit great sound technology. The Behringer UCA202 Audio Interface gives you nothing short of a great performance and experience.
Contrary to many people's opinions, it is compatible with almost all versions of microphones, guitars, headphones, mixers, and other musical instruments. To add on, this unit is flexible and will conveniently work with any pc or mac device. It comes structured with a control unit for monitor and calibration purposes. Worry not for extra power costs as this unit does not need external power supply.
Focusrite Scarlett 2i2 (3rd Gen) USB Audio Interface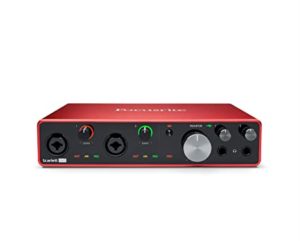 Focusrite Scarlett 2i2 (3rd Gen) USB Audio Interface is one of the best and the most sought after third generation unit. It is a special construction that comes with multiple numbers of input and output ports. Another key feature is its special edition converters that has the capacity to mix up to 24-bit/192kHz.Not only that but it also comes with high performing microphone preamplifiers giving your sound recording a good quality result.
Tascam US-20×20 USB 3.0 Audio/MIDI Interface with Microphone Preamp/Mixer
The Tascam brand has remained to be one of the leading producers of quality and performing audio interfaces. The one main practice that this brand is incorporating is extensive research and incorporation of different technologies.
One of them being the HDDA preamplifiers that play a major role in producing not only clear but quality audios. It comes structured with gain knobs for the different channels it has and volume indicator lights. In the event where you want to record your instrumentals directly, this unit has an impedance switch to ensure the process runs efficiently.
Audient iD4 USB 2-in/2-out High Performance Audio Interface
Are you looking for a budget friendly interface unit? Then you are at the right place. Although it may be affordable, the Audient iD4 USB Audio Interface comes with all the special features that you can always look out for. Different from its peers, it comes with not just one but two inputs and two output ports. It features a special mic preamplifier system and AD/DA coveters for sound quality purposes. It is an all metal construction that will serve you for a long time.
Zoom U-24 Handy Audio Interface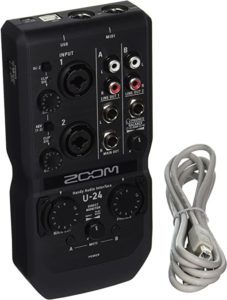 Content creators, singers and song writers ought to acquire the Zoom U-24 Handy Audio Interface that will not let you down when it comes to the sound quality and overall performance. For connection to different musical instruments, it comes structured with a DI input for an efficient connection.
To add on, it has two input ports and two out put ports for connectivity to your laptop, iPhone, iPad, and other mac products. It is a small and portable design that can be carried and used anywhere as it dies nit need external power.
Roland RUBIX24 USB Audio Interface, 2 in/4 out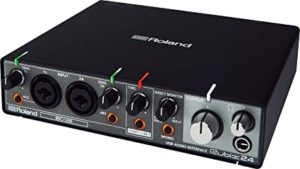 Roland RUBIX24 USB Audio Interface, 2 in/4 out is a unit that boosts state of the art craftmanship and has become one of the most desired items that a music producer can own. To begin with, it is structured with not 2 but 4 out put and two input units.
These are enough connection ports for all your musical instruments. Being that it comes with a built-in compressor, you do not have to worry about your signals being distorted especially when playing high and strong vocals. Lastly it has the phantom power that you can use to operate your condenser microphones.
Steinberg UR22C 2×2 USB 3.0 Audio Interface with Cubase AI and Cubasis LE

Unlike other interface units, the Steinberg UR22C 2×2 USB 3.0 Audio Interface comes with MIDI inputs and outputs. This gives you the flexibility to transfer MIDI data from the monitor to your musical instruments. Besides that, it features other input and output ports for connection purposes to all your monitors, headphones, microphones, and musical instruments.
What I like about it is its compatibility when it comes to different monitors. Feel confident to do your recording using a PC, mac or any IOS device. To add on it supports the ASIO 2.0, core audio and WDM drivers.
M Audio M Track 2X2 | 2 In / 2 Out 24/192 USB Audio Interface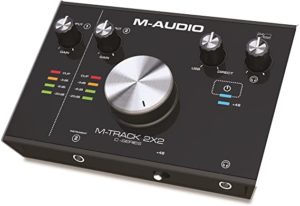 The versatility that comes with this unit is massive. It gives you the flexibility to use either a mac or a pc for recording purposes. In like manner, it is compatible with both the USB 2.0 and the USB -C connection. Its vast software bundle is the selling point of this unit. It features a mini piano plugin, M-audio pro tools, Xpand!2 and strike. In addition, its new edition crystal preamps boost the most advanced construction to bring out crystal clear music masterpiece
Universal Audio Apollo Twin MKII Duo (APLTWDII)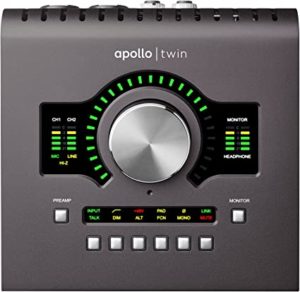 Universal Audio Apollo Twin MKII Duo is an upgraded version of audio interface when it comes to its construction and the quality of sound it produces. Apart from the input and out put ports for connection purposes, this unit features an optical in and supports thunderbolt connections. It is compatible with multiple monitor platforms that includes both the pc and Mac monitors.
A special feature this unit has been embossed with is the UAD plugins that result in a more accurate and analog sound music quality that most individuals admire. Different from other units that use software's to create a variety of sound tunes, this unit features the unique unison mic preamp technology that has been wired to efficiently take care of that purpose.
Apogee One Audio Interface

On top of our list is the Apogee One – Audio Interface. First and foremost, it is a unit that stands out from its peers with the mere fact that is supports direct digital connection to devices such as the iPod touch, iPhone, and iPad. Being that it is a low latency monitoring unit, you are assured of a fast audio data processing.
It comes structured with two analog inputs that gives stable frequencies and uninterrupted performance. Furthermore, it is compatible with the USB 2.0 connector and has the superior high-performance converters to mix up and record at 24-bit/192kHz.