Do you crave the delicious taste of smoked meat but feel intimidated to try it at home? Fear not, because smoking meat is easier than you might think, as long as you have the right equipment. Choosing the best BBQ smoker can be a daunting task, given the wide range of models available in the market. That's where we come in to help you out. These smokers are designed to maintain a low and consistent temperature for a professional-quality smoked meat experience. Our reviewed products are durable, easy to clean, reliable, and feature an ample cooking area to suit your needs. So, whether you're a seasoned pitmaster or just starting out, these are the best BBQ smokers for you to consider.
Also Recommended: Best Modern Chandeliers
A List of Top 10 Best BBQ Smokers
Z GRILLS ZPG-450A 2020 Upgrade Wood Pellet Grill & Smoker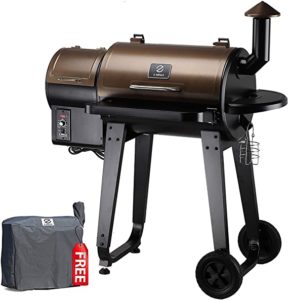 The best barbeque smoker, whether you are looking for one that is ideal for smoking, roasting, baking, barbeques, braising, or grilling is the ZPG-450A Wood Pellet Grill & Smoker. Using it, you can cook for at least 20 hours per 20lbs of pellets, which makes it more efficient compared to gas or carbon smokers. The smoker is easy to use, thanks to the digital auto-temperature control, electronic auto-start ignition, and LED temperature readout. It includes an automated electric feed system that maintains the heat within 10degress of the set temperature. Because of the upgraded cart with locking casters, the smoker is easy to move around.
Dyna-Glo DGO1176BDC-D Charcoal Offset Smoker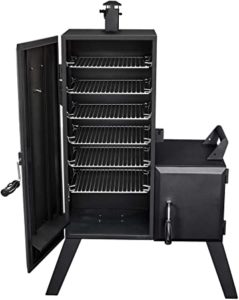 If you are looking for a durable smoker, I would recommend the DGO1176BDC-D Charcoal Offset Smoker. It is made using heavy-duty steel to enhance durability. Also, it features a high-temperature coat finish to protect it from rusting and promote longevity. The smoker adopts a dual door design. This design minimizes heat loss when adding wood chips throughout the smoking process. Additionally, it features a total smoking area of 784 square inches. The area smokes up to 100lbs of food at a time. The electronic pulse ignition system is another plus designed to ensure a quick and reliable ignition.
Char-Griller E06614 AKORN Jr, Red Charcoal Kamado Grill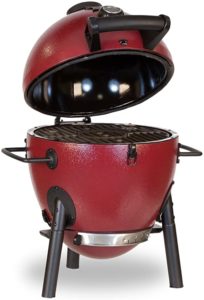 If you are looking for the best barbeque smoker for tailgating, camping, or RV, the E06614 AKORN Jr, Red Charcoal Kamado Grill is a great option. It includes convenient handles for portability. Also, it is lighter weight than ceramic grills for comfortable carrying. The grill comprises of 153 square inches of primary cooking area. Its grills highlight a Kamado-style for even heating to enhance the flavor. You can use it to barbecue smoker using less charcoal because of the ability to hold the heat like expensive ceramic grills. The smoker includes top and bottom air dampers for easy and accurate control of the temperatures.
Royal Gourmet CC1830F-C 90-00-0 Charcoal Grill with Offset Smoker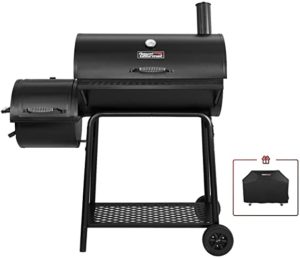 The CC1830F-C 90-00-0 is a charcoal grill with an offset smoker. It offers a total cooking area of 800 square feet. The smoker highlights porcelain steel cooking grates and a chrome warming rack to enhance the style. The paint on the burn box doesn't flake to enhance durability. The smoker includes lifting handles that make it possible to adjust the height of the charcoal for heat control. Also, it includes an easy-to-read thermometer. The thermometer is built in the main lid for easy control of the grilling temperatures. Two 6″ wheels are another addition to make this unit easy to move around.
EasyGoProducts Big Bad Barrel Pit Charcoal Barbeque

The best charcoal barbeque for use while tailgating, at the beach, park, or the parties is EasyGoProducts Charcoal Barbeque. It is a 5-in-1 barrel. You can use it as a table, independent fire pit, or a BBQ pit. The barbeque smoker features an adjustable barrel height for child safety. It includes an option that allows you to hang the meat like a grill smoker. The barrel heats consistently to 225degrees, which is the optimal temperature for smoking. The temperature is adjustable with a top vent on the lid for perfect cooking results. You can get this product when looking for a BBQ smoker that is easy to transport because of the ability to dismantle it.
Dyna-Glo DGX780BDC-D 36″ Vertical Charcoal Smoker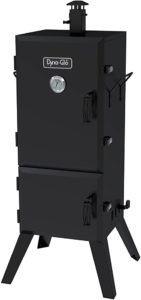 This is a 15,000BTU cast iron burner. It features a push-button electronic ignition so that it can emit a rapid pulse for easy and fast lighting. Also, it includes a large-capacity water bowl. The bowl plays a role in delivering juicy and tender meats with a maximum smoke flavor. You can use the smoker when you want to cook with accuracy. The reason is the temperature gauge with a smoke zone so that it can indicate the right temperatures to infuse the flavor. Also, the smoker comprises of a charcoal and ash management system. This system includes a charcoal grate, charcoal chamber, and removable ash pan for a mess-free cooking experience.
Char-Broil Bullet Charcoal Smoker, 16″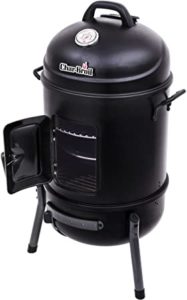 The best BBQ smoker for making juicy meats is the Char-Broil Bullet Charcoal Smoker. It offers 370 square inches of cooking surface across two porcelain-coated cooking grates. Hence, you can use it to cook a lot of food at a time. Additionally, the smoker adopts an innovative airflow control system. The system simplifies the temperature regulation process resulting in juicy and professionally-made foods. Two chamber-lift handles and a lid-mounted temperature gauge are another addition. Using these, you can control the smoker's temperatures smoothly for precise cooking. The smoker features a porcelain-coated body for long-lasting durability.
Royal Gourmet CD1824A Charcoal Grill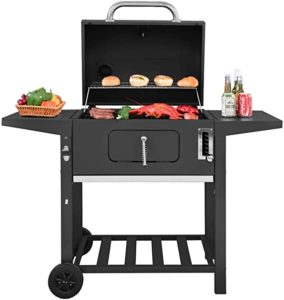 The best BBQ smoker that offers minimum heat loss is the CD1824A Charcoal Grill. It features an easy-lift charcoal pan adjustment system. This system offers effective heat control suitable for maximum cooking flexibility. Adding to that, the smoker includes a 2-side dampers design. This design enhances the airflow resulting in inefficient burning and temperature control. The pull-out drawer catches ashes for fast clean up after cooking. On the other hand, the front door offers easy access to the stoking cools while ensuring a smooth addition of the charcoal while cooking. The charcoal grill uses less coal because of the innovative charcoal pan with holes designed to make the burning more efficient.
PK Grills PKTX Outdoor Portable Aluminum Charcoal Grill and Smoker

This is a portable BBQ smoker. It can fold down after use for storage or transport. As a result, it is an excellent choice for camping, tailgating, fishing, or hunting. Another advantage of the smoker is the 300square inches of the cooking surface. This surface offers more than enough room to help you handle large meals. The smoker is made using a cast aluminum material. The material is rust-proof for durability and lightweight for easy transport. Additionally, it features a unique capsule shape and four vents. The benefit of this is the ability to grill foods fast and efficiently.
Hakka 20-Inch Multi-Function Barbecue and Charcoal Smoker Grill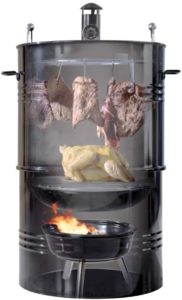 If you are looking for a versatile BBQ smoker, I would recommend Hakka 20″ Multi-Function Barbecue and Charcoal Smoker Grill. You can use it for smoking, roasting, grilling, barbeques, baking, and braising. The smoker includes a latch locking system to offer more stability. Also, it features a 2-layers design. This allows you to take the layers apart for easy cleaning and transport. The integrated thermostat is another addition. It allows you to cook to perfection and monitor the internal temperatures of the smoker. The smoker features a barrel shape that promotes the chimney effect for quick heat-up. Also, it includes a porcelain-enameled lid, center section, and bowl for durability.