Gardening can be a relaxing hobby, but it can become frustrating without the right tools. Fortunately, hose reels powered by either water or battery can make watering your garden a hassle-free experience. However, with so many garden hose reels on the market, finding the best one can be overwhelming. To help you out, we have compiled a list of the top recommended garden hose reels.
A List of Top 10 Best Garden Hose Reels
The Suncast Aquawinder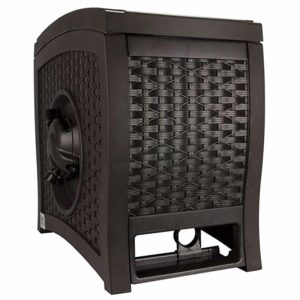 This is the number one pick automatic water hose reel. Hydro-powered tool with 125-foot capacity, it comes with brown wicker housing facility. For perfect working, it needs grounding or being attached to a patio or being decked with two pegs. This hose reel has a switch for winding back the hose, hence hassle-free. Made to fit valid temperatures, this product is very durable.
Pros
Best for outdoor works with no fear
Strong automatic reel
Durable
Cons
Needs  to mount on the ground
Goodyear Water Reel Polymer Hybrid Hose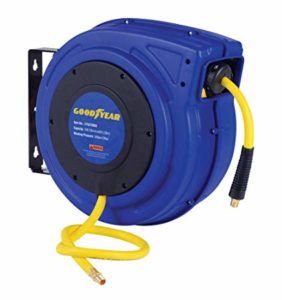 Made of a lightweight polypropylene case, the hose is durable and durable. It also consists of a PVC ergonomic grip. This hose reel has an adjusting lock for the hose length. It also has a brilliant automatic guide for smooth rewinding.
Pros
High-quality hose
Flexible to store
Certified hose and of high durability
Certified by ISO, RoHS, and OSHA for quality and safety tests
Cons
Suncast Powerwind 12 Volt Automatic Hose Reel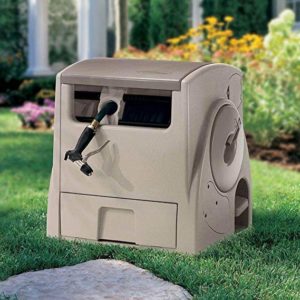 Made of resin that is resistant to rusting, Suncast Powerwind is a neat hose winding system. This product needs a push on the pedal to wind the hose. Suncast Powerwind comes with a 12 volts rechargeable battery to drive the motor with its charger. It has a capacity of holding up to a 100-foot hose.
Pros
High-quality resin
Resistant to rusting
Tangle-free design
Cons
Hoselink Retractable Hose Reel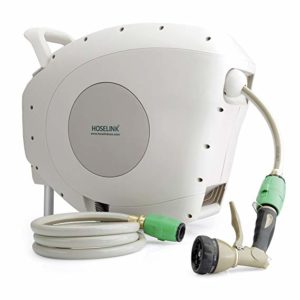 This is one of the best garden hose reels for your garden. Made of a UV stabilized ABS plastic casing, Hoselink Retractable Hose Reel uses stainless steel to prevent rusting.
It comes with robust nylon connectors and high-quality hose. It is resistant to valid climate changes. The hose comes with a threaded brass ends for longer durability.
Pros
It is of high quality
It is a spring-loaded hose.
It comes with a metal seven-function spray gun.
Cons
It has a complex installation
RL Flo-Master 65HR8 Retractable Hose Reel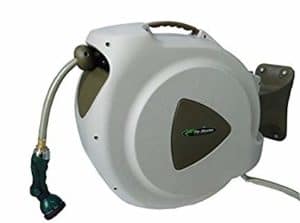 Wall-mounted and portable, it has a handle for portability. It comes with a spring-loaded hose reel for easy and automatic rewinding. It comes with an automatic tracking guide, the hose does not overlap or tangle when rewinding.
RL Flo-Master has a 180 degrees swivel bracket to allow easy movement. The product also has a 65-foot hose with a threaded brass end, 66-inch leader hose and 8-spray nozzle.
Pros
High-quality
Made of modernized design
Comes with a retractable spring-loaded hose
Cons
Limited to large hose length
The Legacy Levelwind Hose Reel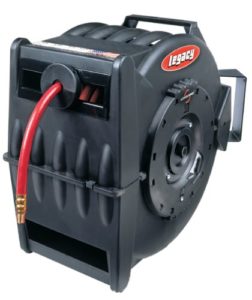 One of the top best garden hose reels, it uses Levelwind Technology. Made of UV stabilized polypropylene material, it is durable and resistant to rust.
The Legacy Levelwind Hose Reel also has an adjustable hose lock with 7 lock positions. It comes with a swivel bracket that allows a movement of up to 135 degrees while mounted. This product comes with different storage capacities for the hose, 50, 60, and 75 feet.
Pros
Easy to store
Made of an extremely durable material
Cons
It is limited to the 50-feet hose reel
The Claber Rotoroll Hose Reel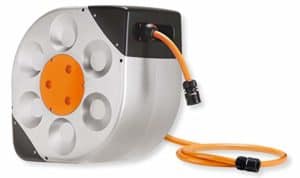 This is a portable automatic water hose reel with a weight of 23 lbs. Capable of housing a 66-feet hose, it is wall-mounted with 180 degrees swivel bracket. It has a spring-loaded rewinding system with a locking mechanism for the safety. It also has a smart hose guide to ensure that the hose rewinds thus preventing overlapping.
Made of a high-quality hose, Claber Rotoroll is resistant to bursting to a water pressure of up to 435 PSI. It comes with the mounting hardware, a spray nozzle, and a 6.5-foot leader hose.
Pros
A three-layer braided hose that is resistant to high water pressure
Automatic hose reel
Made of quality construction
Cons
ReelWorks Retractable Water Hose Reel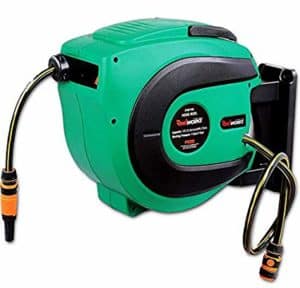 This product is lightweight polypropylene construction that is resistant to high impacts. This makes it a durable product and offers protection to the inner hardware. It features a red and black exterior color. It comes swivel bracket that allows a free movement of up to 180 degrees and you can mount on a wall or ceiling.
It features an auto-guide rewinding system for smooth hose. It also has a lock to lock the hose length that you need at the time. It consists of a hybrid polymer hose and a spring-powered rewind system.
Pros
Lightweight
High-pressure resistant hose
Heavy-duty spring to enhance durability
Cons
The package does not include the spray nozzle.
IRRIGLAD Fully Automatic Irrigation Garden Hose Reel Cart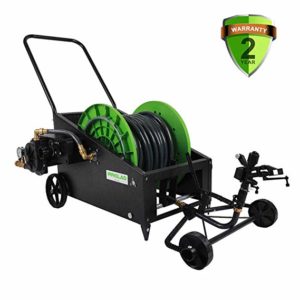 It comes with a retractable 66-feet hose. It also consists of a water pressure gauge that helps in pressure monitoring. Made with omni-directional wheels design, it will allow free and easy movement. IRRIGLAD also consists of a watering device.
Pros
Features a flexible movement
Fully automated
Cons
Suncast Resin Swivel Hose Hideaway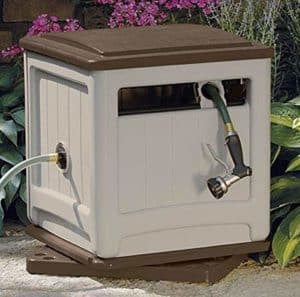 Made of heavy-duty resin housing, this Suncast Resin Swivel Hose Hideaway is durable. It has a hose capacity of up to 225-feet. The product has a tight connection between the hose and the reel that prevents water leakage. It also consists of a slide track guide that allows smooth winding and rewinding of the hose. It comes with a very flexible swivel base that allows rotation of 360 degrees.
Pros
Extremely flexible swivel base
Heavy-duty resin housing
Cons