If you're an avid puzzler, having a high-quality puzzle board can make all the difference. The best puzzle boards provide a stable and sturdy surface that can easily accommodate even the largest 1,000-piece puzzles. Additionally, many of these boards come equipped with drawers to keep your puzzle pieces safe and organized during transport.
Whether you're looking for an affordable option or one that allows you to laminate and display your finished puzzle, there are plenty of puzzle boards available on the market today. To help you choose the right one for your needs, we've compiled a list of the top five puzzle boards currently available.
When considering a puzzle board, it's important to take into account factors such as brand reputation, price, and functionality. Reading customer reviews can also be helpful in making an informed decision. Ultimately, the right puzzle board will depend on your personal preferences and needs. With the information provided in this review, you'll be better equipped to choose the puzzle board that's right for you.
A List of Top 5 Best Puzzle Boards
Jigsaw Puzzle Board Portable Puzzle Mat, Puzzle Organizer, and Storage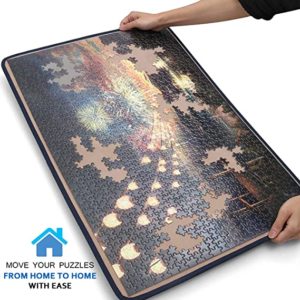 This product offers you an excellent workspace that allows you to assemble, sort, and safely store jigsaw puzzles that are unfinished for as long as you wish. Additionally, you can use it repeatedly to ensure that you assemble your entire jigsaw puzzle with your friends and family for some good years. Ensure that you maintain your house clutter-free by creating your designated space for transport or puzzling as you store your puzzles in progress using the jigsaw board. This product is easy to store as well as transport. With this product, you can never lose the jigsaw pieces. It can make the best gift, especially for puzzle lovers.
Pros
It is the best gift for puzzle lovers
It is easy to transport and store
Keeps the house clutter-free
It is easy to assemble
Con
It is flimsy
Bits and Pieces – The Original Jumbo 1500 pc Wooden Puzzle Plateau-Smooth Fiberboard Work Surface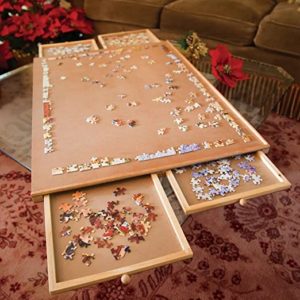 It is a unique product because it incorporates a unique storage system, assembly, and sorting of jigsaw puzzles. It ensures that your unfinished puzzles are safe. You must know that it features four wooden sliding drawers reinforced to sort and store the pieces of your puzzle safely. Bear in mind that it has a super smooth functioning surface, sealed using a lacquer finish to avoid warping. It is a practical gift for entire puzzlers during numerous occasions, such as mother's day, anniversaries, birthdays, and Christmas.
Pros
Features a super smooth functioning surface
It has four wooden sliding drawers that are reinforced
It keeps your puzzles safe
It is worth the value
Con
This product is defective
Gamenote Jigsaw Puzzle Table for Adults Portable Large Puzzle Board with Drawers, Wooden Smooth Plateau Work Surface for Kids Family Game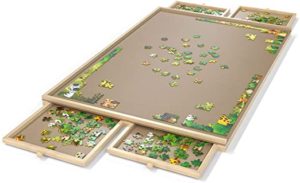 You must know that this puzzle board comes with four magnetic sliding drawers to sort and organize the puzzle pieces by shape and color. Moreover, its unique magnet closures ensure the drawers stay closed. It offers you a smooth functioning surface, which allows the pieces to glide smoothly into position. Ideally, they are a perfect accessory for both teens as well as adults. On the other hand, it has a natural wood tone that makes it excellent for children's playroom or even living room. This product is from top-quality solid wood for durable use. It is an ideal gift for anyone, more so puzzlers.
Pros
It is an excellent gift for puzzlers
It is a perfect puzzle gift for teens and adults
This product offers you a smooth working space
Feature four magnetic sliding drawers
Con
It needs a wood glue
Portable Jigsaw Puzzle Board Caddy with Cover and Drawers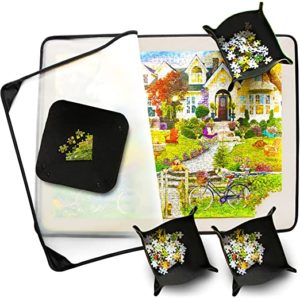 Ideally, this product is incredible for puzzle lovers. Furthermore, its portable puzzle holder is lightweight and rigid by design for easy storage and transport. It has a stronger board, which makes it durable as well as easy to use. Most people love this product because it is cat, child, and dustproof. Similarly, it comprises four puzzle sorting trays, which guarantee you extra sorting space and enables you to organize the puzzle pieces by shape and color. This makes puzzling fun. It makes a remarkable gift for the family as well as friends.
Pros
Features four puzzle sorting trays
It is cat, child, and dustproof
It is a solid and durable puzzle board
It delivers incredible performance
This product is portable because it is lightweight.
It is worth the price because it never disappoints
Con
None
Lovinouse Jigsaw Puzzle Board for 1500 Pieces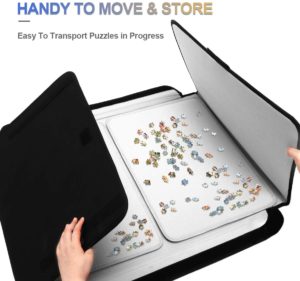 This product has a maximum potential of accommodating 1500 pieces of puzzles. Additionally, this product is spacious enough for you to ensure you finish the puzzle. On the other hand, it is not suitable for puzzles more than 1500. Most people opt for it because it protects the unfinished jigsaw. This puzzle board is engulfed using a premium flannelette, which helps to smoothen the surface and maximize friction, maintaining the puzzle flat. If you need the best puzzle board for gaming, look no more and opt for Lovinouse Jigsaw Puzzle Board.
Pros
It has a bonus of two sorting trays
It is a fantastic gift for the entire puzzlers
Guarantees your unfinished jigsaw sufficient protection
It holds 1500PC puzzles
Con
It is not worth the value