The Best Bidet Toilet Combo
Are you tired of struggling to wash your backside properly? A bidet toilet can make your life a lot easier while promoting a healthy lifestyle. When compared to dry wiping, using a bidet is a much better solution as it provides water that allows you to clean yourself completely. This leads to a cleaner and more hygienic lifestyle.
With a bidet toilet combo, you can create your ideal bathroom experience with endless combinations. Not only will it leave you feeling confident and assured, but it will also leave you feeling cleaner than clean. Say goodbye to the discomfort and inconvenience of traditional wiping methods and upgrade to a bidet toilet combo for a more refreshing and hygienic experience.
[ The Best Bidet Sprayers ]
[ Best Travel Potties ]
A List of Top 10 Best Bidet Toilet Combo
Bio Bidet SlimEdge Simple Bidet Toilet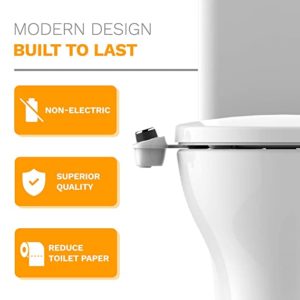 The first highlight of this bio bidet is coming with a new look which is 50% thinner than competing products. Moreover, the tilted control panel is designed to compliment both your bathroom and your body. Also, it is very easy to use by just simply turning the comfort grip control knob to activate your preferred spray. With Bio Bidet SlimEdge Simple Bidet Toilet, you buy with confidence.
Main features
Sleek and Sturdy
Exclusive designed
Build to last
GenieBidet – Rear & Feminine Ultra Thin Toilet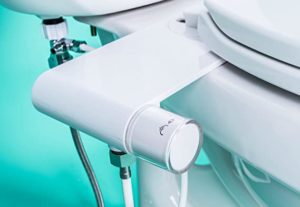 In order to eliminate the need for toilet paper, GenieBidet would like to offer you with the twist of a knob, a nozzle extends from under the seat for a refreshing ambient temperature water cleansing.
Main features
Quick and Simple Installation.
Non-electric for safety & no wiring required.
Ambient Water Temperature Spray.
Provide the ultimate in personal cleansing.
Kohler K-5724-0 Puretide Elongated Manual Bidet Toilet Seat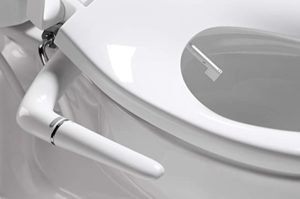 Kohler Bidet Seat is sleek and smart. First, it provides a cleansing seat that will elevate your daily routine. Mostly, it is an instant upgrade to any toilet with customizable amenities. For example, you might experience at a spa or in a luxury hotel, including warm water cleansing, heated toilet seat, nightlight and much more.
Main features
Fit most toilets and signature designs complement a range of decors.
Provides the superior cleansing of a spray wand.
No electricity or batteries requirement.
Bio Bidet Ultimate BB-600 Advanced Bidet Toilet Seat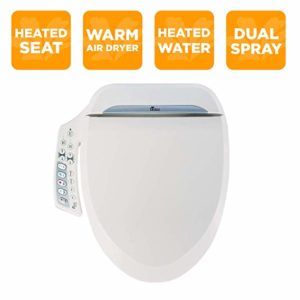 BIO BIDET BB-600 is full-featured. It comes with front and rear warm water cleansing. Importantly, there is an antibacterial material and a massage feature with a wide clean function. Also, BB-600 allows you to adjust the water temperature, water pressure and the position of the gentle aerated stream. Furthermore, its heated soft closing seat provides comfort and relaxation at a temperature you control.
Main features
Convenient Side Panel
Smart Seat and Smart Decision
Eco friendly – Energy Save Mode reduces electricity and toilet paper, good for the environment.
TOTO SW2034#01 C100 WASHLET Electronic Bidet Toilet Seat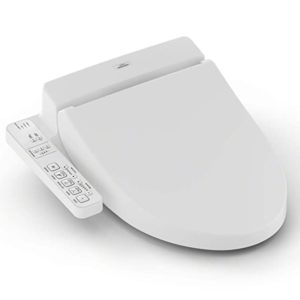 The TOTO WASHLET C100 Elongated Electric Bidet Toilet Seat offers you an electronic luxury seat. It will clean you with warm water to provide an exceptionally clean feeling. Unlike traditional toilet paper that can sometimes be rough and often ineffective. Moreover, a washlet quickly provides comfortable warm water cleansing at the touch of a button.
Main features
Convenient side panel remote to configure your personalized water cleansing settings.
Heated seat provides the ultimate in comfort.
Non-slamming SoftClose seat and lid.
Saniwise Toilet Seat, ROUND Bidet Toilet Seat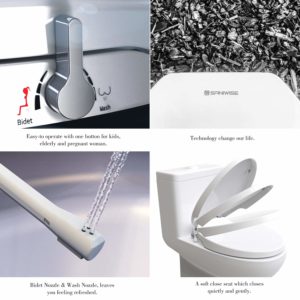 Round Bidet toilet seat has a self-cleaning nozzle for maximum hygiene and durability. With both rear and front washes the nozzle is positional and has both oscillating and gentle massage pulse functions. Toilet seat cover is contoured to provide maximum comfort seating experience.
Main features
A soft slow closing seat : closes quietly and gently – no more slamming toilet seat and loud sound that is especially essential in late night.
Adjustable Water Pressure : Water pressure can also be adjusted in soft to strong spray, a comfortable water pressure, a better life.
Easy Installation : Non electricity, batteries, or complicated plumbing required.
BioBidet Bliss BB2000 Elongated White Bidet Smart Toilet Seat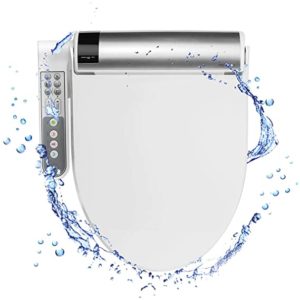 BioBidet Bliss BB2000 is a smart toilet seat that offers you ingenuity, beauty and convenience. Also, it is a new hybrid on-demand water heating. Brilliant innovation of Hybrid water heating technology is proven to be one of the most effective and reliable instant water heating methods. Moreover, there are premier class technology upgrades such as HydroFlush technology, motorized nozzle cleaning, wider angled sprays, and more.
Main features
Ultra Clean. Stainless Steel Nozzle
Night Light
Motor Driven Nozzle
HydroFlush 'Inside-Out' Cleaning
Patented Vortex Water Stream
Wireless Remote
Tibbers Home Bidet, Self-Cleaning and Retractable Nozzle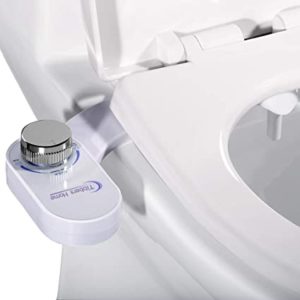 Whether or not you are still looking for a simple, safe cleaning tool? Our bidet not only gives you a clean body but also saves you toilet paper and even saves your money. Nozzle protection and retractable features ensure that your cleaning is always clean and hygienic. Furthermore, our product is made of high quality ABS materials, and the control knobs are specially designed with beautiful surface electroplating.
Main features
Non-Electric
Use natural tap water pressure, as far as possible to release the maximum water pressure, to achieve thorough cleaning.
Simplicity of Operator
Our product is easy to operate, you can adjust the water pressure by rotating the control knobs.
Brondell Swash 1400 Luxury Bidet Toilet Seat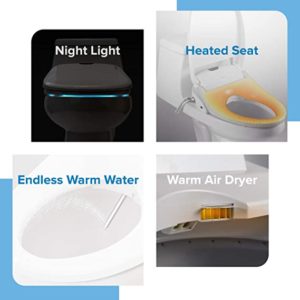 Brondell Swash 1400 Luxury Bidet Toilet Seat makes your toilet time much easier and comfortable. It will customize your wash by having a one-touch auto mode. So that it delivers the most hygienic bathroom experience at the touch of a button. This electronic bidet features an endless warm water spray, heated seat, warm air dryer, nozzle oscillation, replaceable deodorizer, and a cool blue illuminating night light.
Main features
Easy installation
Designed for the modern North American bathroom
American Standard 5900A05G.020 Aqua Wash Non-Electric Bidet Seat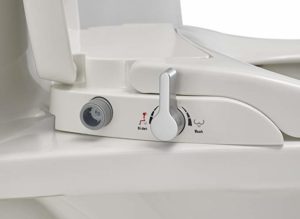 American Standard Bidet Seat is a non-electric bidet feature with adjustable spray patterns and detachable nozzles. It has a one button push lift-off feature for easier cleaning. Also, it includes mounting hardware, water supply and adapter. There is a slow close hinge to prevent slamming of the seat. Importantly, it fits most conventional toilets
Main features
Designed to Improve Personal Hygiene and Well-Being
Detachable Spray Nozzles
Slow Close Seat
Easy to Remove
Seamless Design & Easy to Install