Best Blenders with Glass Jar (2022)
A blender is a versatile and fun machine to have in your kitchen. The blenders with the glass jar listed above are easy to use and will not break the bank. Their glass is BPA-free and will never leach harmful chemicals to your food. We hope that this article has helped you to make an informed decision.
A blender can help you quickly prepare icy-drink, chunky soup, pancake batter, and a healthy smoothie for your family or friends. The best blender should be able to hold up against the stress of pureeing, crushing, and blending without breaking or cracking. Following this, the choice of blender available can become frustrating and confusing since there are so many options when it comes to size, power, settings, speeds, and more.
In this article, we will guide you through and we have listed the top 5 best blenders with glass jars.
A Review List of Top 5 Best Blenders with Glass Jar
5. Oster Blender 24-Ounce Pro 1200 with Glass Jar, Brushed Nickel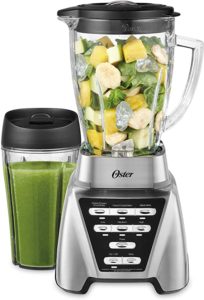 This is a simple blender with a powerful motor that allows you to enjoy a strong blender. It features 7 speeds settings with 3 pre-programmed settings to enable you to make common creations. In addition to that, this machine will consistently crush pulverizes greens, ice and turn frozen fruits into sorbet. With just one-touch control, you will get your favorite smoothies, shakes, and salsas.
This blender has a pulse feature that ensures added precision and control. All the blender parts are made from all metal materials making them durable and will serve you for many years. It measures 14.25 x 7.25 x 8 inches and comes with extra-large 24 ounces smoothie cup.
Featuring a 50% larger blade system and patented dual direction blades that blend both reverse and forward direction, this unit will serve you with much precision. Another thing, it comes with 16 inches power cord that enables you to easily connect to the nearby power socket
Features
• Extra-wide 3.5" blade system
• Measures 14.25 x 7.25 x 8 inches
• Has 7 speeds and 3 pre-programmed settings
• Includes 24 ounces smoothie cup
• 16 inches cord length
• Made of all metal for durability
4. Oster Reverse Crush 7-Speed Settings Counterforms Blender, Black Finish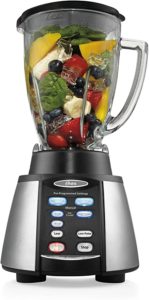 This blender is perfect if you want to blend very smooth purees or purees. It features 600 blending watts and 1000 power watts to blend a variety of tasty beverages and delicious food. In addition to that, it has 7 speeds that range from low to high purse. It is included with a 2-ounce filler cap that features markings to pour and measures ingredients when you are blending.
Ideally, this device has pre-programmed Smart Settings tech that helps to eliminate guesswork and you will blend your beverage easily. What's more, it comes with one-touch bottom control for expert results. The 6 stainless steel blades are designed to chop and pulverize ingredients with precision.
The 2 connecting pieces are constructed of metal instead of plastic for durability. Following this, the blender will serve you for a long time. This product is offered with a 3-year satisfaction guarantee.
Features
• 1000 power watts with 7 speeds
• 6 cup glass jar
• powerful 600-watt motor
• 2-ounce filler cap with markings
• Backed by a 10-year warranty
3. Instant Pot 10-in-1 Ace Plus Soup and Smoothie Blender, 1300W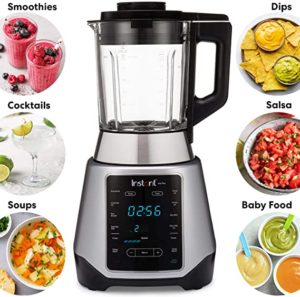 The Instant Pot Smoothie Blender is yet another example of one of the toughest and attractive blenders with the glass jar. It has 10-in-1 one-touch buttons that enable you to easily make margaritas, hot soups, smoothies, salsa, nut butters, dips, and more. Typically, this blender features 10-speed settings and a 26,500RPM motor to zips through ingredients while making smoothies tasty and nutritious.
The blender features 8 hardened stainless steel blades, concealed heating elements, and premium quality tempered glass for durability. One great thing about this device is that it is easy, safe, and dependable to use. It will guarantee customer satisfaction when it comes to creating your favorite beverage.
This instant Ace plus blender allows you to customize the cooking temperature when cooking purees, soups, dips, and sauces. It also has built-in smart programmers that ensure consistently perfect results.
Features
• 10-in-1 one-touch buttons
• Powerful 26, 500 rpm motor
• Delivers silky smooth or chunky soups
• Easy, dependable, and safe to use
• Crush, grind and blend ingredients
2. Amaste Blender for Smoothies and Shakes 64oz Glass Blenders- MR-01 RED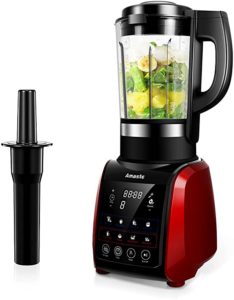 If you are searching for a blender that comes at an affordable price, this is a perfect model for you. It has 9 pre-programmed settings and a large one-touch panel that eliminates hassle work. Typically, this blender offers hot soup dishes, desserts, and cold drinks in 5 to 20 minutes. Moreover, it comes with a perfect combination of micro-filtration and high-speed blades.
Ideally, this 64oz Glass Blender is perfect for making large batches of baby food, creamy, soups, and smoothies for commercial use or family. Moreover, the glass pitcher is very simple to clean and you do not need to worry about any leaking or splatter while blending.
This Countertop blender has a timer that allows you to set the blending time according to the recipes. Another thing, it has a safe power-off function to remind you to close the lid. The package includes a cleaning brush, a manual guide, and a cookbook.
Features
• Has 9 pre-programmed settings
• 64oz glass blender
• 8 hardened stainless steel blades
• Offers 1200 watts of blending power
• The blender comes with a timer
• Offered with 1-year warranty
1. NutriBullet NBR-1201 High-Speed 12-Piece Mixer/Blender System, Gray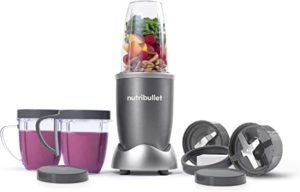 This blender by NutriBullet enables you to blend, crush ice, grind and chop and make smoothies. It also looks super stylish and will complement your kitchen décor. This unit is equipped with refined nutrient-extraction blades and a powerful 600-watt motor that helps to blend whole foods in seconds.
Cleaning this blender system is super easy and you just need to rinse it with water and soap. The BPA-free plastic cups are durable, long-lasting, and are dishwasher safe. The package includes a cup ring, 18 oz cup, 24 oz cup, a Handled cup, milling blade, Stay-Fresh re-sealable lids, 600W motor base, and recipe book.
This machine is very easy to operate and comes with pre-programmed settings for everyday requirements.
Key features
• Powerful 600-watt motor
• Very easy to clean
• Comes with a recipe book
• BPA-free plastic cups included