If you're an electrician, you know the importance of having your tools within reach. A good tool vest can help you stay organized and productive on the job.
Unlike a pouch or toolbox, a tool vest allows you to move freely and adapt to different working conditions. It also keeps your tools close at hand, so you don't have to waste time digging through your toolbox.
When choosing a tool vest, there are a few things to consider:
The number of pockets: A good tool vest should have plenty of pockets to store all of your tools. Look for a vest with a variety of pocket sizes, so you can store everything from small screwdrivers to large wrenches.
The material: The material of the tool vest is important for durability and comfort. Choose a vest made of a durable material that will protect your tools from the elements.
The fit: The tool vest should fit comfortably and snugly, so it doesn't restrict your movement. Look for a vest with adjustable straps so you can get a perfect fit.
Here are a few of the best tool vests for electricians:
No matter what your needs are, there is a tool vest out there that is perfect for you. With a good tool vest, you can stay organized and productive on the job.
A List of Top Best Tool Vest for Electricians
1. Spec Ops Tool Gear SF-18 DELTA Tactical Vest Tool Belt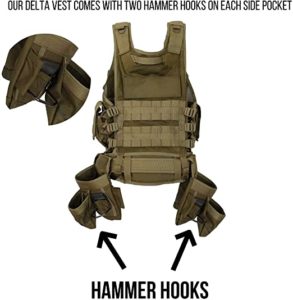 Whether you need the best tool vest for electricians, HVAC workers, or painters, the Spec Ops Tool Gear SF-18 DELTA is an excellent option. The tool vest integrates small pouches suitable for organizing small tools. Additionally, it has two hammer hooks on each side pocket. Thus, you can keep your hammer out of the way, but ready to grab whenever you need it.
A heavy-duty belt buckle is another addition. It is strong and easy to adjust to fit waists up to 43". Besides that, the shoulder straps integrate memory foam for the dispersion of the weight across the shoulders, hips, and back. The tool belt has interchangeable pockets and a drill holster. As a result, you can keep your drill into the drill holster for easy access when needed.
Pros
• Heavy-duty fabric for durability.
• Padded shoulder straps ensure user comfort.
• Lightweight and comfortable to wear.
• Large side pouches are suitable for carrying bigger tools.
Cons
• The shoulder adjustments are not easy to make.
2. Niche Tactical Tool Vest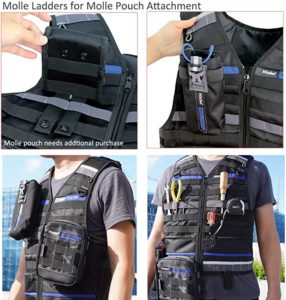 The Niche Tactical is a versatile tool vest suitable for electricians, gardeners, carpenters, mechanics, and woodworkers. This vest features a zipper closure for easy wearing and removal. Additionally, it features adjustable straps on the waist to customize the size of the fit. Lightweight at only 590grams, the tool vest is easy to handle and comfortable to wear after hours of use.
Adding to that, it is made of top quality material that resists wear and tear while withstanding the load of your tools. The tool vest is built with molle-ladder for holding numerous tools or attaching additional pouches to facilitate a quick reach of the tools. Better, it integrates reflective materials on the chest, back, and shoulders to enhance visibility in the dark. The mesh waist has a pad lining that aids in the distribution of the weight for guaranteed comfort.
Pros
• Strong reflective trims enhance visibility for user safety.
• The vest is adjustable for a secure fit on the waist.
• Multiple pockets accommodate a range of tools
Cons
• No different size options.
3. TTBESMI Mens Tool Safari for Men Travel Hunting Camping Tactical Vests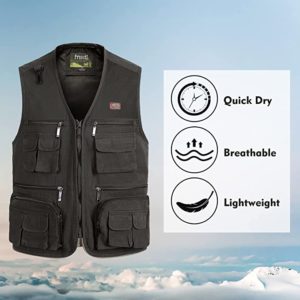 If you need a versatile tool vest for various activities, you should consider the TTBESMI Men's Tool Safari Tactical Vest. The vest is made of high-quality cotton material. Because of this, it is durable, lightweight, and breathable to assure you of comfort wherever you go. Better still, this material is easy to clean so that you can machine wash your tool vest.
The tool vest integrates 16 pockets. The pockets are of different sizes, some with zipper closures while others highlight a Velcro closure. As a result, you can use them to organize a variety of accessories, including personal items. Also, it has a zipper closure for easy wear and removal.
Pros
• Quick-dry fabrics protect the user from accumulating moisture.
• The tool vest features a lightweight design.
• Pure cotton materials for durability.
Cons
• No extra-large sizes.
4. Flygo Men's Mesh Quick Dry Outdoor Work Fishing Travel Photo Vest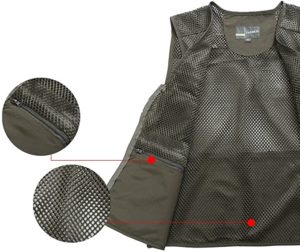 The best way to ensure that you are focused on what you are doing rather than minding about the organization of your tools lies in wearing the Flygo Men's Mesh Quick-Dry Outdoor Vest. This vest integrates 16 functional pockets. These include 7 Velcro pockets, 6 zipper pockets, a big zip mesh pocket, and two inside zipper pockets.
What's more, the vest is made of high-quality cotton. This material is soft, skin-friendly, and breathable for guaranteed comfort to the user. Besides the cotton materials, there is a nylon and mesh fabric for quick-drying performance and a lightweight design. The tactical vest comes in a range of color options and sizes to let you select one that matches your needs.
Pros
• Lots of zippered pockets ensures the safety of the stored accessories
• Lightweight and comfortable to wear.
• Versatile design is ideal for most activities.
Cons
• The sizing runs small.
5. Snickers Workwear Allround Work Tool Vest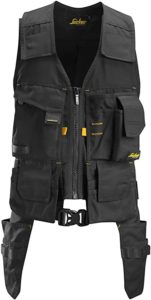 Last but not least, we have the Snickers Workwear All-round Work Tool Vest. It features Cordura 500 reinforced pockets. Because of this, you do not have to worry about wear and tear as a result of using it to store heavy tools. Additionally, these pockets have tool loops and a knife fastener for easy access to different tools. The tool vest is suitable for storing an ID and mobile phone, thanks to the mobile phone compartment and detachable ID badge.
Plus, it is an ideal option when looking for a tool vest for electricians that is comfortable to wear, given the elastic in the back that provides freedom of movement and wide shoulder straps to facilitate weight distribution. The integrated inside expander is another addition that allows you to expand the tool vest and wear it over a winter jacket. Finally, the tool vest has a range of pockets, including a chest pocket, a tool pouch at the waist, and two inside pockets.
Pros
• Elastic material for comfort and the freedom of movement.
• Multiple pockets accommodate a range of tools.
• Tool holder attachment to attach different tools
• The mobile phone pocket is padded for the safety of smartphones.
Cons
• Limited colors to choose from.