The Best Bookcases for Home Library
Book lovers know how much their treasured books mean to them. They understand the importance of keeping them safe from moisture and dust. But they also want their books to be easily accessible, which is why a beautiful and unique bookcase is the perfect solution. Whether you have a large home library or just a small collection of books, having a sturdy bookcase is essential. That's why we've put together a list of the best bookcases for all types of book lovers. Our recommendations include bookcases with and without doors, and even bookcases for kids.
When choosing the best bookcase for your needs, it's important to consider a few key factors. First, you want a bookcase that is strong, sturdy, and durable enough to hold all of your books, no matter how heavy they are. Second, the bookcase should fit in your apartment or room without taking up too much space. And finally, if you want to keep your books extra safe, a bookcase with glass doors is a great option. By keeping these factors in mind, you'll be able to choose the perfect bookcase for your collection.
Best Round Dining Room Tables for Small Space
A List of Top Best Bookshelves for Home Library
Altra Quinton Point Bookcase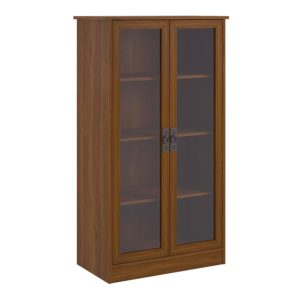 The Altra Glass Door Bookcase comes with a sylvan styled glass door. And it can complement the room with a nice, rustic charm. You get 3 shelves with a total of 4 compartments in the bookcase, while 2 of them that can be customized per your need.
Dimensions are 29.6" x 15.6" x 53.2"
Made with laminated particleboard and medium-density fiberboard, with tempered glass
Comes complete with 2 framed glass doors on the outside and 4 shelves
Decorative handles accentuate the dark oak woodgrain finish
Ships flat to your door (2 adults are recommended to assemble)
Altra Alton Alley 4 Shelf Barrister Bookcase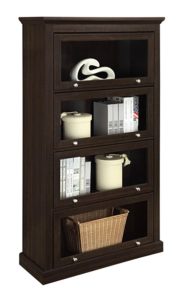 A high-end bookshelf that can help transform a small corner of your home into a quite stylish nook. It comes with glass doors that can be opened by lifting up, and 4 shelves. You can rest the glass door in the chassis, which makes the access to your books much easier. This bookcase comes in a shade of dark espresso, fitting into any contemporary style.
This bookcase is 60" in height, 32.7" in width, and 12.4" in depth.
A rich dark brown finish and silver handles create an elegant look that'll complement any decor
4 shelf bookcase is made of laminated MDF, particleboard and glass
Altra 9448096 Bookcase with Sliding Glass Doors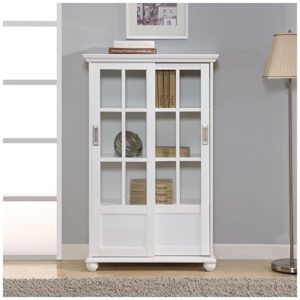 This bookcase by Altra comes with an astonishing glass finish and in a creamy white color. The board used in the bookcase is eco-friendly, inhibiting the release of air toxic. It has 4 adjustable bookshelves, and the 2 sliding glass door can be opened with a grip on the handles at both edges.
Dimensions 51" x 31.8" x 13", weighing 77lbs
Altra Arron Lane Black Bookcase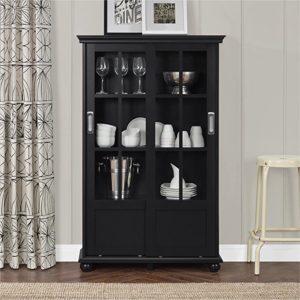 One of the few bookcases with doors that can make your room "picture perfect". This bookcase by Altra has an extravagant look that can fit into any room, such as study, office or the living room. It has 4 shelves behind 2 sliding doors, while the sliders work with 2 nickel-brushed handles.
It has 51" in height, 31" in width, and 13" in depth.
Oxford 72″h Bookcase with Glass Doors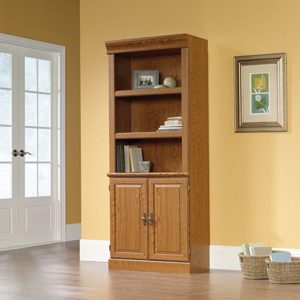 With this kind of chestnut-wood bookcase, you can add a new dimension to your apartment or house. It has hinged doors that make opening/closing them quite easy. This product delivers the basic purpose and fits great into a study or a mono colored office.
Dimensions are is 72" x 36" x 13.5".
Allegro Sliding Glass Door Bookcase Cabinet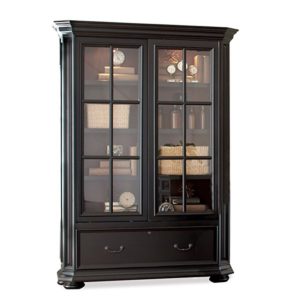 A rather robust bookcase when compared to its counterparts on the list, weighing 299lbs. Yet, it has 4 compartments in the top part, a veneer shelf at the bottom, and a double-cross mullion glass overlay. All this makes this Allegro's bookcase the focal point of the room.
It has 76.5" in height, 54" in width, and 17.8" in depth.
Atlantic 94835721 Glass Door Cab Espresso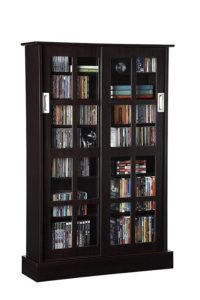 The assembly of this cabinet is smooth and quick. And you also have the ability to align the shelves according to your needs.
The measures are 50.4" in height, 20.8" in width, and 6.8" in depth.
Simpli Home Acadian Solid Wood Medium Cabinet with Glassdoor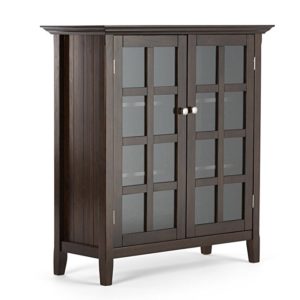 This bookcase has a premium look due to its rich tobacco brown color and square nickel knobs. Also, it comes with finely tapered legs, glass mullion doors, and is made of pine wood of the highest quality.
The Simpli Home Acadian bookcase is 42" in height, 39" in width, and 17h in depth.
M-371DC Multimedia Storage Cabinet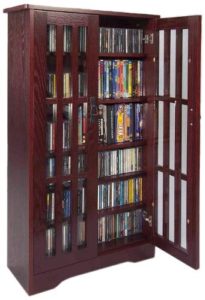 With stylish looks, adjustable space, flaunting a roaring space. This cabinet can be a home for your books, as well as to your CD, DVD, and VHS collection. The doors are made of tempered glass. While the cherry-finish and antique styled door pulls give it a rustic feel.
Dimensions are 47" x 24.5" x 9.5".
Kings Brand Furniture Wood Bookcase with Doors
This intricately designed black bookcase has exceptional detailing in each part. The cabinet doors have designer paneling. And there's enough storage for your books, as well as display décor or personal items. There are 2 hinged doors that open with dapper-design knobs and a total of 3 shelves where 2 are adjustable.
This product's dimensions are 48" x 28" x 11.875".
Montego 3-Shelf Bookcase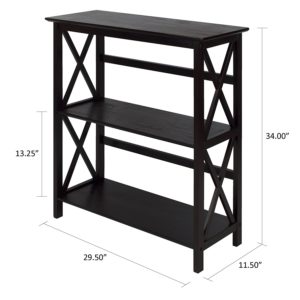 This Montego X-Design Style Bookcase is made with strong wood for enduring use. 3 racks give adequate storage room. Careful complete gives this shelf a solid, contemporary appearance. Ideal for home stockpiling and stylistic layout. It is very sturdy, and took about 10 minutes to put together.
Ollieroo Natural Bamboo 4 Tier Bookcase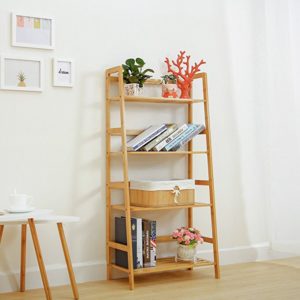 This remarkable and adaptable cabinet offers a la mode outline and a lot of show choices. This strong regular bamboo development has a smooth and ecological security to organize.
Solid and sturdy
Plenty of room for everything and more, yet doesn't take up too much floor space
Really easy to put together.
Nature Bamboo Adjustable Desktop Bookcase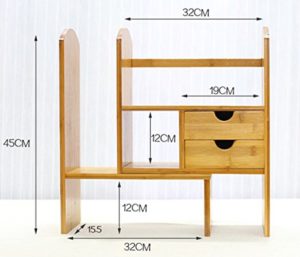 With the exceptional storage room, you will have a spotless, clean and open to workplace store the books, gifts, and enhancement frill inside the rack.
free choice of appropriate storage space and style
A little difficult to assemble
IKEA Billy Bookcase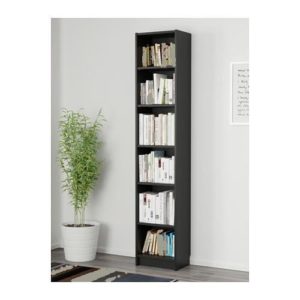 This is IKEA's most popular bookcase. Its uses small wall spaces neatly by accommodating small items in a minimum of space. The Billy bookshelves allow you to create beautiful shelving even in a small room. This small bookcase components are excellent, easy to put together. Like other IKEA furniture, the Billy's finished product is quite attractive.
IRIS 3-Tier Basic Wood Bookcase Storage Shelf
Store books neatly? The IRIS 3-Itier Basic Wood bookcase is very simple. It just fit in any small room.
Dimensions: 11.51 in L x 16.31 in W x 34.50 in H
Great build quality
Furinno 10024DC/BK Turn-N-Tube 3-Tier Compact Multipurpose Shelf Display Rack
We have to feature this small bookcase for a simple reason. It's an Amazon's best choice for the product in this category. It's hard to go wrong with small-size bookshelf.
So, when you are searching for top rated bookshelves for kids, you could use this list for your shopping. Our recommended bookshelves will help keep your books.
Fantasy Fields Imagination Inspiring Water based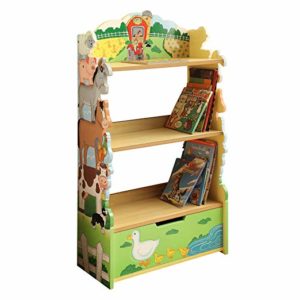 If you want something to complement your house lifestyle, the bookcase would do. These shelf owns a hand carved appearance that does it look similar as castle among the house. These shape too gives that a roof & a fence design.
Wallniture Nursery Floating Shelves White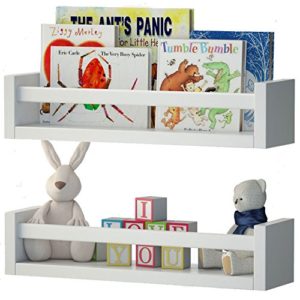 For these who continue looking to a way in declutter these counter, the shelf is these answer. Wallniture gives you such ample space which you so very need. These shelf is accessible in 2-set and both provide a useful and smart way to store different items. Your toys, books, & other little items would fit properly on the shelves. They're perfect to nursery & playrooms setup.
KidKraft 14221 Kidkraft Sling Bookshelf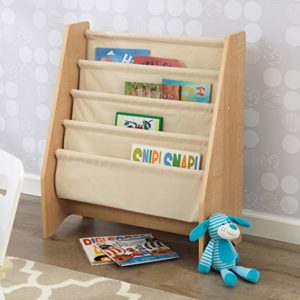 These KidKraft is also another open rack shelf meant that owns no coverage from any sort. These shelf is so beautiful & it features four step storage rolls. It arrives in a natural finish and these soft canvass top keeps books of getting injured. KidKraft allows you to advertise your copies either on these front or either back cover. That allows your kids to select their own desired books minus needing help.
KidKraft-Natural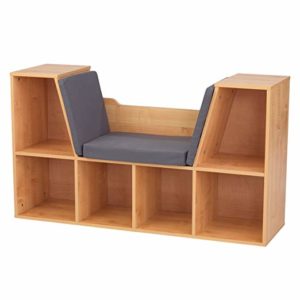 Not is the KidKraft Natural a practical choice for a child's reading materials & toys. It helps as a useful hangout area for putting these items to use. It does not take up more of room & it is strong.
Ameriwood Home Hazel Shelf Bookcase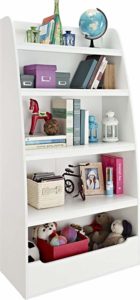 These bookshelf that we are talking about immediately is the kid's bookshelf. This consists of four different tiers. It's suitable to not titles but different belongings as great. It is easy to collect. The 2 color options suggest that you could choose this one according on the decor from your home. The MDF wood construction suggests that it could handle these weight of these books. These low horizontal step makes it excellent for children's bedroom.
Tot Tutors Storage Bookshelf Collection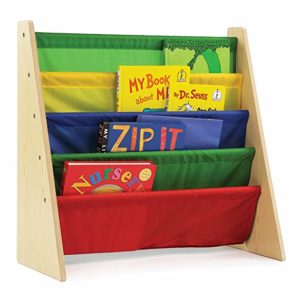 The Tot Tutor Kid Book Storage shelf remains a space saving design with convenient space. It owns 5 deep slings, sleeve storage racks which display books on a forward display. This allows your children to understand & reach out to his or her best book.
Tribesigns Bookshelf Vintage Industrial Bookcase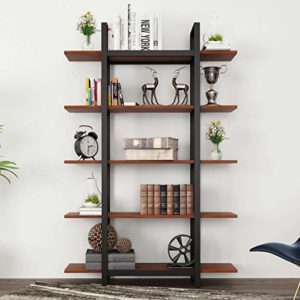 If you are looking to a 5 tier bookshelf, you could think of this one. These advantage of the bookshelf is which the tiers remain pretty capacious. It suggests that you doesn't need to bother about going out of area. The steel frame along among proper care for these shelf means which it could last to a distant time. It's odor resistant & anti-mildew.
Bobby Rabbit babou triple shelf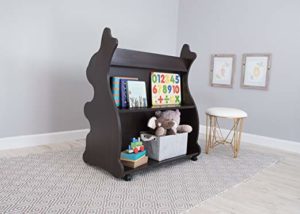 Created with kids in mind, the shelf unit is excellent for a school, child. It creates a lovely presentation area to books & toys. A simplistic, yet beautiful, contemporary set of wall shelves.
ClosetMaid 1290 Cubeicals Organizer 12 Cube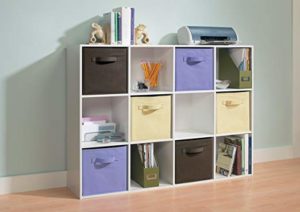 Amid every cabinets in the market, this product is one of the best. With the 12 cube openings, this maximizes on area. With all the openings, it preserves space to you & at the similar time gives a good & attractive look.
Sauder 415541 Beginnings 3 Shelf Bookcase
These Sauder remains a typical bookshelf minus the hype about an exquisite design. It's a three step bookshelf with broad enough storage compartments. Every compartment could contain more of books & other storehouse items. The shelf come among a back panel enclosure which ensures all your items doesn't fall out through the rear.