Bunk beds are a wonderful addition to any family home, as they encourage children to learn about sharing and provide an element of fun and adventure. However, it can be challenging to find the best bunk beds for kids as there are so many options available. In this article, we have put together a list of top-rated bunk beds that are perfect for kids.
Our selection includes bunk beds with stairs or a full stairway, made from wood or stainless steel, designed for small rooms, and made specifically for children. Safety is always a top priority, and we recommend that children should be at least six years old before using bunk beds. It's also essential to teach them how to use the bed safely, including climbing up and down carefully.
Sharing is an important value that parents can teach their children, and giving them a bunk bed is a great way to encourage this. With this list, you can choose a bunk bed that fits your child's needs and preferences. Bunk beds with stairs can add to their sense of adventure and make playtime even more exciting for them.
Best Futon Sofa Beds for Everyday Sleeping
A List of Top Best Bunk Beds for Kids
Twin Over Twin Wood Bunk Bed with Roof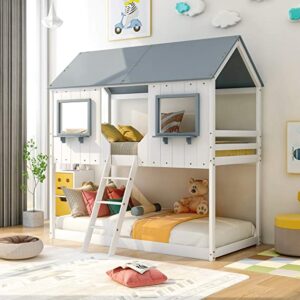 Introducing this amazing bunk bed with a pitched roof and two front windows. Your kids will have their own sleeping space that affords a comforting atmosphere for better sleep while not sacrificing air circulation.
Create fun and adorable space
All safety details
Bedz King stairway bunk bed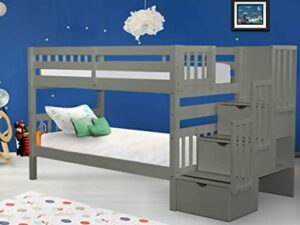 Built with high quality strong wood, you can convert it to a single bed. We love the built-in stairway design.
4 drawers built into the Stairway and 2 Under Bed Drawers
Bunk bed is 69 1/2 high x 103 1/4 long x 59 inches deep.
Made from Solid Brazilian Pine from sustainable plantations
Triple Bed Twin-Over-Twin-Over-Twin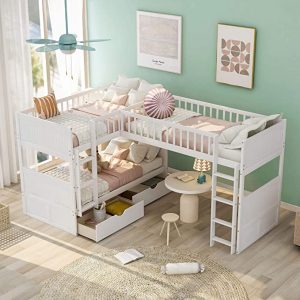 Beautifully designed with solid wood. There is a space under the loft could be used as play area, or you can also put your dressers or desk to make the best use of your space. Importantly, this bed saves your money on a wardrobe.
3 beds, 2 drawers, 2 rails
Overall Product Dimension: 37.7"x78.7" x 61.4''.
Flieks Full Bunk Bed with Twin Size Trundle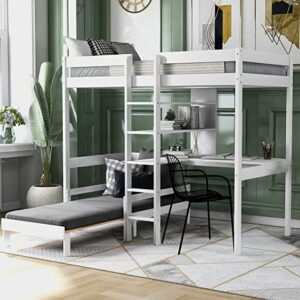 This Flieks bunk bed saves your space and money. First, the compact structure is perfect for a small bedroom while you can simply fold the lower bunk and save even more space when not in use. Also, the kids can still use until growing up.
Made from high-grade pine wood and MDF
Specially designed with an L-shape
Twin Over Twin Bunk Bed with 2 Drawers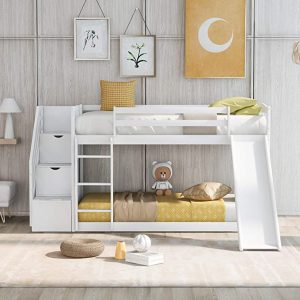 If you need extra sleeping space or your kids love sleepovers, this Stairway Twin-Over-Twin Bunk Bed is perfect for your home. On top of that, you can store books and toys, making room-tidying a breeze. With built-in ladder and staircase, it is easy for children to climb up and down from the top bed. Importantly, there is a low slide for kids to play, this bunk bed can add fun to children and develop their sense of balance and coordination.
2 drawers
Convertible Ladder and Slide
All Designed for Your Child's Safety
Max & Lily Twin Low Loft Bed with Slide and Blue Curtains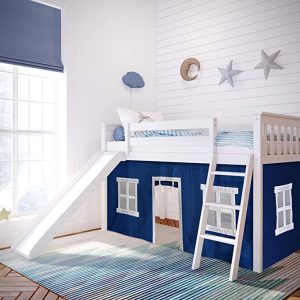 Max & Lily kids furniture offers stylish and affordable play beds with versatile options and add-ons to perfectly fit your needs! The best feature of this bed is that there is a bottom bunk curtains which is just a perfect design to inspire creativity and play. They have 14-inch tall guard rails, fit standard twin-sized mattresses up to 8 inches thick.
does not require bunkie boards or box springs.
50 inches tall
400 lb weight capacity per bed
Storkcraft Caribou Solid Hardwood Twin Bunk Bed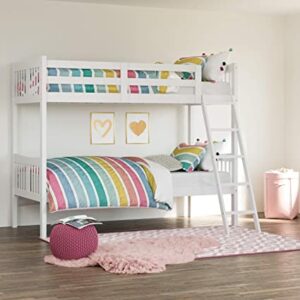 The Storkcraft Caribou Solid Hardwood Twin Bunk Bed is an award-winning, iconic family-favorite. Its strong & sturdy construction, full-length safety guardrails. Furthermore, there is a unique fastening systems make the Storkcraft Caribou the perfect addition to any kids room.
Durable 5-step ladder

Full-Length Safety Guardrails
Delta Children Twin Loft Bed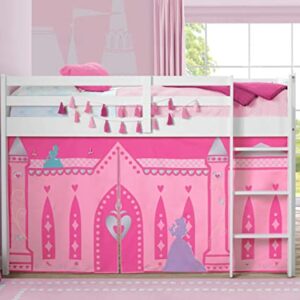 This twin loft bed is special. First, there is the tent down there which can creates a play space or remote learning area under your child's bed. Furthermore, there are secure guardrails go all around the frame with easy-access opening for the ladder.
Also available in Charcoal/Harry Potter
Made from high quality polyester
Twin doll house stair step loft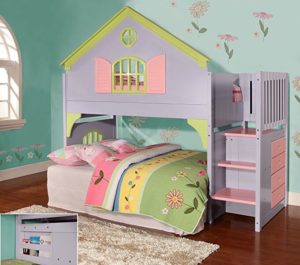 A favorite among girls, you can convert it into a loft. There are 4 drawer chest and magazine rack. Accommodates 8 in. mattress height.
99 inches in length and 93 in height and 41 in width
Solid wood construction
Mattress ready
European roller glide drawers
Bedz king twin over full stairway bunk bed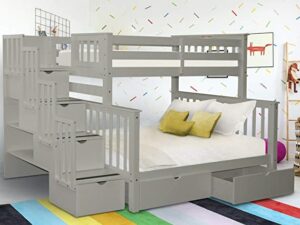 This is a very sophisticated, strongly built bed. It contains twin trundles and the stairs are non slippery. There is a 38 inch space between the two beds and they jump up and down without having to worry about bumping their heads.
2 drawers
3 step stairways
L 102.5 x W 42.5 x H 61.5 inches
Made from Solid Brazilian Pine from sustainable plantations
HLS pink Tent for Midsleeper Cabin Bunk Bed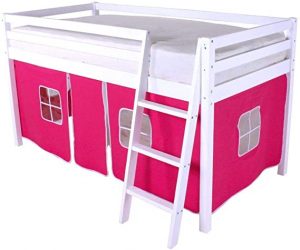 This model of bunk bed is the best-sellers. It is made with plain strong wood. Transform their mid-sleeper bed with this fantastic Mid Sleeper Bed Tent Pack Invite their friends around for tea and then roll up the door for a special place where little girls can have fun. Also, you allow your kids to have a free imagination as they play in the peace and quiet of their very own den. What more could a parent want than to let their kids dream
Durable
Tent consist of 5 separate panels, 2 side panels 2 front and door panel
Size: (W)188 x (D)87 x (H)74cm
STARTOGOO Solid Wood Twin Over Full Trundle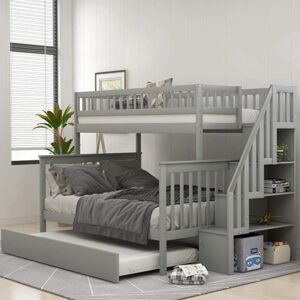 Are you looking for the perfect bed for your growing child? I would like to introduce this bunk bed. First, this stylish bed will provide comfort and space. It is perfect for siblings who share a room or for sleepovers. Moreover, this bunk bed for added storage or can be separated into one twin and one full-size bed and a trundle bed. The side of the bed can be stored. The design of the stairs is also safer.
Look clean and elegant
Made from pinewood and MDF reinforcements
Dorel Living Denver Full Size Loft, White bed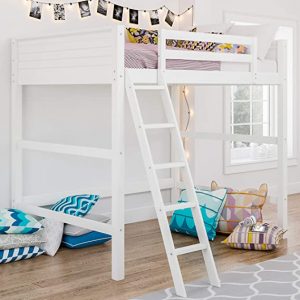 The Dorel Living Denver Full Size Loft Bed brings a functional, playful and modern design to your child's room. This bed is special by providing the floor space with a beautiful centerpiece. The underneath area is a perfect place to create a useful workstation, seating lounge or anything else you can think of. Importantly, there is a safety features include a 5-step ladder for easy access up and down and full-length guardrails to prevent falls during the night. Lastly, this bed brings a complete sleep, study and play solution to keep everyone happy.
Pirate Design Curtain Set for Midsleeper Cabin Bunk Bed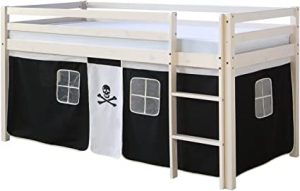 With a special play tent underneath, kids will find it a place to play and learn. The dark cappuccino stain finish looks great in most bedrooms.
A special play tent underneath
Sturdy and easy for parents to assemble
Bedz King Bunk Beds Full over Full Mission Style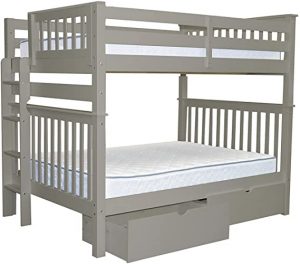 This one is a Full over Full end ladder bunk bed converts to 2 full size beds. It is one of the best bunk beds for kids since it allows your kids to use your space well.
Strength and stability
69 1/2 high x 83 1/4 long x 59 inches deep
2 drawers