Going camping with your family can be an exciting adventure, and cooking delicious meals while surrounded by nature is a great way to bond. However, to make the most of your camping experience, you need to have the best camping cookware set. These sets are designed to be portable, compact, and durable, making them ideal for outdoor enthusiasts.
One of the best options for camping cookware is a Dutch oven. It allows you to cook up gourmet meals and enjoy delicious food while surrounded by nature. No more cooking hot dogs on sticks over a campfire!
Investing in high-quality camping cookware can make a big difference in the quality of your meals and the overall camping experience. You want cookware that is durable, easy to clean, and able to withstand the rigors of the great outdoors.
Stainless steel is an excellent choice for camping cookware because it is both durable and easy to clean. A camping cookware mess kit is also a great option as it includes everything you need to cook and eat while camping.
Remember, cooking is an essential part of camping, and having the best camping cookware set will make your trip even more enjoyable. So, whether you're cooking over a campfire or on a portable stove, invest in the best camping cookware and make the most of your time in the great outdoors.
A List of Top Best Camping Cookware for Family
GSI Outdoors – Pinnacle Base Camper
The GSI pots are a great size for a family of five. This camping cook set was built to last. But you should not drop them on the hard ground.
Folding handle
Coated with Teflon Radiance technology
G4Free Outdoor Camping pan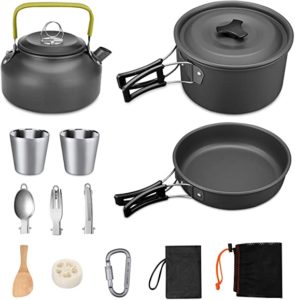 The most perfect pots for camping backpacking for 2 campers. Coated with Teflon Radiance technology, G4Free Outdoor Camping pan is great for its non-stick. The only downsize is the handle can get hot easily.
FDA approved
Non-toxic anodized aluminum pot and frying pan
Easy to clean
Terra Hiker Camping Cookware
The camping cookware is great for outdoor kitchen, camping, backpacking, and hiking. Safe and non-toxic aluminum with non-stick coating, the Terra Hiker camping cookware will last very long.
Easy to clean
Heat-resistant handles
Best for a family of four
MalloMe Camping Cookware Mess Kit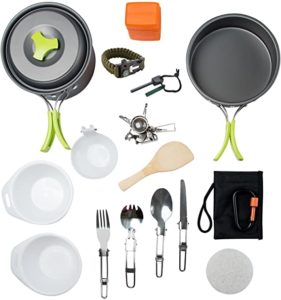 The metal holds up great. And it's easy to clean. The product is light, durable, and easy to pack for camping purpose.
Anodized Aluminum Nonstick Pot
BPA Free Soup Spoon
High quality mess kit
MalloMe Camping Cookware Mess Kit Gear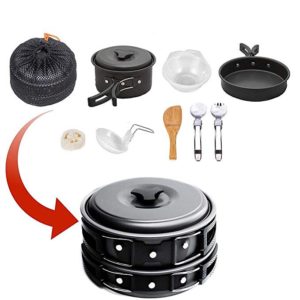 This is another great value product for camping. It's very portable and space saver. You're also guaranteed that the lovehope Camping Cookware Mess Kit is safe and non-toxic cookware for family use.
Small bundle for easy control and storage
Hexagonal mesh bag
High quality, good build
Top 10 Best Face Lotions for Women
A List of Top 10 Best Cast Iron Dutch Ovens for Camping
As essential a Dutch oven as in everyone's kitchen, it's also the best cookingware for most campers. Heavy and thick, it's perfect for braises, soups, stews, and chilis even when you're away from home. You should look for either a metal or ceramic made oven that can keep the food warm as long as possible. In this review, you'll find my recommendations of top rated Dutch ovens for camping.
Lodge L8DD3 Cast Iron Double Dutch Oven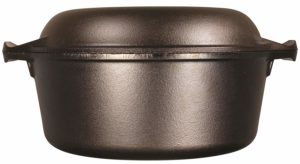 This is a great oven for its versatility. You can see that it does not have any knob on these lid and that's because these lid could also be used as the skillet. The Lodge-L8DD3 Cast Iron-Double Dutch Oven of is 5-quarts size and doubles-down when it gets to cooking. The lid's-weight and design guarantee that no damp and flavor leaves the pot when used as the cover.
Made in USA
Tough and durable
Heat retention and even heating
Uno Casa Enameled Cast Iron Dutch Oven with Lid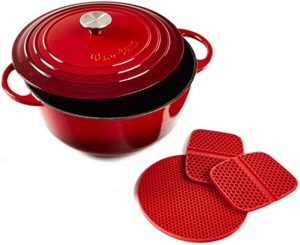 2 things to mention here before we continue more. Among is the case that it's ranked on Amazon as one of the top choices. It's a must have in the kitchen to cook many kinds of food. It's best value product for the money you buy.
Loop side handles for portability
Scratch resistant
Made of heavy-duty cast iron
Camp Chef DO10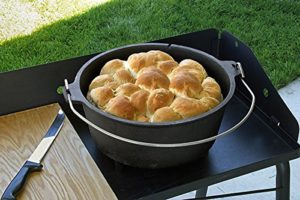 The Dutch oven has made deep dish lid that duplicates as a serving trivet and the skillet that improves air flow for even heating. It has made thermometer channel for controlling temperature when these lid is sealed. Also, it's like a cast iron that is simple to maintain and is always ready to cook.
Made of high quality materials for durability
Easy to maintain
Best value for its price
Crock-Pot Artisan Round Enameled Cast Iron Dutch Oven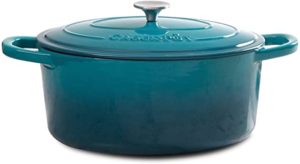 The prime thing that catch your eyes is the design of this Dutch oven. Unlike most Dutch ovens, its cover is so flat, much similar the deep camp Dutch broiler from Lodge. The Staub Cast Iron Dutch oven can do the Cocotte.
Available in different colors, shapes and quarts.
Perfect for slow cooking
Heat-retaining quality
Heavy Duty Pre Seasoned 2-In-1 Cast Iron Double Dutch Oven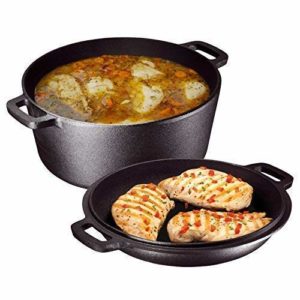 It comes with integrated side handles which are sturdy at the base & lid for safe handling & transport. It too has become a casserole which has the lid that increases a skillet. Hand wash is advised when utilizing the oven to heating.
Strong side handles
Heat retention and even heating
Incredible price
Bruntmor Three Legged Potjie
The next Dutch oven from Bruntmor has a 3 legged design that is excellent for campfire cooking. You could place hot coals on these flanged lid. Moreover, you could use it to making roasts, bread, & more. The metal bail-handle is easy to hold & lift. The cover is tight fitting to prevent condensation from escaping.
3 tall legs to cook over the campfire
Heavy and durable
Stansport Dutch Oven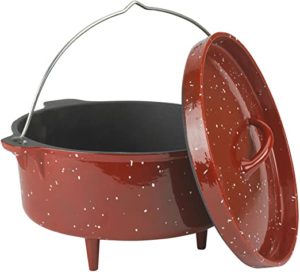 This Dutch oven from Stansport is ideal for every outdoor campfire cooking event. You could buy this in different sizes best fit to feed one's family. These cast iron lids heavy & tight access to prevent condensation from having the food tasty. The floor of these cookware has support and these covers rimmed.
High quality cast iron
Easy to clean surface
Long lasting durability
Lodge L8DO3 Dutch Oven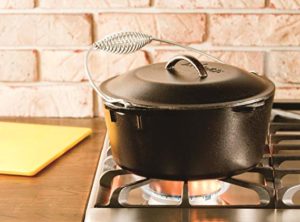 The Lodge L8D03 Dutch oven is able to use & pre-seasoned. These cast iron lid fits tight on these pan to assist keep damp inside. For simple lifting of the fire, this has a designed holder that is suitable in one's hand. This Lodge cookware you could only wash on hand. You could use for hearth cooking as well among wire bail handle.
Tight fitting cast iron lid
Easy to clean
Made of cast iron
Anolon Vesta Cast Iron Cookware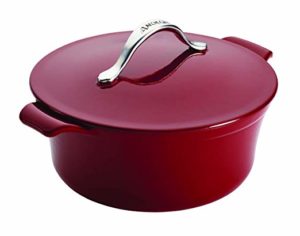 The large stainless steel loop handle makes these lid simple to remove. While wearing the oven mitt, & the matte black enamel interior is small. These side handles remain comfortable to handle among potholders or when wearing mitts.
Elegant side stainless steel handles
Stain resistant black matte enamel interior
Great build
Lodge 17L12CO3 Cast Iron Camp Dutch Oven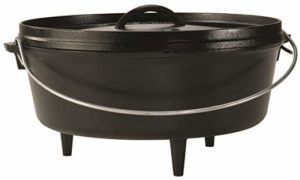 This Dutch oven should got a cast iron lid that's inverted meant to use as the griddle. Plus, it has gained a seasoned iron that is available for application. Has a six quart oven to campfire. It has received a 12 inch diameter on 3.75 inch deep.
High quality design
Lifetime durability