The Best Camera Sling Backpacks
If you're in the market for a backpack that maximizes storage space while keeping your hands free, a sling backpack is an excellent option. Not only does it provide easy access to your items, but it also offers the versatility of wearing it across your chest or body.
The best sling backpacks are adjustable, making them suitable for people of different sizes. They're also perfect for sharing among family and friends. With padded back panels and adjustable straps, sling backpacks are an excellent choice for travel.
To help you find the perfect sling backpack for your travel needs, we've compiled a list of the top 10 camera sling backpacks. These backpacks are designed with features such as multiple compartments, durable materials, and comfortable straps to ensure your belongings are safe and secure during your travels.
Best Car Seat Travel Bags
A List of Top 10 Best Camera Sling Backpacks for Travel
Altura Photo Camera Sling Backpack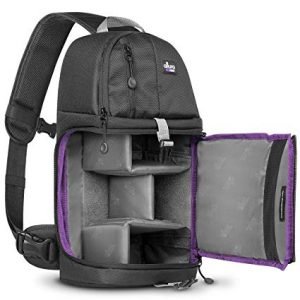 If you are a photographer looking for a perfect sling backpack, this is one of the best choices. It is designed to fit mirrorless cameras, DSLR cameras, lenses, and a DJI Mavic Pro Drone. The bag features sturdy, padded, and adjustable dividers in the main compartment. As a result, you can customize the compartment to fit these accessories with a lot of ease. Better, it includes a quick-access side opening.
You can take advantage of the opening for fast and easy access to the stored accessories. The top compartment is another addition. This compartment fits extra flash units and lenses. Moreover, there is an exterior tripod/monopod holder and zippered mesh pockets in both compartments. The benefit of this is enough room for easy organization of different items. The bag includes a padded strap that rotates to the front for easy and fast access to the stored items.
Red Rock Outdoor Gear – Rover Sling Pack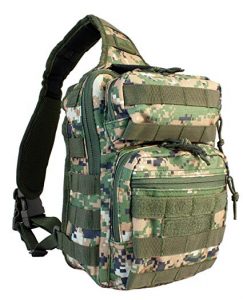 Responding to the need for a durable sling backpack is Red Rock Sling Pack. Made using rugged 600Denier polyester it is a perfect choice while looking for a backpack that is designed to last. Another advantage of the pack is the concealed carry sleeve on the back panel. In it, you can store a pistol and be sure that it is stored in a secure place. The bag includes an ambidextrous strap for quick access. Its main compartment is large and designed to fit most Tablets. Also, there are three more storage compartments that allow you to organize other survival essentials.
Patagonia Unisex's Atom Sling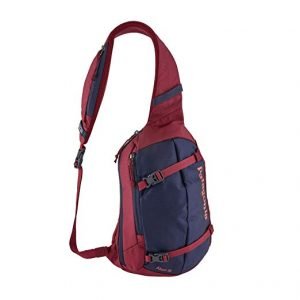 Carry all necessities with the comfort of backpack once you acquire Patagonia Unisex's Atom Sling. It features a teardrop shape that enables it to remain behind the shoulders and stay out of the way when moving through crowded streets. Better, the sling pack features a single-strap design. The benefit of this is the ability to rotate it to the front for fast and easy access to the stored items.
The main compartment is large while it features a zippered design for the secure storage of a range of items. Besides that, there is a padded tablet sleeve for the secure storage of a Tablet. The bag is made from 630 Denier 100% nylon to enhance strength. Also, it includes a 200Denier 100% recycled polyester lining with a polyurethane coating and water repellent finish to enhance durability.
BULL CAPTAIN1 Men's Genuine Leather Sling Bag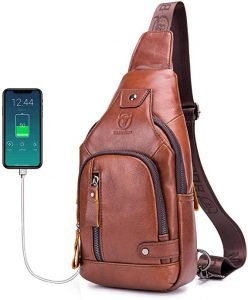 A perfect gift for any man in your life is the Bull Captain1 Men's Genuine Leather Sling Bag. As the name suggests, it features 100% genuine cowhide leather. As a result, you can buy it when looking for a durable sling backpack. Also, the bag features five zipper pockets. The benefit of these is acquiring enough room for self-organization. You can carry the bag in three different ways, among these, cross body, single shoulder, and hand carry. As a result, the bag is a perfect choice while looking for one that is suited for casual or formal events.
OutdoorMaster Sling Bag – Crossbody Backpack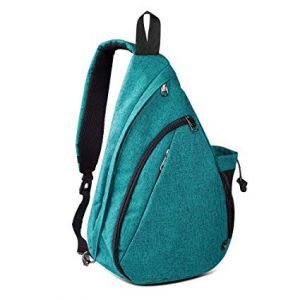 Designed for men and women, this is a versatile bag that offers enough room so that it can accommodate all essentials. The bag is compact but spacious to enhance reliability. It is made using a lightweight yet sturdy material to enhance comfort and durability. With an included anti-theft pocket, you can store different valuables with safety assurance. Better, the backpack features a water bottle holder for easy storage of a water bottle. The shoulder strap features a reversible design, which means that you can get it for use by left and right-handed individuals.
5.11 RUSH MOAB 10 Tactical Sling Bag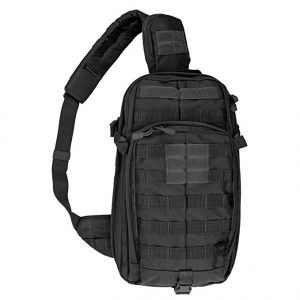 Whether you are looking for a hiking rucksack, military backpack, multipurpose pack, everyday shoulder backpack, or tactical sling pack, you can be sure to have made the right choice after purchasing this bag. Made using 100% 1050D nylon, it is a perfect choice for a durable and water-resistant backpack.
Moreover, the bag features multiple pockets. Because of these, it is a perfect choice for a sling bag that is roomy and easy to organize. Equipped with YKK self-healing zippers, you can be sure to have it conceal the stored accessories. Furthermore, there is a sturdy grip handle and compression straps that assure you of getting a sling pack that is easy to carry.
Athletico Sling Bag – Crossbody Backpack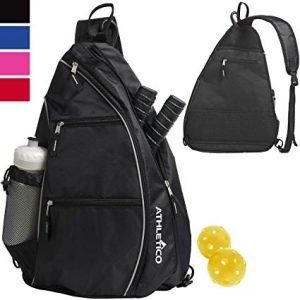 Perfect for left or right-handed users, Athletico Sling Bag features reversible shoulder straps that feature a padded design. Better, the bag includes tons of pockets. In particular, it features five pockets and an external water bottle holder to ensure easy organization. The main compartment features a spacious design that allows you to store tons of items. Also, there is an anti-theft pocket for securing a wallet or phone.
Waterfly Chest Sling Shoulder Backpacks Bags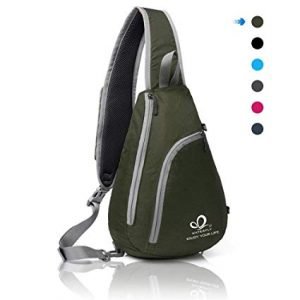 This is an ultra lightweight backpack that weighs 0.45pounds. The backpack is padded to ensure user comfort. It features water-resistant nylon that makes it suitable for outdoor adventures. Having passed through a reinforced Bartack process, the backpack is a perfect choice for a durable sling bag. Moreover, the bag features a range of compartments including a key rack, front pouch, wallet pouch, card pouch, and two pen pouches, for the easy organization of small items.
Under Armour Compel Sling 2.0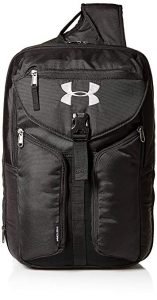 This is a durable sling backpack that combines comfort and easy maintenance. The bag is made using 100% cotton to enhance strength. It features zipper closures for the concealment of stored items. The shoulder strap is 18″ and adjustable making it suitable when used by people of different sizes. Better, the bag includes a soft and lined laptop sleeve that holds a MacBook Pro up to 15″ or a similarly sized laptop. The bag adopts the UA Storm technology enabling it to repel water without sacrificing breathability. Because of the padded strap, you can get it with an assurance of comfort and that the weight won't weigh you down.
Adidas Capital Sling Backpack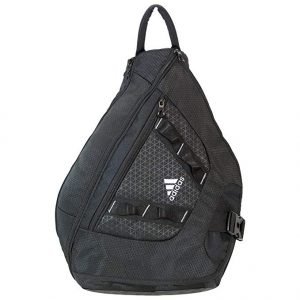 From Adidas, we have the Capital Sling Backpack. It is made using 100% polyester to enhance strength. Additionally, the bag includes four pockets, some with zipper closures for the concealment of the stored accessories. Because of the machine-washable design, the bag is a great choice for a sling backpack that is easy to maintain. Furthermore, the shoulder strap is adjustable and designed with a shock-absorbing design to enhance comfort.