Top Best CFexpress Cards & Card Readers for Canon R5
Are you searching for the best CFexpress card for your camera? CFexpress cards are designed to outperform SD cards, and leading brands like Delkin Devices, Sony, SanDisk, Lexar, and ProGrade Digital have already released their own versions. For those who want the best possible performance from their camera, we have compiled a list of the top CFexpress cards. You can choose from any of these cards to carry out live video shooting without any interruption. These cards are compatible with a range of cameras, including Sony a7S III (Type A), Nikon Z6 / Z7 (Type B), Canon EOS R5 (Type B), Canon C500 Mark II (Type B), Nikon D6 (Type B), Canon EOS-1D X Mark III (Type B), and Panasonic Lumix S1 / S1R (Type B).
To make transferring high-resolution photos and videos quicker, we recommend getting the best CFexpress card reader. These readers feature the latest technology and speeds, making them hard to beat. With one of these readers, you can offload your content to your laptop or computer in no time. So, grab one of these top CFexpress card readers today and enjoy faster and more efficient transfer of your media files.
A List of Top 5 Best CFexpress Cards
SONY Cfexpress Tough Memory Card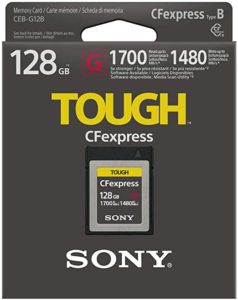 Are you a professional photographer and want the best card that can handle your needs? This reader is what you need to capture the action. This card has amazing speed and perfect for speeding up workflows and it will improve productivity. You'll save more time for creative work when you own this incredibly card.
It is built for uncompressed continuous RAW shooting such as wildlife and motorsports which have fast-moving action. This item can handle most challenging environments such as sand-blown deserts and snow-covered mountains. Get your card reader today and shoot, swap and store any content with total confidence.
Features
Built for wonderful speed with fast speed of up to 1480 MB/s
Ultra-efficient edition to let you to transfer and backup data
Rugged enough for extended professional use in any environment
High-grade videography makes it a perfect partner for camcorders
SanDisk 128GB Extreme PRO CFexpress Card Type B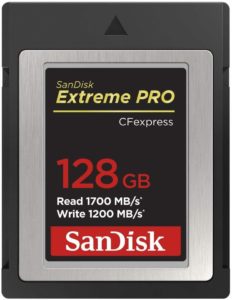 This CFexpress has write speeds of up to 1400 MB/s and read speeds of up to 1700MB/s to let you to capture every important action without wait. It will give you low latency when taking high-speed recording. Be assured that this card will offer you an enhanced workflow efficiency beyond your expectation. It is backwards-compatible with cameras that embrace firmware enabling CFexpress.
If you're a photographer and want the best card reader that understands your needs, then this one will even exceed your expectation. It is made to enable smooth, RAW 4K video and this makes it a better choice for capturing fast-moving actions such as motorsports and wildlife.
Features
Slim and sleek design will fit easily in pocket and great for travel
Built for wonderful speed to save your most valuable time
Smooth 4K video performance suitable for fast-moving actions
Rugged enough for extended professional use in any environment
CFexpress Card Reader, Unitek USB 3.2 Type C to CFexpress B, Portable Aluminum Memory Card Adapter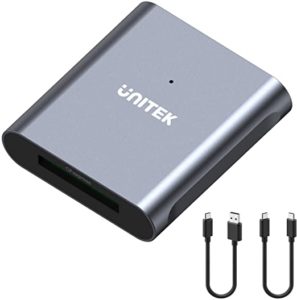 Looking for the best CFexpress card reader with broad compatibility? Look no further than this product. You can use it for surface pro, iMac, Mac Pro/Mini, Dell Inspiron, Chromebook and much more. It comes equipped with USB-A and USB-C cable to make your work effortless. It supports super faster data transfer through USB 3.2 interface. The slim and sleek design makes transportation a breeze.
This kit is a great choice for travel and the high-end fashion appearance coupled with fast heat dissipation makes this product more durable and high-quality. It is tinier than a palm but powerful enough to transfer contents to your computer faster and more efficiently.
Features
Aluminum alloy material construction promotes more durability and longevity
USB bus-powered and no driver installation is needed
Broad compatibility is designed to support all variety capacity Cfexpress cards
Compact portable design will save space and make better hold
CFexpress Card Reader, Rocketek Type B USB 3.1 Gen 2 10Gbps CFexpress Reader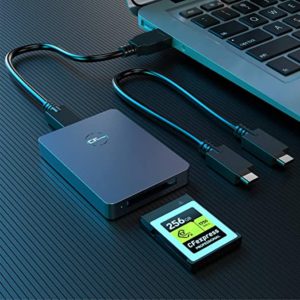 This is a professional-grade card reader designed for professional photographers. It has amazing portability design and perfect choice for transferring files between device and memory card. It is designed with hot swapping and auto detection to save your valuable time when using the reader. In addition, the monitoring the connection status is a breeze since it has LED indicator.
This item is made with voltage and current protection to ensure that your devices are safe. It works well with a laptop or computer which is designed with standard USB Type-C or USB-A port. The portable and compact design makes the item a perfect choice for any occasion. Get yours today and accelerate your workflow anytime.
Features
Built with voltage and current protection to ensure safety of your valuable devices
LED indicator makes monitoring of connection status hassle-free
Slim and sleek design will fit easily in pocket and great for travel
Intelligent smart chip allows you to enjoy up to 10 Gbps stable transferring of contents
CFexpress Type B and SD UHS-II Dual-Slot Memory Card Reader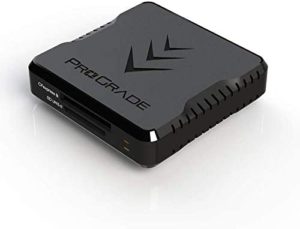 There are some card readers that can waste your valuable time. But this is the ideal Cfexpress card that will help you to get back to what you value most. It has high-speed file transfer to let you to transfer videos, photos, audio and other files at speed of up to 10Gb/s. The two slots will let you to transfer your content to your laptop or computer from two cards at the same time.
This product is designed for life on the road and it will give you the perfect chance to streamline your workflow at the backseat of a ride, mountaintop, or anywhere else your life takes you. You'll love the dual-slot since it will let you to transfer content at lightning speed. Get it today and spend less time waiting on downloads.
Features
Dual-slots allows you to transfer contents from both cards simultaneously at a lighting speed of up to 1.25GB/s/10GBs
Lightweight and compact enough to let you to streamline your workflow anywhere your life takes you
The latest USB 3.2 will support super-fast file transfer
Solidly built and can handle any challenge you throw at it