The Best Cloth Training Pants
Training pants are useful undergarments for toddlers to wear before they transition to regular clothing. As a new parent, you may have questions such as how many cloth training pants to buy, whether they are reusable and waterproof, and what their real benefits are. Did you know that most toddlers begin potty training between 2 and 3 years old but often can't stay dry through the night? Disposable potty training pants can be helpful in this case.
Training pants can be made of fabric and reusable, disposable, or of absorbent diaper materials, and can look and function more like underwear. After reviewing our list, you may be wondering whether to choose cloth or disposable training pants. When considering the best-rated potty training pants, it's essential to keep in mind several factors. All the recommended products in this review meet your needs, but you should consider cloth training pants over plastic ones for your child's comfort and ease of use. Overall, they are a great investment for your child's potty training journey.
Best playpens for crawling toddlers
Top 10 Best Cloth Training Pants for Toddlers
Skhls Baby Toddler 4 Layer Assortment Cotton Training Pants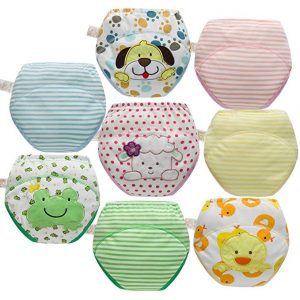 These are soft training pants with elastic closure. It has well knit cotton that allows air ventilation. Its easy to wash and reuse for more than one use. It has a covered elastic waistband for increased comfort and you can pull up and down easily. It has 2 pack training pants which are different in pattern. We love the Skhls traning pants for a simple reason: easy to wash and easy to take care of. Not surprisingly, we really love the adorable and stylishly cartoon design.
Elastic closure
Soft, breathable cotton
Durable, washable and reusable for multiple uses
Soft and stretchy thigh band is comfortable
MooMoo Baby 4 Pack Potty Training Pants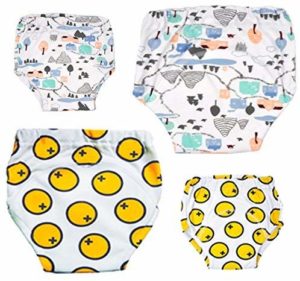 MooMoo Baby Potty training pants are pure cotton with 5 layers for extra padding in front and back. It is water resistant, soft and breathable. It has leg Gusset to avoid leak and cushion to absorb any leaks. It is durable and washable for many uses. It is available in 5 sizes for boys and girls. Essentially, it's transition from pull-up to real underwear.
100% cotton
Soft and breathable material
Comfortable and healthy
Durable
Washable and reusable for multiple uses
Disney Minnie Mouse Girls' 3-Pack Training Pants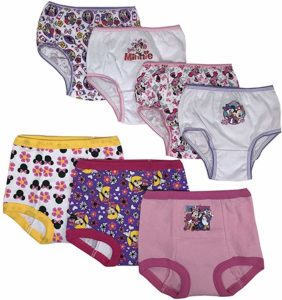 Disney Minnie training pants are 100% pure cotton pants for girls. It is pack of 3 pants with elastic trim. It has a training chart and stickers along with the pack.
100% cotton
Combed cotton construction
Elastic trim
Prints as shown
Gerber Baby Girls' 4-Pack Training Pant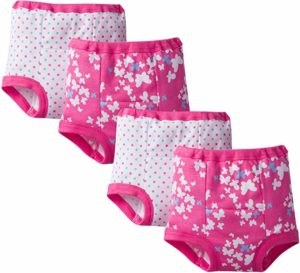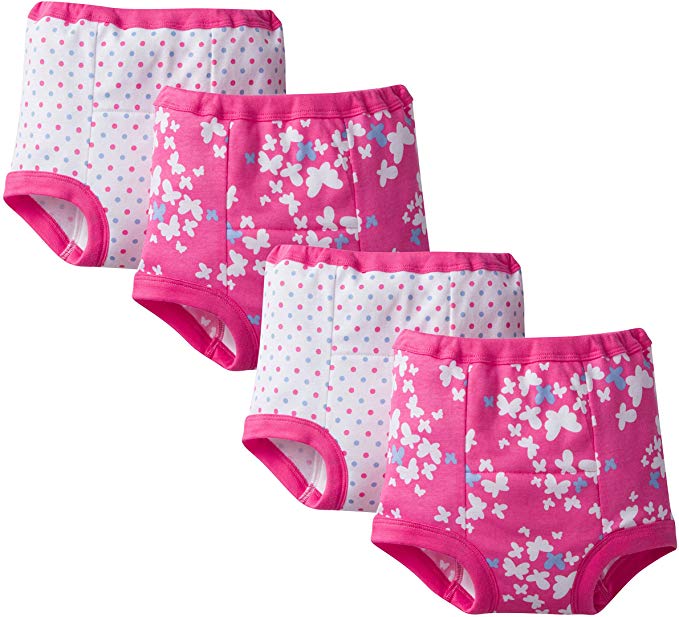 Gerber training pants are 100% pure cotton pants for girls. It has a pull on closure and interlining for absorbing leak. It's covered elastic waistband provides increased comfort and easy pull up and down. We love its suitable size for small toddlers (fit well and are a nice thickness). Ideally, it's a great transitional underwear.
Machine wash
100 percent cotton panels with an absorbent interlining
Covered elastic waistband for increased comfort and ease of pulling up and down
Durable, washable and reusable for multiple uses
U0U 4 Pack Toddler Potty Training Pants
U0U are 6 layered 100% pure cotton in a pack of 4 pack. They are designed for comfort, easy wash and hold small amount of leak. You can wash them in wash machine, dryer safe and durable. They can absorb first few potty.
Very durable soft cotton material
Best alternative to traditional disposable diapers
Durable and reusable for multiple uses
Panties' leg gusset design to avoid leaking
Gerber Little Boys' 4 Pack Training Pant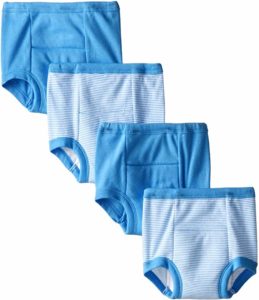 Gerber Little boys training pant are 100% pure cotton pants in a set of 4 for boys. They are soft with extra lining, comfortable and easy to wash. These pants can quickly absorb little leaks. These training pants are good and paded.
Soft and thick without being bulky
Extra protection in the middle
Best for transition from diaper to underwear
Hudson Baby Kids' Cotton Training Pants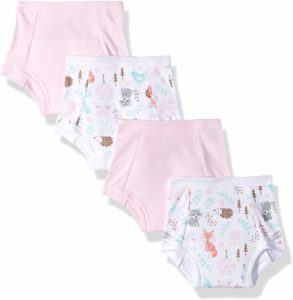 Hudson baby kids training pants are pure cotton in a pack of 4. It has easy to pull on closure and water resistant inner layer. It has cotton on outer side and polyester at inner side. Its crotch fabric give a crinkle sound. Due to its polyester lining, it cannot absorb but let it slip out and make the toddler feel the wet and stop further wetting.
Cotton against skin
Water resistant inner layer
Pull on training pants
DC Comics Boys Toddler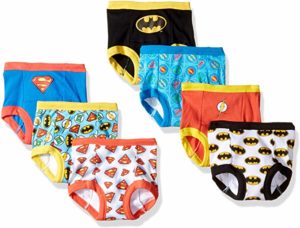 The DC comics training pants are cotton outside and polyester lining inside for boys. It has comic super heroes printed on them in a pack of 3. It is durable and you can wash them in machine.
100% Cotton; 100% Polyester
No moisture absorbing materials for full accidents
Super soft combed cotton outter shell surrounds the polyester mesh intended to teach you child to acknowledge and act upon small leaks.
Luvable Friends Baby Cotton Training Pants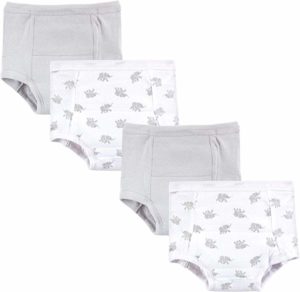 Luvable Friends training pants are cotton outside with a polyester lining inside. It has pull on closure and absorbent inner layer to absorb any leak. Its durable and you can wash in wash machine multiple times.
Cotton against baby's skin
Absorbent inner layer
Pull On closure
Machine wash
Blueberry Training Pants
Blueberry Training pants for toddler in a pack of 2. It has cotton outside and super absorbent micro terry lined inside to absorb any quick leaks. It may not be suitable for overnight or prolonged use You can wash them in wash machine and dry them warm.
Made with latex-free elastic
Fabric content: 50% cotton, 50% polyester
hidden soaker pad and waterproof lining: 100% polyester