The Best Sport Backpacks
If you love going to the gym and need to carry essential gear with you, a high-quality backpack is a must-have. When choosing a backpack for athletes, there are certain factors to consider. In this list, we have compiled our top recommendations for the best sport backpacks to make your selection process easier.
Best Hydration Pack for Mountain Biking
A List of Top 10 Best Sport Backpacks
Athletico National Soccer Bag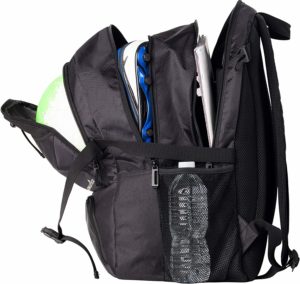 Are you a soccer player looking for a backpack that will let you carry all your gear in one bag? If that is the case, I would like to recommend Athletico National Soccer Bag. The bag features a front compartment fora soccer ball, football, volleyball, or basketball. Also, it includes a bottom chamber. This vented compartment great for carrying shoes or an extra ball. The bag consists of a laptop sleeve and a middle compartment. The central compartment consists of seven pockets for small accessories.
You can use the bag to carry up to two water bottles in the double water bottle holder. Moreover, the bag is suitable for use in the rain, dirt, or mud. The durable 600Denier polyester and nylon fabric withstand a range of elements. The reflective accents are another addition for safety when carrying it at night. Padded shoulder straps feature an adjustable design to guarantee superior support and protection.
MB ALL-STAR – Kids Backpack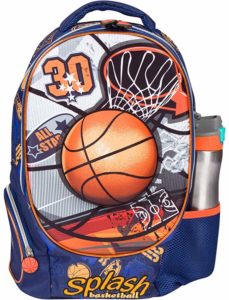 Do you have a kid who engage in a lot of activities during the day? Are you looking or a bag that will provide a comfortable means for him or her to carry the required stuff? If yes, MB ALL-STAR – Kids Backpack is a perfect solution. The bag features a big size enabling it to hold all the things your kid requires. On top of that, it features two separate compartments and dividers on the front.
You can get the backpack for kids who adore sports because of the 3-D Basketball design. Furthermore, the bag is durable. The reason is that thick polyester material, sturdy zippers, and cushioned bottom. Adjustable shoulder straps allow you to adjust for a comfortable wearing experience. Also, the bag features a lightweight design. Thus, you don't have to worry about it having to weigh your kids down.
SKL Drawstring Backpack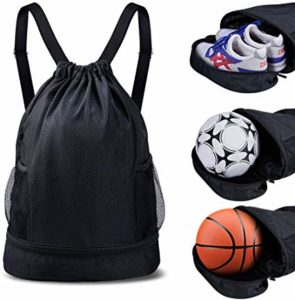 Carry everything you need on and off the field with SKL Drawstring Backpack. The bag features a large main compartment designed to fit a basketball. Equipped with a waterproof pocket. You can use the pocket to store items such as books to protect them from the water. Made from thick 100% polyester, this basketball bag is durable and easy to clean.
Moreover, it features adjustable wide shoulder straps. The straps support easy length customization for use by people of different heights. You can use the backpack to carry items with a weight up to 20kgs because of the durable straps and fabric. Also, the bag includes a high-quality metal zipper so that you can secure the stored items. The mesh side pouches are another addition for holding umbrellas, and baseball.
Under Armour Unisex Undeniable 3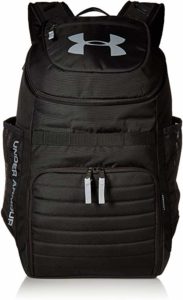 Under Armour Unisex Backpack is simple and easy to carry. Made of 83% polyester and 17% nylon, it features foam reinforced panels. The bag includes a range of pockets. These include a soft-lined laptop sleeve designed to hold a MacBook Pro up to 15″. Also, there are deep mesh pockets on the sides so that you can store water bottles.
Tough and abrasion-resistant bottom panel, the bag will safeguard your stuff. The water-repellent front valuable's pocket that holds valuables. The bag is machine washable, which makes it a perfect choice for a backpack that is easy to clean.
BeeGreen Drawstring-Backpack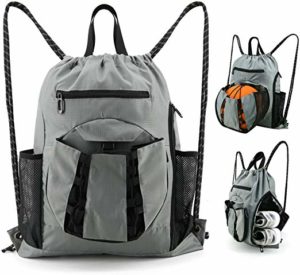 Make transportation easy and convenient with the help of BeeGreen Drawstring-Backpack. Whether you need a soccer bag, you can expect this bag as a reliable transportation. The pack features a large compartment for clothing, swim gear, and shoes. Also, there is a big shoe compartment and a front zipper pocket.
The shoe compartment is useful when you want to carry gym shoes. The zipper pockets ensure safe storage of keys, cellphones, and wallets. You can use the bag to carry an umbrella, water bottle, or sunscreen in the side mesh pocket. Besides that, the bag is helpful when you want to ensure safe storage of keys because of the long ribbon ring.
The basketball backpack includes two carry handles. Moreover, it features thick straps to help reduce the burden on the shoulders. The backpack is machine washable, and is a perfect choice to the best basketball backpack.
Diadora Squadra II Soccer Backpack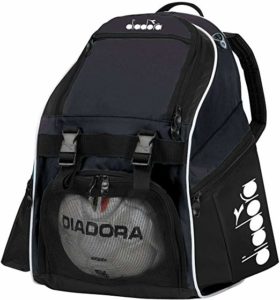 Diadora Squadra II Soccer Backpack is a perfect choice. Made of 420D nylon and equipped with a PVC backing for strength. Besides that, the backpack includes a large main compartment.
This compartment includes a media pocket and earphone pass-through. So you can get a chance to listen to music when carrying the bag. Also, there is a slanted side zipper that allows you to access the shoe tunnel and side pocket with a lot of ease.
Adidas Pro Madness Backpack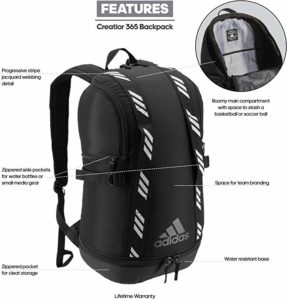 Haul your gear in all weather conditions with the help of Adidas Pro Madness Backpack. Featuring a water-resistant material, the backpack can prevent water from penetrating. Also, it features a progressive stripe jacquard webbing. It's a great choice to an attractive and durable basketball backpack. You can use the pack to carry a soccer ball or basketball in the roomy main compartment. Moreover, the bag can carry a computer in the included computer pocket. Zippered-side pockets are handy to carry water bottles and small media gear.
MIER Basketball Backpack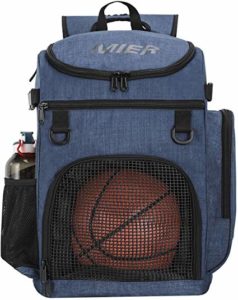 With MIER Basketball Backpack, you can carry everything you need when going to the gym, or soccer game. This bag features a durable exterior shell and a 40Liter capacity to carry a lot of accessories at a time. Adding to that, it includes a spacious ventilated pocket. This pocket provides enough room to carry a ball, shoes, or dirty clothes.
Besides the ball compartment, there is a zipper pocket, top "D" main compartment, and a laptop pocket. The bag is easy to carry because of the easy-grip carry handle and the padded shoulder strap. It includes back contact areas with ventilated mesh padding. It features a water-resistant fabric for use in the rain.
ANGU SPORTS Soccer Bags With Ball Holder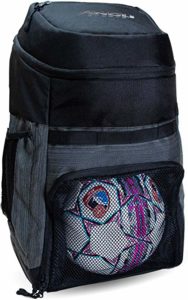 Carry all your gear without feeling the bulk once you get this Angu Sports soccer bag with ball holder. The bag includes a large vented ball compartment. Better, it includes vented mesh pockets for easy access to water bottles.
The main compartment is another pocket to hold all soccer equipment and extra gear. Made of 600D polyester to enhance strength, it includes high-quality SBS zippers. The soft vented padding on the back and shoulder straps to ensure comfort.
Nike Hoops Elite Hoops Pro Basketball Backpack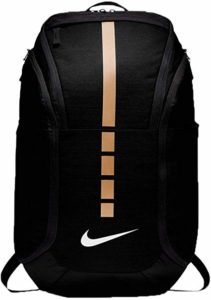 The Elite Hoops Pro Basketball Backpack is for competitive and recreational players. The bag includes a large zippered main compartment with enough room. Adding to that, it includes a zippered foil-lined pocket. It a perfect choice for those who want to chill out. The ventilated shoe compartment is another addition. The bag includes a haul loop designed to serve as an alternative carrying option. Also, there are shoulder straps that adopt a Pro Adapt technology for comfort.